Although rug making reaches back to the beginnings of human civilization, nowadays the craft is still well and about, exploring new approaches, materials and possibilities which find their shape in modern rugs and contemporary carpets.
Present-day decorators more than ever recognize the profound importance of floor coverings in interiors. A rug brings in warmth, comfort and snugness, it organizes the room by marking out specific areas, and may optically enlarge the space. Most importantly, however, a floor covering may set the tone of the entire décor thanks to its pattern, color, texture, shape, or all these factors at once. Modern rugs and contemporary rugs give outstanding decorating opportunities – no wonder many designers decided to focus on textiles and express their artistic approach in the form of carpets. Out of hundreds of appreciated and world-famous designers, the Eskayel group distinguishes itself quite noticeably. Here we present the silhouette of Eskayel in general, and the owner, Shanan Campanaro in particular, to introduce you to the magical, nature-related world of Eskayel designs.
The Nature of Modern Rugs by Eskayel
Shanan Campanaro, the owner of Eskayel, initially started off as a graphic and fashion designer but soon realized that her true love are interiors. Having in heart a deep conviction that the overall atmosphere of the house has a huge impact on one's mood, she desired to arrange spaces in the way that mirrors one's personality. In order to broaden her horizons and acquire an even deeper perspective, Shanan travels around the world in search for inspirations, and the marvelous effects of her journeys are visible in her modern rugs and contemporary carpets. What is then the nature of Eskayel floor coverings? Shanan admits that her greatest muse is Mother Earth herself, as nothing in this world that came out of human hands can be more beautiful or uplifting than close connection to nature. The artist is mesmerized by all the wonders of this world, and the more elusive they are, the better. Light flickering on the surface of sapphire ocean waters, shades that plants cast on the floor of tropical forests, molten volcanic lava forming new islands, earth cracked by the scorching sun, even the movement of tectonic plates – all these and many more constitute the basis on which Eskayel constructs their designs.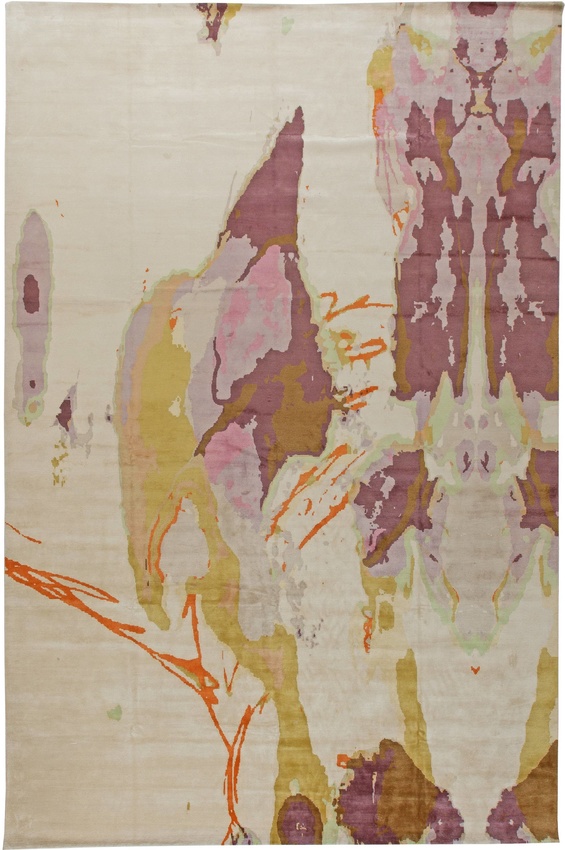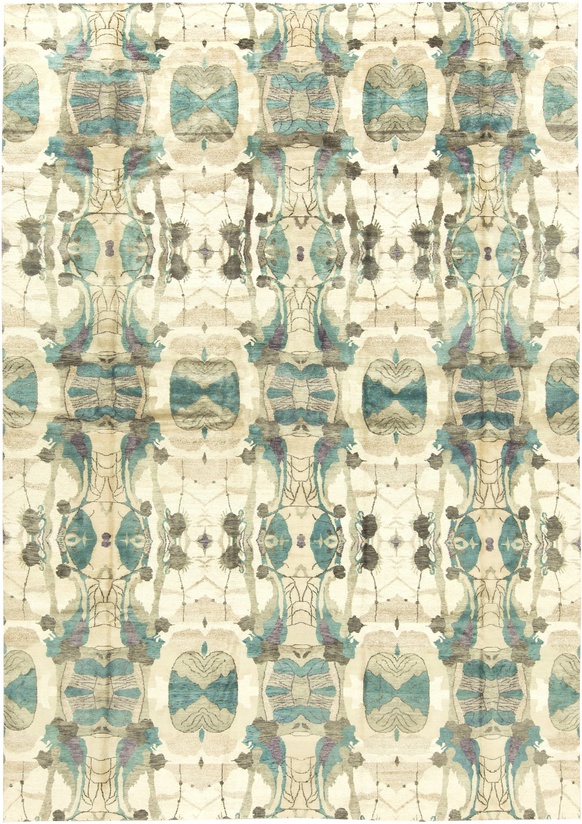 The Design of Modern Rugs and Contemporary Carpets by Eskayel
Modern carpets and contemporary rugs by Eskayel are extremely characteristic due to their abstract patterns resembling inkblots from the famous Rorschach test. Though Shanan Campanaro never officially listed it as a source of inspiration, the erratic stains give deeper insight into her designs and allow us to read her art on a whole new level. Such extraordinary patterns positively affect our subconscious as they let our imagination run wild. Nonetheless, as stated before, the major stimulus for Eskayel is nature and the abstract designs picture its essence – constant movement and change. Supported by rich colors and expert execution, modern rugs by Eskayel are works of art that can most definitely become a foundation of a décor. Not only are they aesthetically appealing and intriguing but also they imbue the space with a serene vibe, bringing in the soothing effects comparable to those of being close to wildlife and our roots.
The Direction that Modern Rugs by Eskayel Set For Contemporary Rug Craft
It would not be fair or inspirational if Eskayel only sought inspiration in nature and not feel responsible for our natural environment. Luckily, Shanan and her team place eco-friendliness as their top priority. All modern rugs created by the famous designer group are made by hand, from fair-trade materials and using natural dyes only. Only due to such conscious and, actually, traditional way of production, may Campanaro be sure that her work constitutes a consistent whole. Moreover, the centuries-old way of making rugs guarantee quality that lasts for generations without the slightest signs of blemish. Contemporary rugs by Eskayel are the answer to all seeking fresh outlook on design paired with refined craftsmanship and responsible approach towards our planet. These are truly floor coverings worthy of the 21st century.
For more inspirations, take a peek at Doris Leslie Blau website – we are always at your disposal. And if by any chance you are visiting the capital, step into The Washington Design Center, 1099 14th Street N.W. Washington, D.C. 20005, to see our showroom. You will not be disappointed.