The design world is one of the most anxious and hungry for news. Knowing that 'the beast' simply can't stay unfed for too long, Behr graciously gave us a sneak peak of the next year's revelations. Blueprint, in a press release described as "warmer than denim and softer than navy," is supposedly going to conquer decors in 2019. Having selected the 10 interiors in this rich blue shade we must admit that it might become a hit. What do you think?
Elegance Showing Horns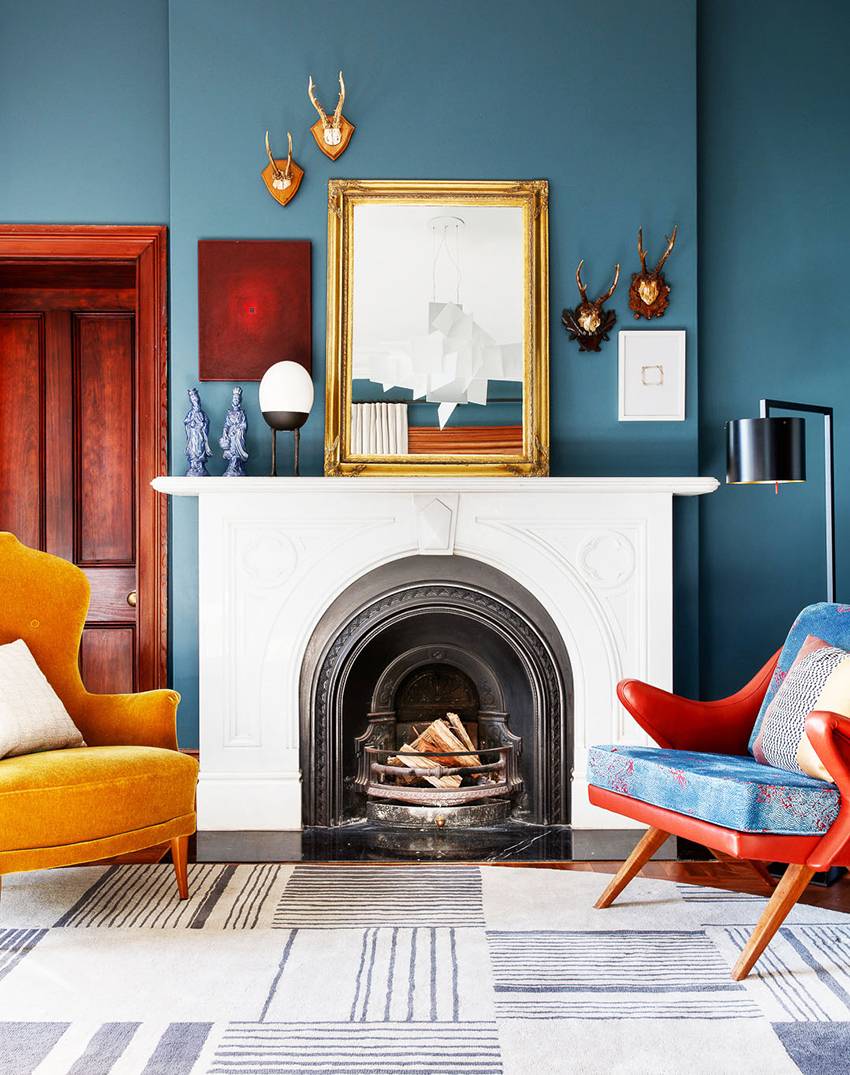 Here Blueprint perfectly emphasizes the noble lineament of the space. The ornamental mantelpiece feels perfectly in its company. Devil lies in the details so to achieve utter elegance, complete the color with golden touches such as the mirror frame. Do not forget to balance the whole with a bit of modernity – minimalist furniture will come to your aid. The cherry on top are antlers but your vision may have a different ending 😉
Perfect in Imperfection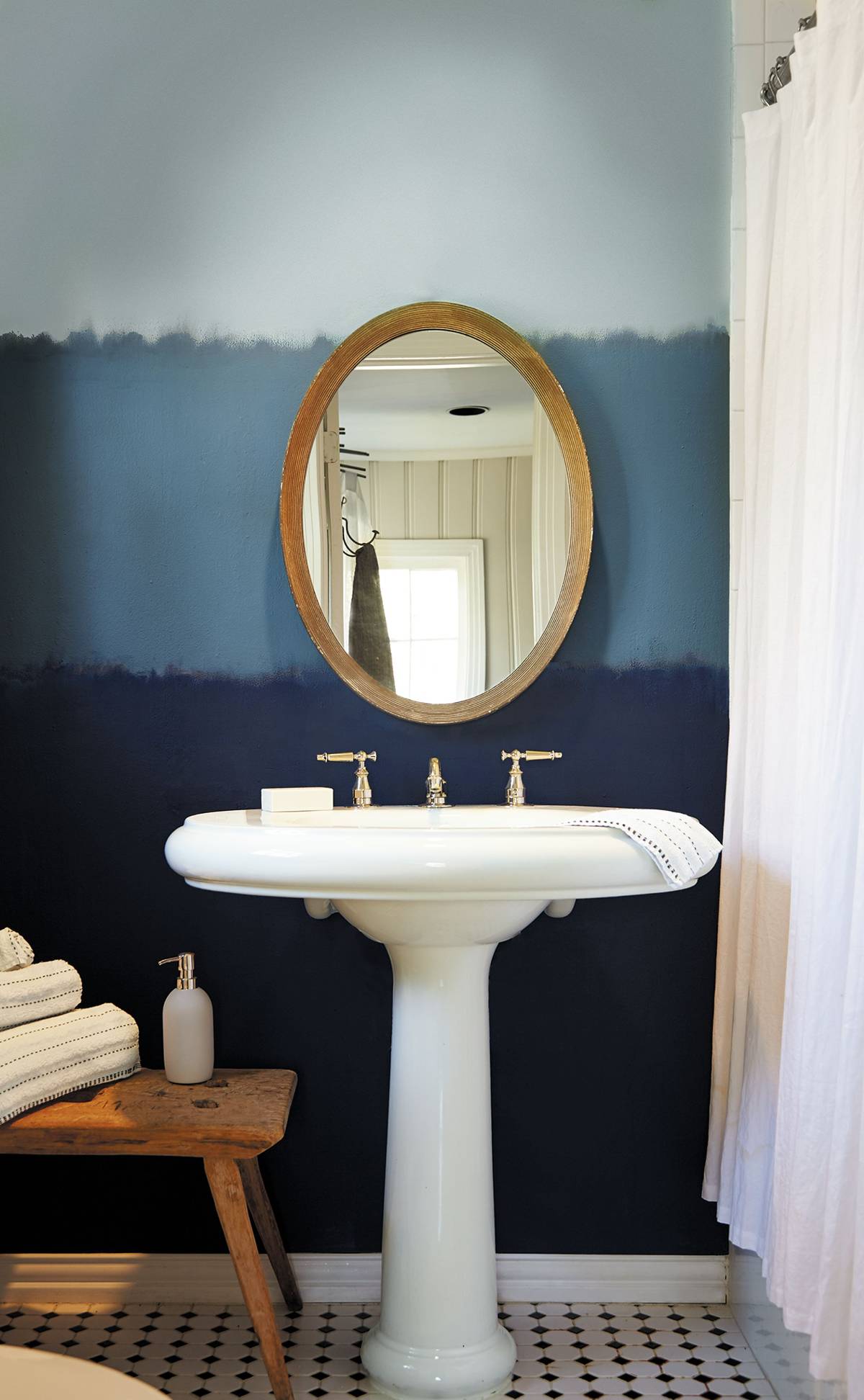 Following Wabi-Sabi, we propose an ombre wall in which the shades of blue pass one into the other. This is a fantastic way to merge three trends in one – statement walls, Wabi-Sabi and Blueprint. All the more, it's a swift and really affordable interior metamorphosis. Blue in the bathroom looks amazing!
Cooking with Blueprint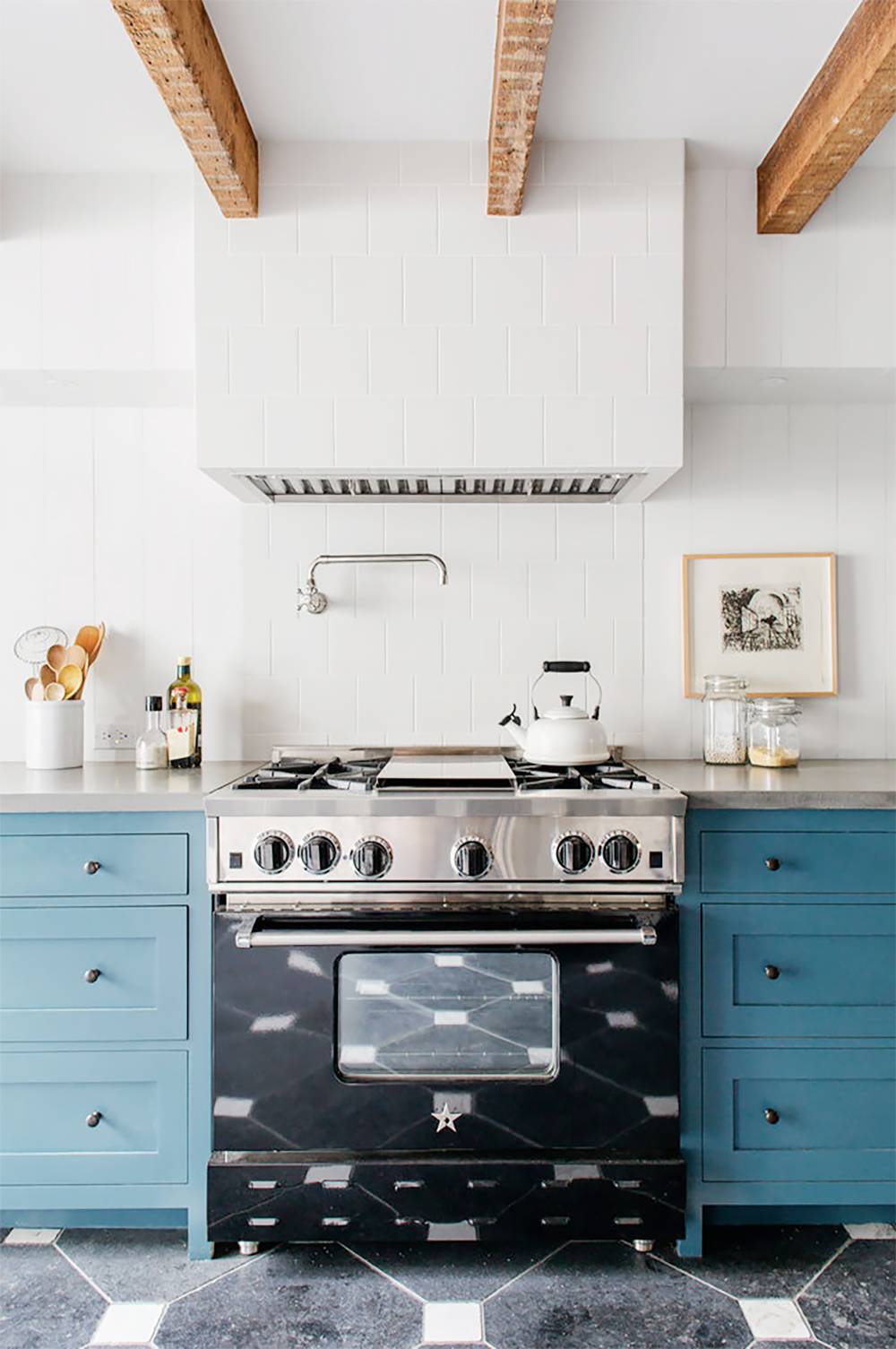 Regardless of whether your kitchen is minimalist Scandinavian or full of Modern Farmhouse decorations, Blueprint will fit in there. Paint it over your cabinets and the whole space will acquire a whole new dimension. Blue refreshes the room and beautifully matches white which often dominates in kitchens. Here the wooden beams on the ceiling break the cold color palette, giving Blueprint an interesting contrast . Be sure to try this trick if you like the farmhouse style.
Modern Chic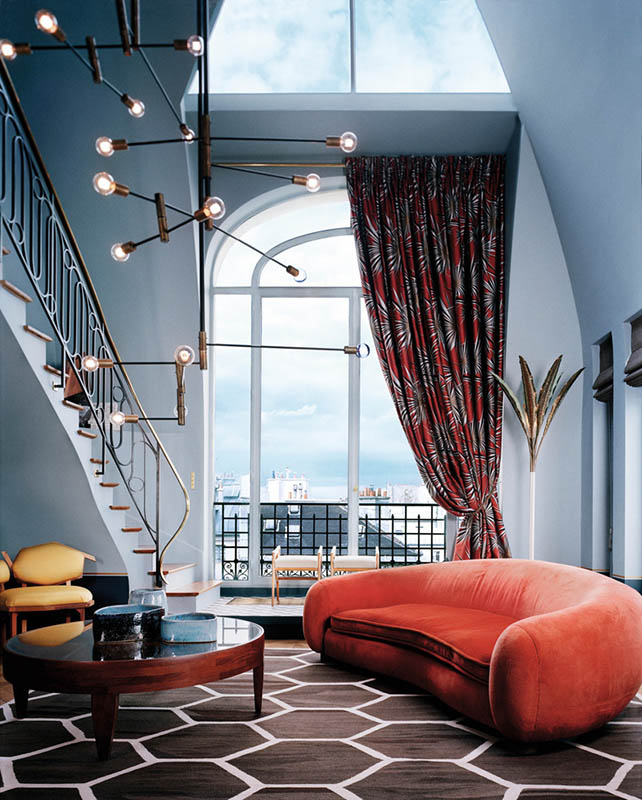 Yet again Blueprint feels at home in an elegant interior. The Mid-Century Modern paired with contrasting colors (in this case orange and maroon) gives a spectacular effect. Statement lighting, a golden palm-shaped ornament and a patterned curtain complement the fanciful arrangement.
Blueprint Upholstered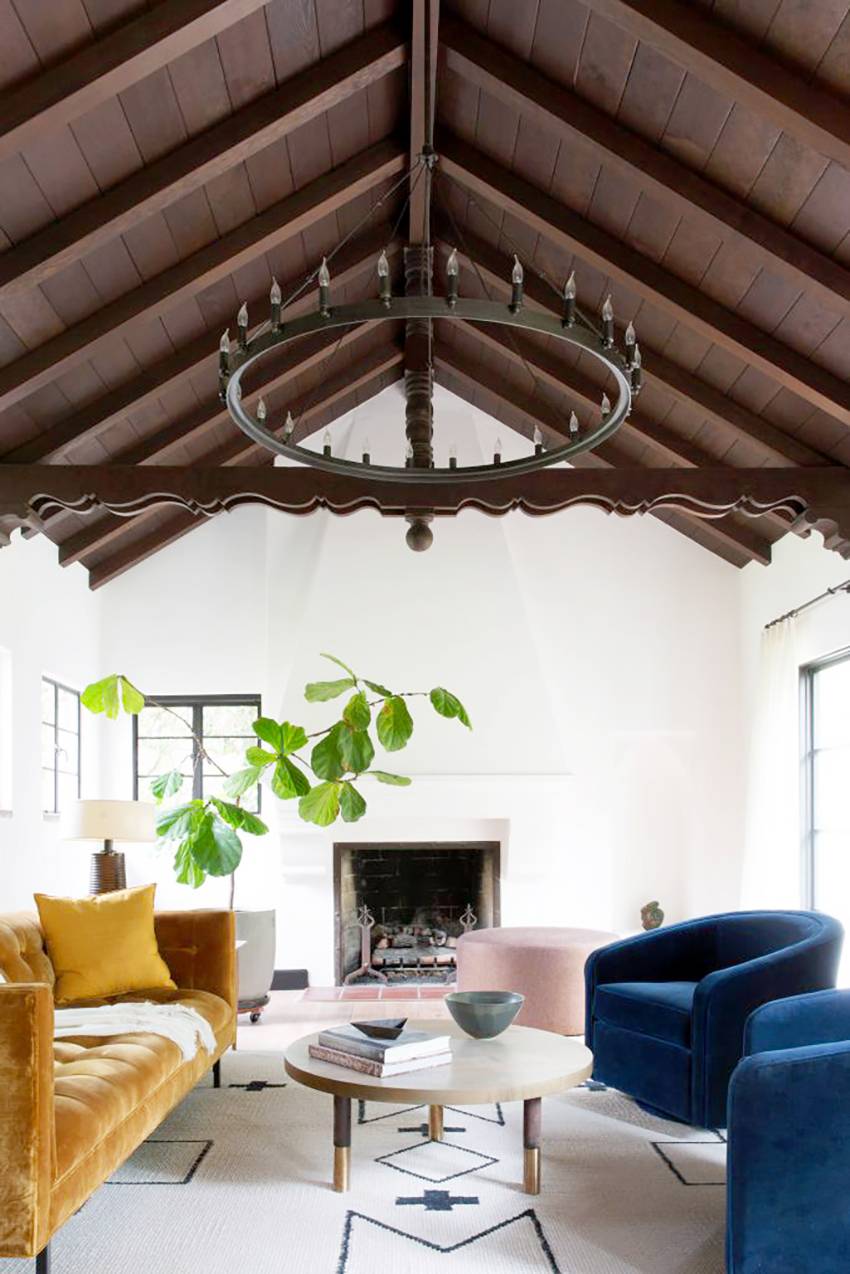 Blue does not always have to reside on walls. It also works well on textiles, especially the upholstery of couches and armchairs. A bright base made of white walls and a Moroccan rug, such as this one, always needs a pinch of character. Armchairs in blueprint transform this living room from strictly Farmhouse to intriguingly eclectic. Once more you may admire the combination of warm brown wooden ceiling with deep sapphire!
A Designer's Choice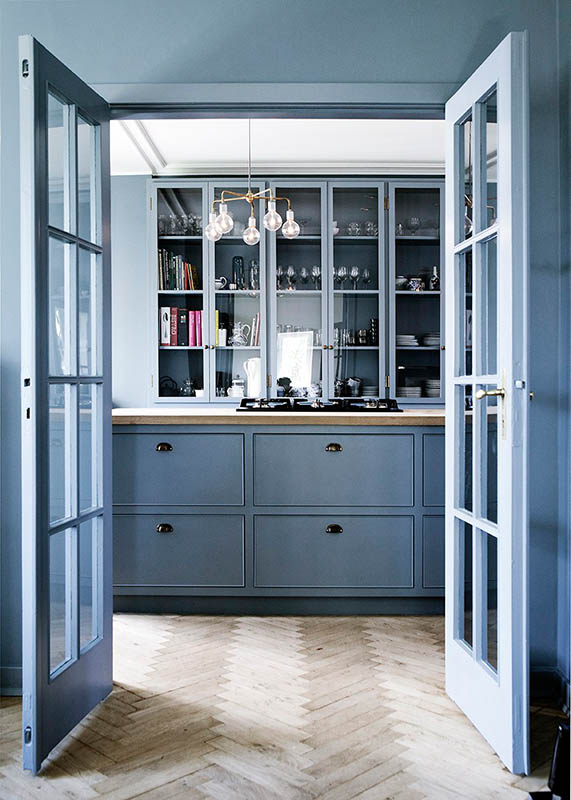 Cold blue was also the pick of the 'Room for Tuesday' blog's creator. The simplistic Scandinavian aesthetics of furniture and the French herringbone floor needed filling with color. Thanks to painting the walls and furniture blue, she managed to obtain a dashing designer effect.
Paint the Sky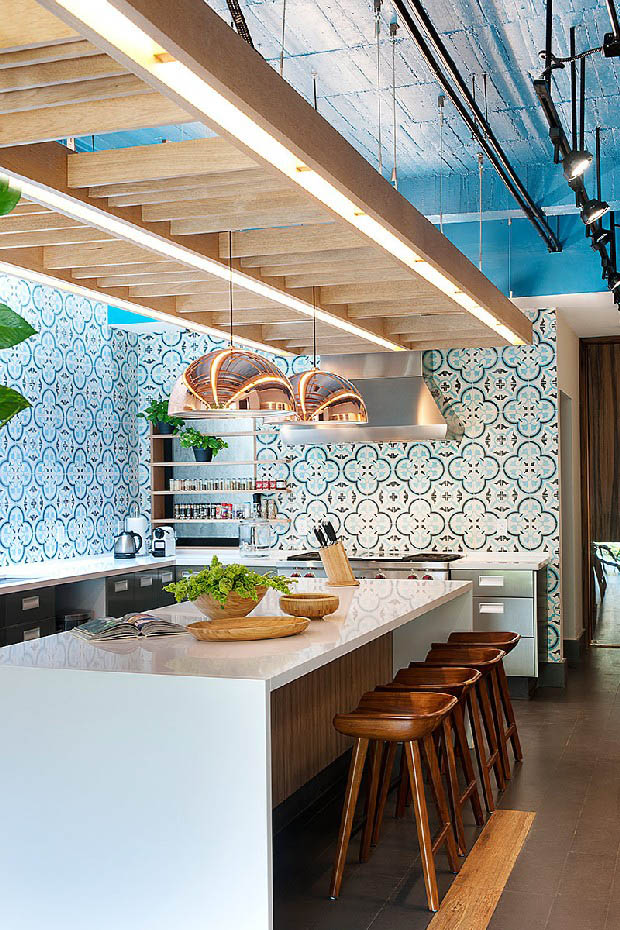 If you don't want Blueprint on walls or furniture, give it a chance over your head! The main trend of 2018 – statement ceiling – is a great way to introduce a bit of a stir into the interior while remaining quite conservative. In this kitchen designed by Muro Rojo Arquitectura, Moroccan tiles with blue accents smoothly pass into the' great blue'. Thanks to the wooden suspended ceiling, the color does not dominate the space, but only complements it.
In Service of Beauty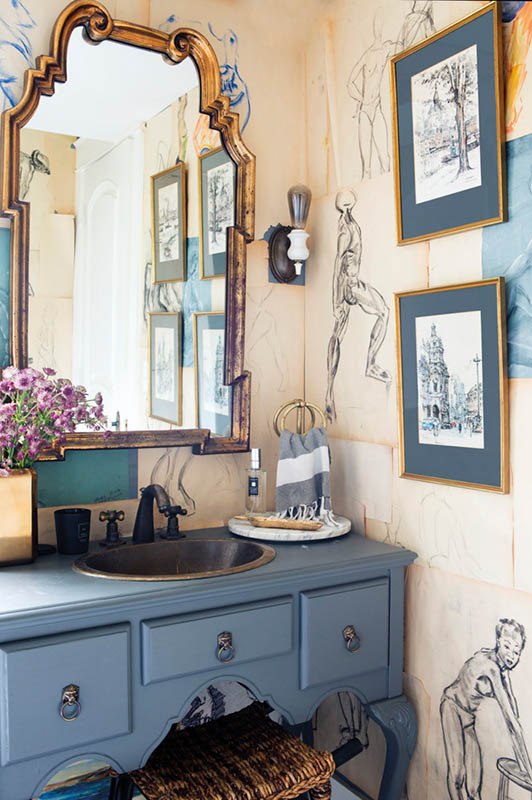 Powder room is another place that will gladly embrace Blueprint. The color worthy of Marie Antoinette's vanity will make every woman feel like a queen. As you saw in one of the previous interiors, gold and blue definitely go together. This blue-painted dressing table is coupled with gold elements thanks to which the royal-like impression is even further enhanced.
Blueprint the Transformer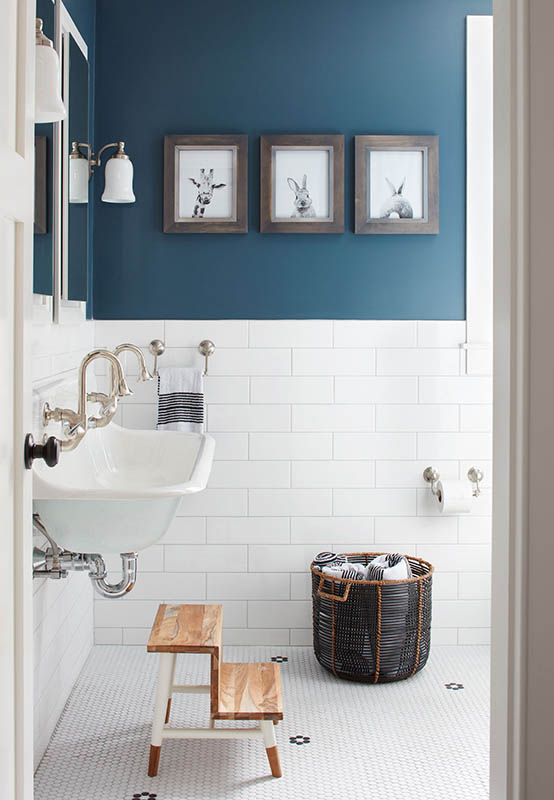 Blueprint is so versatile that it can be used in very simple and country-house interiors alike. The bathroom with white tiles, wooden elements and exposed sink's elbow got flair after the introduction of blue paint. While Farmhouse in a 1:1 ratio can be dull and overwhelming, it passes through a magical metamorphosis by the addition of a contrasting color.
A Blue Lullaby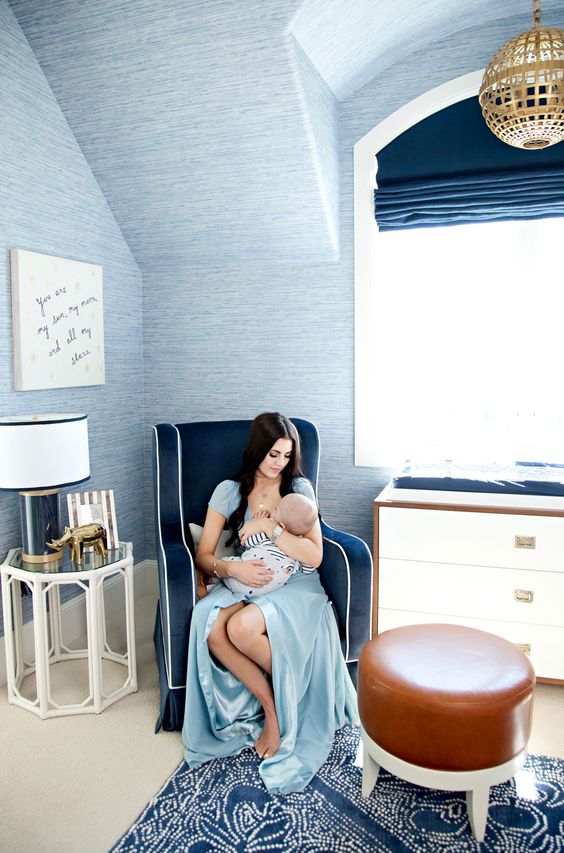 When thinking about blue in general, it is worth acknowledging its calming properties. For that reason, Blueprint will be ideal in nurseries. Blue walls, a carpet or an armchair will allow for inviting not only the trend but, above all, the serene aura. Just like in the other rooms, the designer mixed blue with a little gold and brown to balance the cold color palette.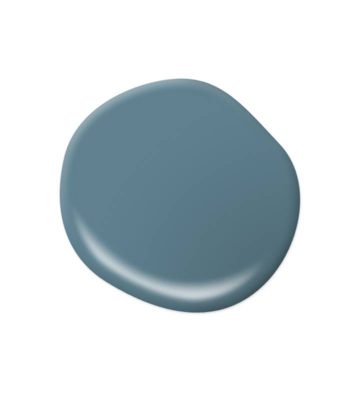 Doris Leslie Blau can help you find the right Persian carpet or oriental rug. We have a large showroom in New York City plus online catalogs and supplementary information. For help choosing a product for your needs, contact us online or call 212-586-5511.