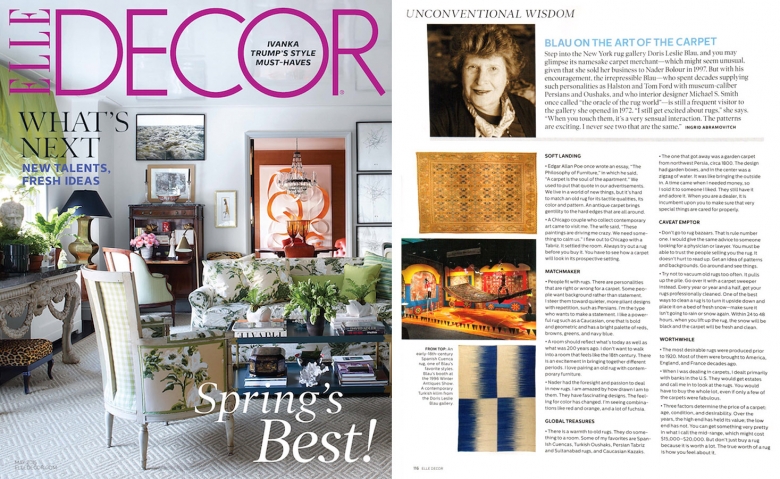 Reprinted from ELLE DECOR, May 2015
Step into the New York rug gallery Doris Leslie Blau, and you may glimpse its namesake carpet merchant—which might seem unusual, given that she sold her business to Nader Bolour in 1997. But with his encouragement, the irrepressible Blau—who spent decades supplying such personalities as Halston and Tom Ford with museum-caliber Persians and Oushaks, and who interior designer Michael S. Smith once called "the oracle of the rug world"—is still a frequent visitor to the gallery she opened in 1972. "I still get excited about rugs," she says. "When you touch them, it's a very sensual interaction. The patterns are exciting. I never see two that are the same." INGRID ABRAMOVITCH
Edgar Allan Poe once wrote an essay, "The Philosophy of Furniture," in which he said, "A carpet is the soul of the apartment." We used to put that quote in our advertisements. We live in a world of new things, but it's hard to match an old rug for its tactile qualities, its color and pattern. An antique carpet brings gentility to the hard edges that are all around.
A Chicago couple who collect contemporary art came to visit me. The wife said, "These paintings are driving me crazy. We need something to calm us." I flew out to Chicago with a Tabriz. It settled the room. Always try out a rug before you buy it. You have to see how a carpet will look in its prospective setting.
People fit with rugs. There are personalities that are right or wrong for a carpet. Some people want background rather than statement. I steer them toward quieter, more pliant designs with repetition, such as Persians. I'm the type who wants to make a statement. I like a powerful rug such as a Caucasian, one that is bold and geometric and has a bright palette of reds, browns, greens, and navy blue.
A room should reflect what's today as well as what was 200 years ago. I don't want to walk into a room that feels like the 18th century. There is an excitement in bringing together different periods. I love pairing an old rug with contemporary furniture.
Nader had the foresight and passion to deal in new rugs. I am amazed by how drawn I am to them. They have fascinating designs. The feeling for color has changed. I'm seeing combinations like red and orange, and a lot of fuchsia.
There is a warmth to old rugs. They do something to a room. Some of my favorites are Spanish Cuencas, Turkish Oushaks, Persian Tabriz and Sultanabad rugs, and Caucasian Kazaks.
The one that got away was a garden carpet from northwest Persia, circa 1800. The design had garden boxes, and in the center was a zigzag of water. It was like bringing the outside in. A time came when I needed money, so I sold it to someone I liked. They still have it and adore it. When you are a dealer, it is incumbent upon you to make sure that very special things are cared for properly.
Don't go to rug bazaars. That is rule number one. I would give the same advice to someone looking for a physician or lawyer. You must be able to trust the people selling you the rug. It doesn't hurt to read up. Get an idea of patterns and backgrounds. Go around and see things.
Try not to vacuum old rugs too often. It pulls up the pile. Go over it with a carpet sweeper instead. Every year or year and a half, get your rugs professionally cleaned. One of the best ways to clean a rug is to turn it upside down and place it on a bed of fresh snow—make sure it isn't going to rain or snow again. Within 24 to 48 hours, when you lift up the rug, the snow will be black and the carpet will be fresh and clean.
The most desirable rugs were produced prior to 1920. Most of them were brought to America, England, and France decades ago.
When I was dealing in carpets, I dealt primarily with banks in the U.S. They would get estates and call me in to look at the rugs. You would have to buy the whole lot, even if only a few of the carpets were fabulous.
Three factors determine the price of a carpet: age, condition, and desirability. Over the years, the high end has held its value; the low end has not. You can get something very pretty in what I call the mid-range, which might cost $15,000-$20,000. But don't just buy a rug because it is worth a lot. The true worth of a rug is how you feel about it.