The doyenne of Swedish rug-weaving craft – Marta Måås-Fjetterström – was born on June 21st in 1873, in the picturesque little Swedish town of Kimstad. From childhood surrounded by the outstanding landscapes of Sweden, she has absorbed the serene atmosphere of the countryside as well as the breathtaking and dramatic views of Scandinavian mountains.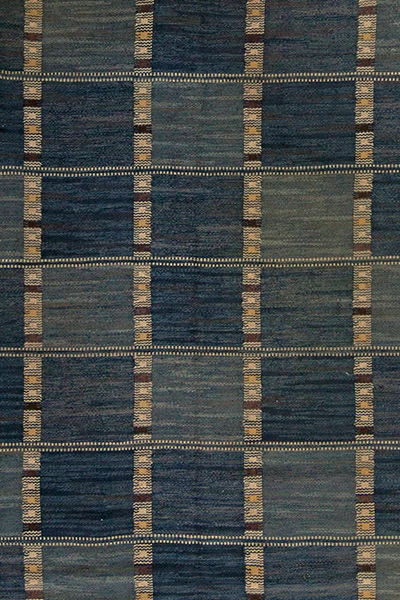 It left a mark on the artist, imbuing her with a remarkable sense of beauty and attachment to nature, which she largely engaged into her professional occupation by creating legendary Swedish rugs.
One can not talk about Scandinavian design without mentioning Marta Måås-Fjetterström. She is the mother of carpets, the ultimate trendsetter who left behind an impressive legacy of over 700 original designs. It all began in 1919, when Marta opened her own weaving workshop in the charming coastal Båstad. She started off by creating tasteful and imaginative, nature-inspired patterns which were later converted into hand-woven rugs by local women, usually in their own homes. The beginnings were humble, but a true talent always rises to the surface. The breakthrough came fifteen years later, in 1934, when she exhibited her works at a Stockholm gallery and met with an outstanding reception. The news of her success spread wide and fast as Marta started traveling the world showing the artistry behind Scandinavian design, which she in fact embodied. In 1936 there was London, then in 1939 came New York. Her career sky-rocketed and in no time she transformed from a modest designer into a renowned artist with the status of international celebrity. She ran her workshop, which exists as a gallery until this day, until death in 1941, displaying pieces by first-class designers. The factory itself, named Strandgården, was moved in 1948 to a house designed by the architects Ivan & Andres Tengbom –it still resides there. The works of Måås-Fjetterström can be found in the world's most prestigious museums, such as The Victoria&Albert Museum, The Metropolitan Museum of Art, The Louvre, Trondheim's Museum in Norway or The National Museum in Stockholm, among others.
The secret of Marta's success may definitely be attributed to more than just one factor. It was her upbringing, talent, hard work, but most importantly – attention to detail. Each and every line, color and knot of her weaving masterpieces radiates with excellence and is the essence of Scandinavia. She still constitutes an example for generations of designers and lives on within her timeless creations.