Founded in 2008 by Central St. Martins graduate Shanan Campanaro, Eskayel is a New
York based surface design firm.
Shanan has worked both in graphic design and fashion, but has always been interested in
interiors, believing that the atmosphere and the vibe of a room can transform one's mood.
Having lived in many different spaces and more than a few countries, the importance of building an environment of true self expression and comfort in each of her homes became a top priority, even an obsession.
Eskayel's mission is "to create energetically positive, eco-friendly wall-coverings, fabrics, carpets, accessories and furnishings that are meant to last and bring value through innovation and beauty into the home and public spaces". They say of themselves: "We have a strong commitment to the environment and we aim to spread that message through our marketing, product description and manufacturing to affect education and loyalty to this cause."

"Nature and travel are what inspire us most. The colors of the Sunset and Ocean are a huge influence. Our design process usually starts with painting from pictures taken during traveling and deriving color schemes from nature. Water plays a big roll in the creative process, painting with aqueous inks and often soaking the paper completely, letting colors bleed and blend into one another."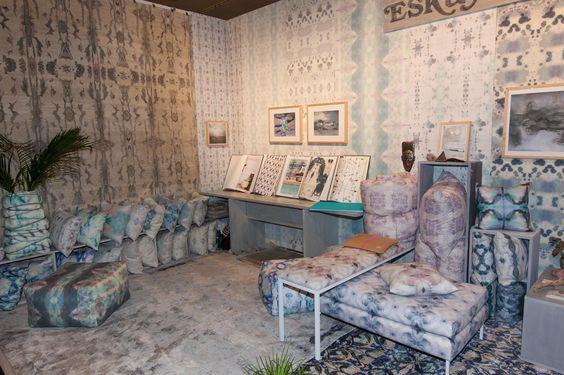 There is no vinyl in any of their inks or wall covering substrates which is extremely important to us as VOCs are still a huge problem in the wallpaper industry. Whenever possible, Eskayel only uses natural linens and organic cottons for the fabric bases and recycled materials for the commercial grade fabric and wallpapers, with all their inks being water-based. Eskayel supports local entrepreneurs by producing locally in the northeastern United States. All their goods are custom-made, thus excluding waste from the process of production.
Eskayel's environmental conscious is also expressed through the contributions that they give to environmental organizations such as "One Percent for the Planet."
Doris Leslie Blau and Eskayel unveil a new rug collaboration, combining the highest-quality of rug textures and techniques with fine art. The idea for this collaboration was born when Nader Bolour of Doris Leslie Blau and Shanan Campanaro of Eskayel met and realized that a combination of her artwork and design sense coupled with his industry knowledge and expertise had the potential to produce truly eclectic, never-before-seen types of rugs. Beginning with Shanan's watercolor paintings as the source material for the patterns, Nader was facing a challenge of transferring the delicacy and energy of her brush strokes and ink lines into a woven structure. Utilizing his 30 years of business experience, Nader has decided to focus on higher knot counts, that have never been used in modern rug construction, to complete the project. Combining various textures including pashmina, aloe and silk, with the highest quality of weaving techniques, Nader was able to transcend the systemic limitation of woven nature and bring Shanan's imagery to life in a way that has never been seen in contemporary rug production.