This article originally appeared in the November 2017 issue of Architectural Digest
Our oriental rugs boutique is the source of inspiration for most famous designers and architects such as Peter Marino and Alberto Pinto. Our timeless and iconic pieces are often featured in Architectural Digest, Elle Decor, The World of Interiors, NY Times, WSJ. Many celebrities are among our clients including Brat Ford, Robert De Niro, Michael J Fox, Hilfiger, etc.
Our passionate team of creative artists work directly with you to create and match a perfect Persian vintage rugs with desired interior and your personality.
If Miami is the Magic City, Craig Robins is its tireless conjurer. As founder and chief executive of the real estate company Dacra, Robins has been pulling off seemingly impossible feats since the late 1980s. He transformed the moribund Art Deco neighbourhood of South Beach into a glittering destination.
More recently he has turned the Design District, a virtual wasteland north of Miami's downtown, into a culturally inflected luxury-shopping Mecca.
This sorcerer of South Beach also waved his wand over the renovation of his home in Miami Beach's exclusive Sunset Islands. Robins had owned the two-storey waterfront property for nearly two decades, but in the run-up to his 2015 marriage to Jackie Soffer (a powerful South Florida real estate developer in her own right), he enlisted architect Walter Chatham and interior designer Julie Hillman to update the house and build an addition. Considered but not overly appointed, the inviting just-over-836-square-metre place is as much a functioning family home (the couple have six children) as it is an outlet for their boundless artistic passions.
GROUP EFFORT
"I'm not into the idea of living in an uptight showpiece," explains Robins, who is sitting on a custom-made L-shaped sofa in the living room that looks out onto Sunset Lake. "People get so crazy with finishes. White walls and decent lighting are all I need. The art and design should be allowed to do all the talking."
And what a setting for artful conversation Robins and Soffer have created. A tour of the home reveals an international who's who of mid-century and contemporary design, including furniture and curios by Gio Ponti (lots and lots of Ponti!), Maria Pergay, Marc Newson, the Bouroullec brothers, the Campana Brothers, and Tom Dixon—even a concave ping-pong table by Ron Arad. Almost all of the pieces, Robins points out, are from Design Miami, the agenda-setting design fair that he launched in 2005. "There are clearly no boundaries between my personal and professional lives."
As if to prove his point, Robins is wearing clothing by Tom Ford and oxfords by Berluti—two of the prestigious brands he has lured to the Design District. Typically, he says, he would be in his more edgy, regular uniform, "Rick Owens or Saint Laurent" (also retail partners), but he had a meeting earlier with a strait-laced client so opted for non-threatening mufti.
WAR OF ART
A one-time art student turned avid collector, the normally restrained Robins is effusive when talking about the inestimable art collection in the home. "I don't care how much it costs or what people say it's worth," he says, marvelling at a series of first-edition Francisco de Goya prints hanging in a hallway outside his upstairs gym. "You can't do better or have anything more important than art like this." Elsewhere, Baldessaris hang next to Currins; Marlene Dumas shares pride of place in the dining room with Louise Bourgeois; and Vito Acconci appears locked in an eternal standoff with Joseph Beuys.
Not that it's all blue-chip names on display. An oil painting resting on a shelf in the library turns out to be by Robins's actor friend Robert Downey Jr. As for the ceramic teapot of unrecognizable provenance? "Oh, that," Robins deadpans, "is a new piece from a genius ceramicist called Marlon Robins,"—referring to his 17-year-old son.
Robins and Soffer were pretty much in agreement when it came to integrating their respective collections ("If anything, we inspire each other to collect outside our comfort zones," he says), but a battle erupted over the yard—a tropical idyll created by Nathan Browning, the formidable landscape designer who is also responsible for the Design District's beguiling greenery.
PARTY TRAINING
While the couple agreed to extend the theme of collectibility by having Browning transport and plant a significant collection of rare Caribbean palms, they locked horns over what to do with the rest of the 146-metre-wide space.
"Craig was adamant about having the pavilion that David Adjaye built for Design Miami in 2011," Browning explains, "and Jackie was adamant about building a basketball court for the kids and felt that the Adjaye would block the view." The result is a harmonious balance that doesn't feel crowded or precious. "We love it out here," Robins says, "and we pretty much eat and entertain outside from November through May. Why have a house in Miami if you don't live outside?"
Dinner at Casa Robins is often served on an outdoor table for 12, close to the dining room and kitchen. The guests are typically as rowdy as the resident wild parrots and as divinely disparate as the art on the walls. "He's like a curator of people," says Harmony Korine, the director/actor/artist, who recalls sitting next to the shoe designer Christian Louboutin on a recent night. "He likes to throw people in the mix and see what happens, but it never feels forced."
Miami-based supermodel Karolina Kurkova concurs. "You never know who you are going to meet," she says. "It could be someone from fashion, business, art, or a bunch of Harvard professors, but it's always interesting and fun."
While the guests may be glamorously unpredictable, at the end of each soiree they inevitably end up in the spectacular master bathroom designed by Robins's dear friend and collaborator, the late Zaha Hadid.
"I once walked in on Martha Stewart doing an impromptu shoot with photographer Todd Eberle in the bathroom," Robins recalls. "To be fair to Martha, I think she asked for permission at some point in the night, and as far as party antics go, it's less naughty than what a lot of people get up to in Miami bathrooms."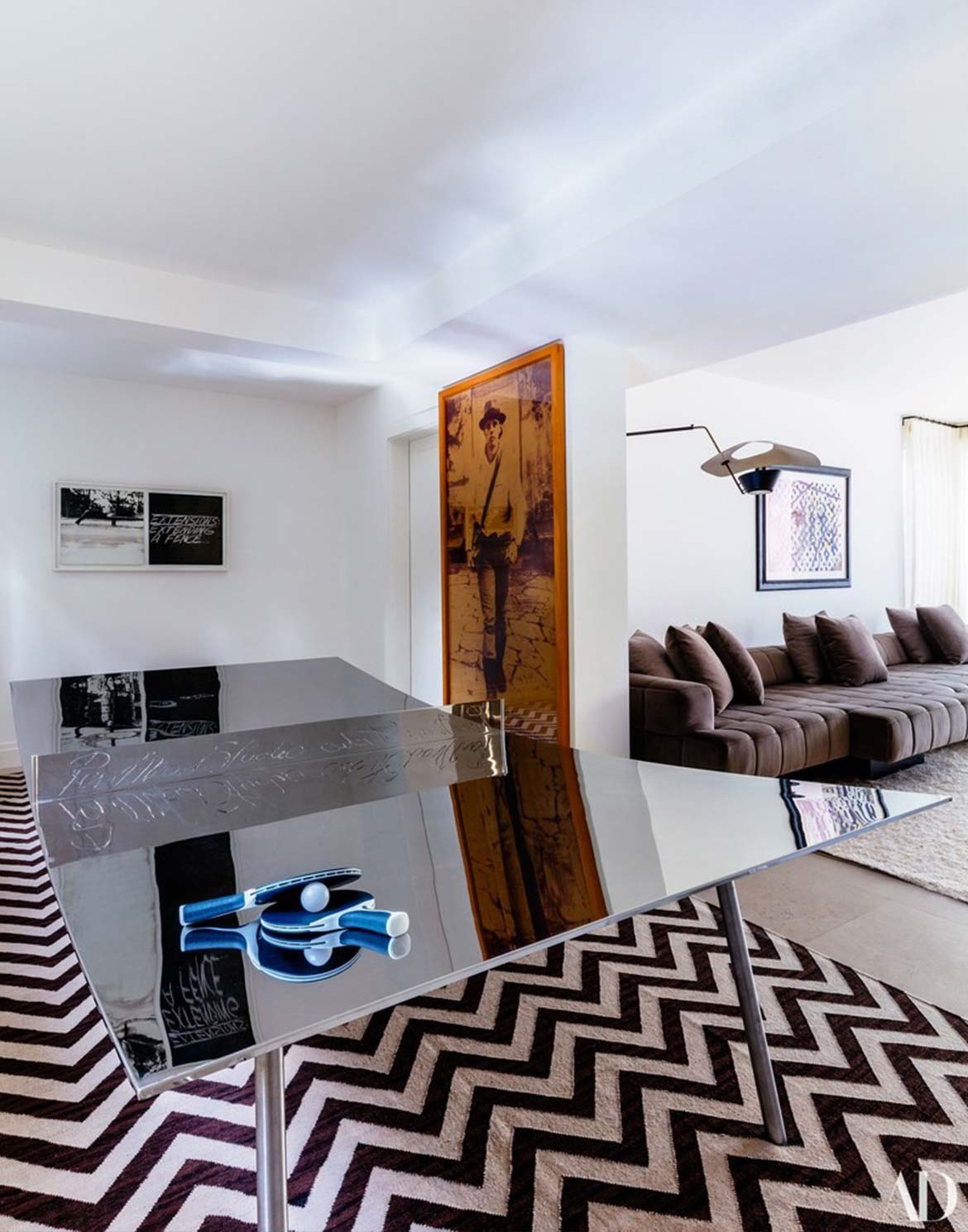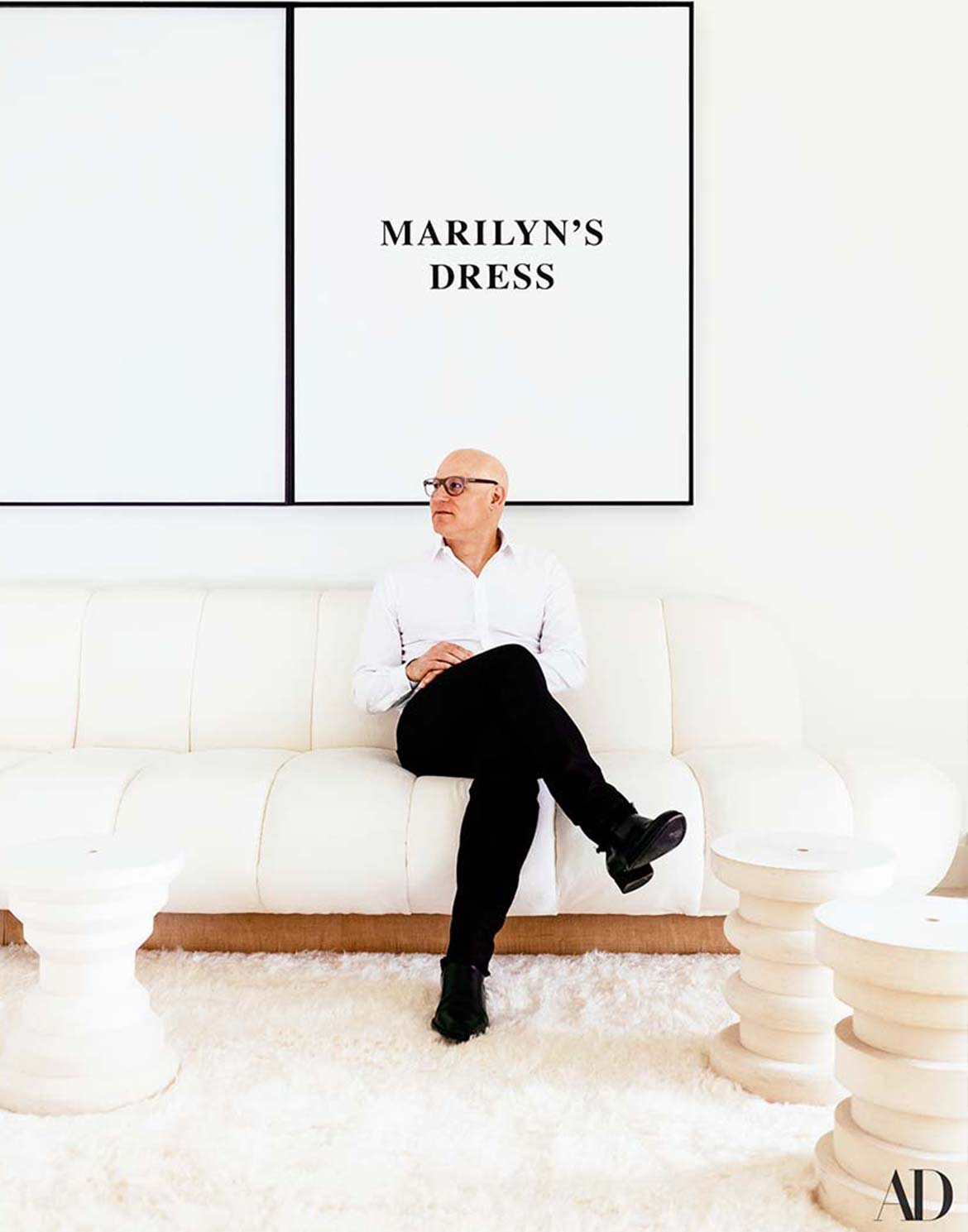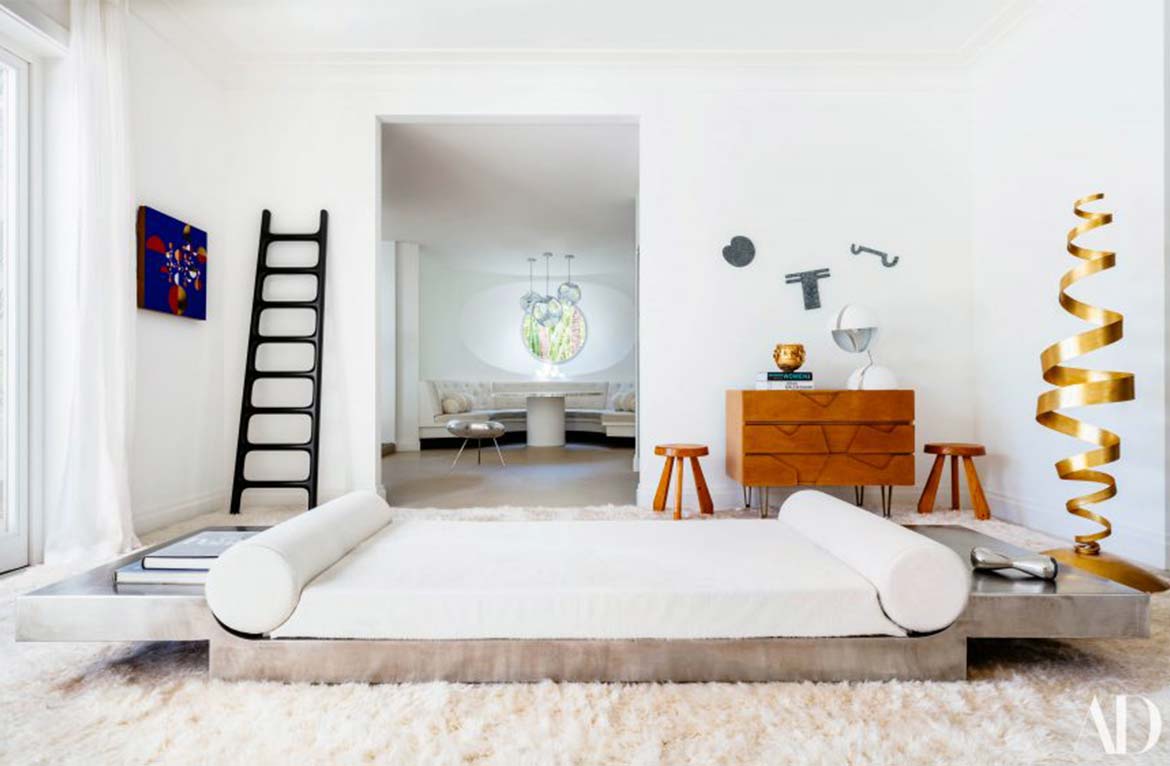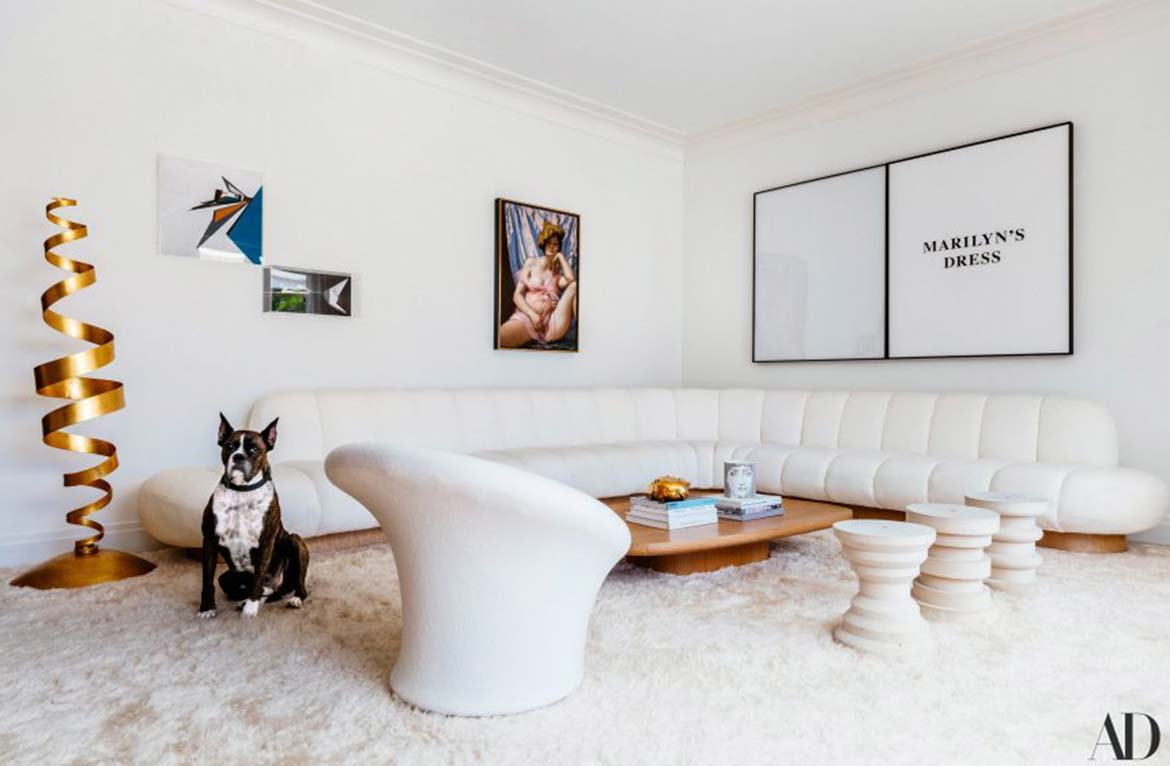 Inside the home of Craig Robins: Laz, the family's Boxer, poses in the living room, where artworks by (from left) Zaha Hadid, John Currin, and John Baldessari line the walls. Pierre Paulin's Mushroom chair in a Holland & Sherry wool, a bespoke sofa in a Holly Hunt fabric, and a trio of concrete pieces by Max Lamb surround a limited-edition Ronan and Erwan Bouroullec cocktail table. Hand-knotted alpaca rugs by Doris Leslie Blau.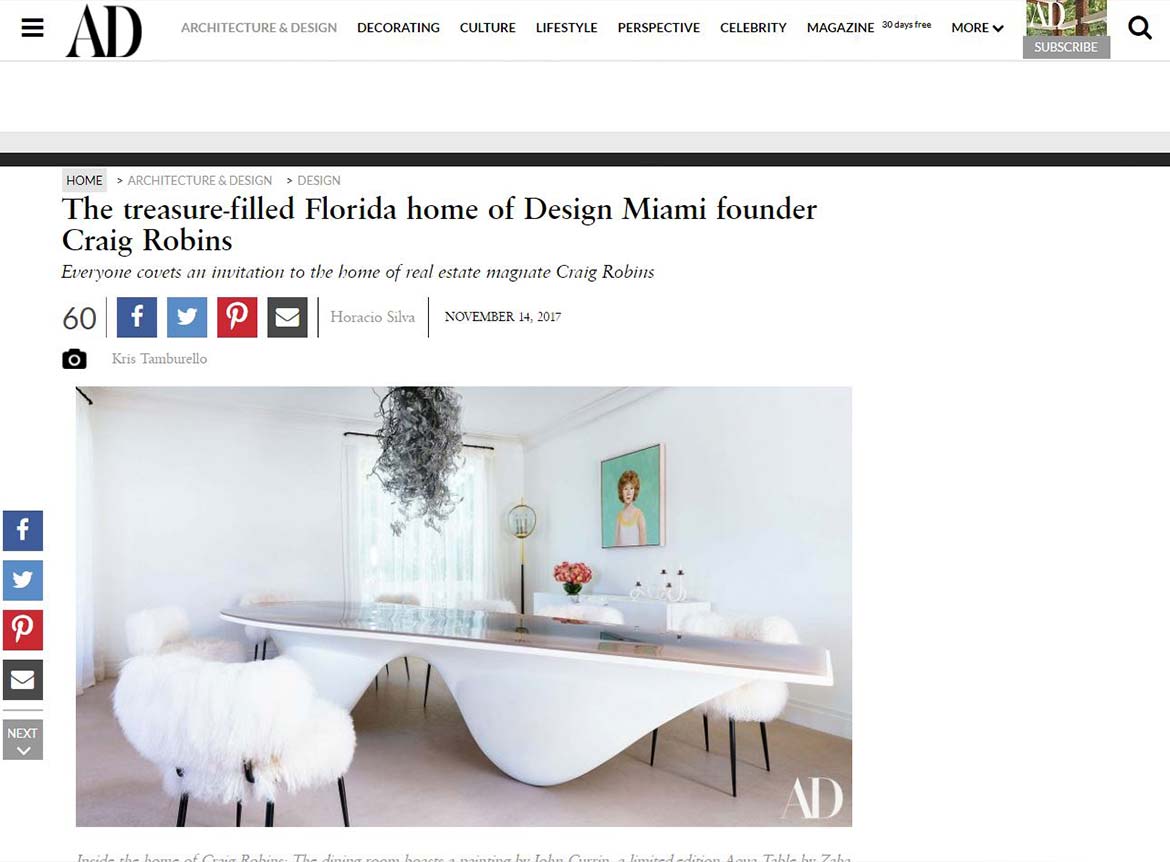 This article originally appeared in the November 2017 issue of Architectural Digest