Antique Persian Rugs
Antique Oriental Rugs in the Collection of Doris Leslie Blau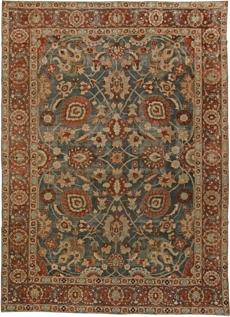 No matter your preference for color, texture, style or vintage, Doris Leslie Blau offers the widest selection of antique Persian rugs & carpets and vintage Persian carpets for sale to fulfill your dreams. Antique Oriental rugs and Oriental carpets are notable for the wide variety of styles in which they are available and antique Persian carpets are among the most desireable. Whatever you are looking for, from room-size rugs to antique area rugs, there is an antique or vintage Persian rug to suit your taste.
History of Antique Persian Rug (also known as Antique Oriental Rug)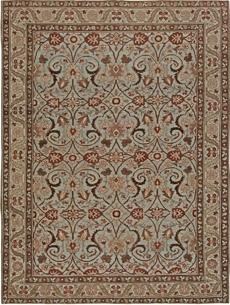 The Golden Age of Persian carpet weaving occurred during the Safavid dynasty, when Shah Tahmasp (1524-1587) began establishing court factories for carpet production. Prior to this time, the production of rugs in the region was primarily a village craft, defined by use of simple rectilinear patterns. Following the Afghan invasion in 1722, there was a significant decline in Persian carpet production until the late nineteenth century when European demand for Persian rugs contributed to a major revival in the art form. Persian rugs designs can be divided into two main categories - city (formal) rugs, which were made in workshops, are known for their finely-woven and often intricate designs, and village rugs (informal), which are widely varied in their unique blends of city and nomadic motifs and techniques. The most important formal rugs come from Tabriz, Kashan, Kirman, Doroksh, Khorassan, Meshad, Tehran, and Sarouk and the most well-known villages included Malayer, Sarab, Bakhtiar, Bakshaish, Sultanabad, Bibikabad, Senneh, Fereghan, Heriz, Hamadan and Shiraz.
Design of Antique Oriental Persian Rugs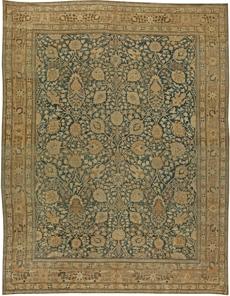 In Persia, each region, and sub-region, has its own unique design iconography that has been handed down from one generation to the next ensuring that each is distinct and special despite a basic commonality of construction. The type of material used, the method of tying knots and the density of knots per inch, combined with specific design schemes all give a unique cultural fingerprint to each carpet or rug. These distinctions make the search for an antique Persian rug an exciting romp through Persian culture and history. Antique Persian carpets and vintage Persian carpets, among all the antique Oriental rugs available, are notable for their wide variety of styles. Whatever you are looking for from room-size rugs to antique area rugs, there is an antique, oriental or vintage rug to suit your taste. When you are in the market for an Persian rug you are not merely searching out old Persian carpets or just any antique silk rugs. An antique Persian rug's price can vary tremendously depending on the quality of the original craftsmanship (looking at things like the complexity and importance of the design, the material used, the number of knots per inch, the current condition of the rug, etc.). Thus, a wise buyer does not simply search for antique Persian rugs on eBay, but relies on an expert guide in selecting the best quality and best fit to meet their unique needs without sacrificing value. After all, you don't just want to find used Persian rugs; you want to find the quality and design that reflect your good taste.
So whether you are looking for a large, formal antique Persian rug crafted in a large city or a smaller Antique Persian nomadic rug, you are sure to find what you seek while searching through our inventory of Antique and vintage Persian rugs and carpets.
Antique Persian Rugs As the Gentility of Oriental Rugs
Antique Persian rugs can most certainly be called the crème de la crème of all Oriental rugs. Among various types of Oriental rugs, the ones from Persia stand out quite substantially due to several unmistakable features. For centuries, their intricate and highly significant patterns have been achieved due to the application of the asymmetric knot, also known as the Persian knot or the Senneh knot, which allows a weaver to attain a higher knot density and thus, a more detailed design. Thanks to such expert craftsmanship, Oriental rugs from Persia developed some of the most iconic motifs. The Tree of Life symbolizing direct path from Earth to Heaven, opulent medallions, ornamental spandrels, meticulous floral or fruit patterns bearing many meanings, religious references, as well as animal representations and pictorial scenes, all belong to the magnificent repertoire of antique Persian rugs. Nevertheless, the proper application of color in Oriental rugs is equally important to the nuanced designs, and also carries an important message. Although Persian rugs are characterized by an immense array of styles and color palettes, the most frequently used shades are beige or gold, blue and red. The "royal trio" stands consecutively for wealth, beauty and joy, and power as well as solitude – an allusion to the afterlife. If someone once falls under the spell of antique Persian carpets, he or she will never be able to break it as these fabulous Oriental rugs embody the essence of ultimate mastery, timeless beauty and upmost excellence. There are no modern utilitarian objects that would match the charm and mystery of antique Persian rugs.
An Exceptional Collection of Antique Persian Rugs and Carpets for Sale in NYC