Reprinted from Architectural Digest April 2017
We are Doris Leslie Blau! Established since 1965. World's most recognizable brand for the Persian, oriental, antique and vintage style rugs and makers of the finest custom carpets. Antique Rugs (persian, vintage oriental carpets and rugs for sale). Some of these large area rugs are so rare that no more than a few exist in the entire world.
"It's sculpture inhabited." That's how Tiago Correia, the U.S. director of Zaha Hadid Architects describes his firm's condo building at 520 West 28th Street. "We made a building that very deliberately blurs the lines between art and architecture," he explains. "That's our way to pay tribute to the location, to Zaha's work, and to the burgeoning lifestyle in the area." The architect's first project in New York—and also one of the last to bear Hadid's personal stamp after her unexpected death last year—520 West 28th is, indeed, a monumental tribute both to the architect's signature style and to the city of New York.
To those who worked closely with Hadid, her first New York City project was a long time coming. "I remember Zaha saying that when she visited New York City she loved to walk around this neighborhood and visit the galleries," recalls Correia. "She would frequently walk the High Line and she was intrigued by its function as an alternative public space."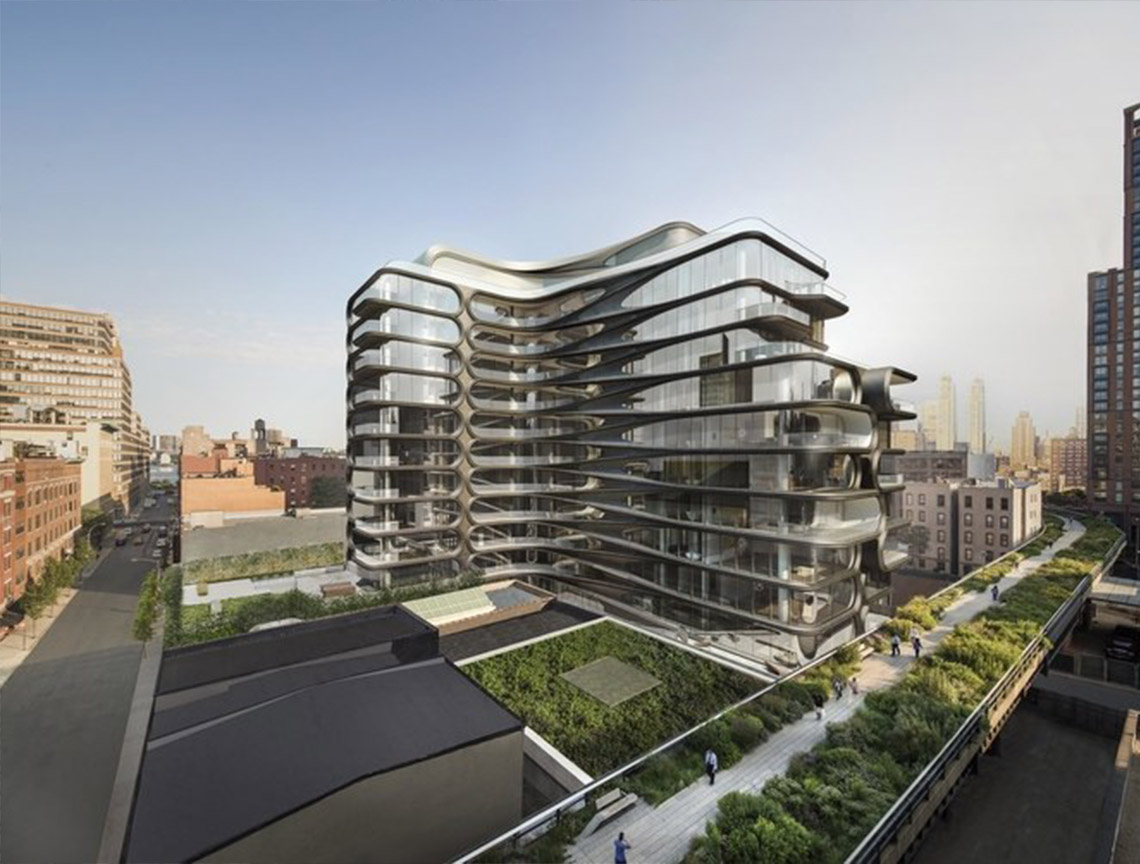 Hadid's fascination with the public park served as a jumping-off point for the building's design. "For a pedestrian, the High Line creates a new way to see the city," Correia explains. "For the fist time, pedestrians can see it from an elevated perspective, as though they were on an urban balcony. So this sense of layering is something we tried to develop in the project."
To do so, Hadid conceived a facade of stacked balconies in her signature curvaceous style, each providing a generous view of the city and High Line while still maintaining privacy. "The split, what we call the chevron shape, became the theme of the project, and we expressed it very strongly on the facade with these handcrafted, dark stainless-steel panels," Correia says. Such a choice of material is significant: Though the building's silhouette maintains Hadid's trademark organic fluidity, making it a standout in a skyline of linear skyscrapers, the architect and her team channelled the city's history through their use of stainless steel. "We were keen to pick those panels, because it's a reference to the iron of the High Line and the materiality of Chelsea as a neighborhood," says Correia. "We wanted it to very directly embrace the historic quality of the neighborhood and the High Line."
This connection between city life and personal life carries through to the interiors, which were also conceived by Hadid. "One of the foundations of Zaha's work is a strong connection between building and landscape, in this case the urban landscape," explains Correia. "So with this building, we have, on the outside, a very curved facade that creates a very recognizable new point of visual interest that also embodies the history of the neighborhood. Inside, we use the same curves to delicately frame the beautiful vista that opens from the project: the High Line, midtown, the Empire State, the Hudson. The building has this shape that captures the best in every facade and frames these views. It's very deliberately done in an impactful way."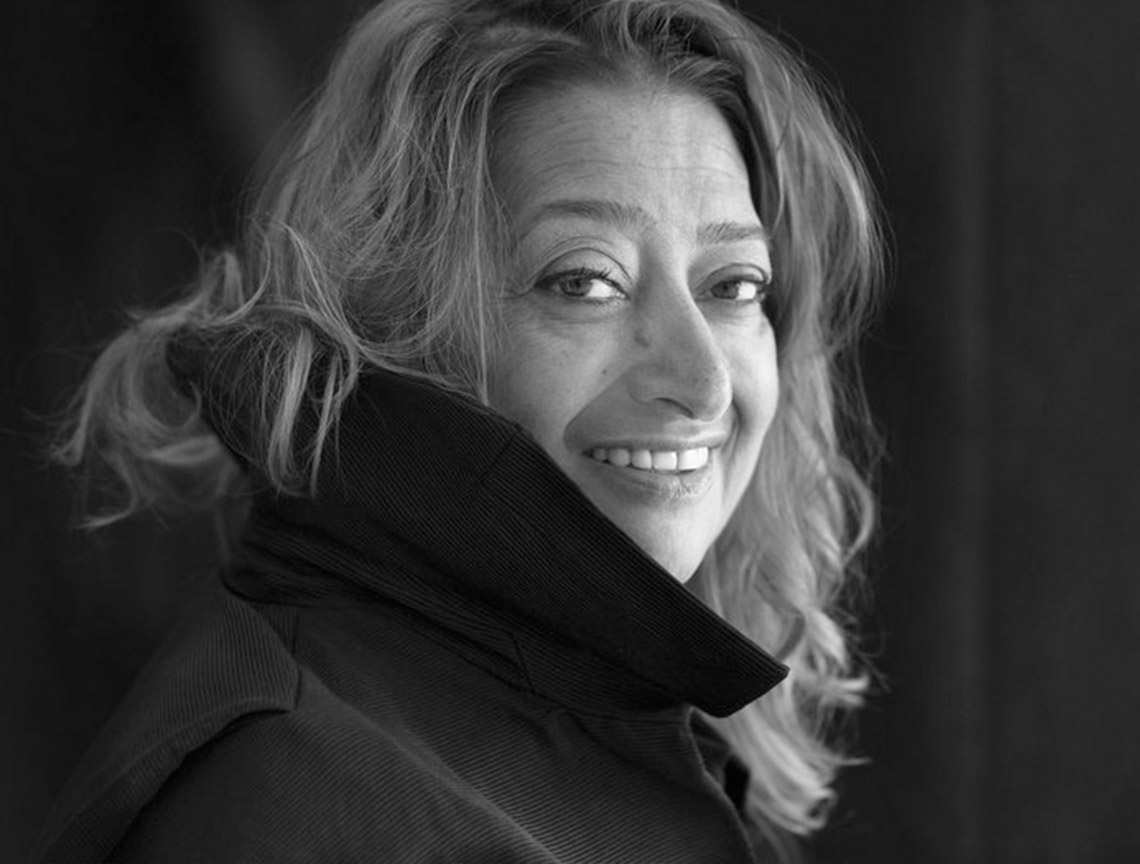 Though Hadid's interiors are instantly recognizable, Correia insists upon their livability. "It's not a blank canvas, it's a rich canvas, the interior, but it really takes well to all kinds of design." To demonstrate this, the building's real estate firm, The Related Companies, enlisted two interior designers to outfit model apartments in strikingly different styles. West Chin and Jennifer Post created interiors that both highlight Hadid's work and, in a sense, soften it for everyday living. "Zaha has captured the edginess of New York with her dynamic design and sculptural architectural elements," explains Chin. "What we tried to do was embrace these foundations and add to that a sensitivity and ease that allows the home to become a haven from the fast-paced lifestyle that many New Yorkers live."
If there's one thing upon which all parties can agree, it is that the essence of the building is intrinsically tied to the heartbeat of its city. "It is difficult not to be influenced and inspired by the city in an apartment like this," says Post. "The views onto the High Line and the cityscape are iconic. The energy around this building at the heart of the city's thriving art community is palpable. The apartments both look out onto and are an integral part of New York."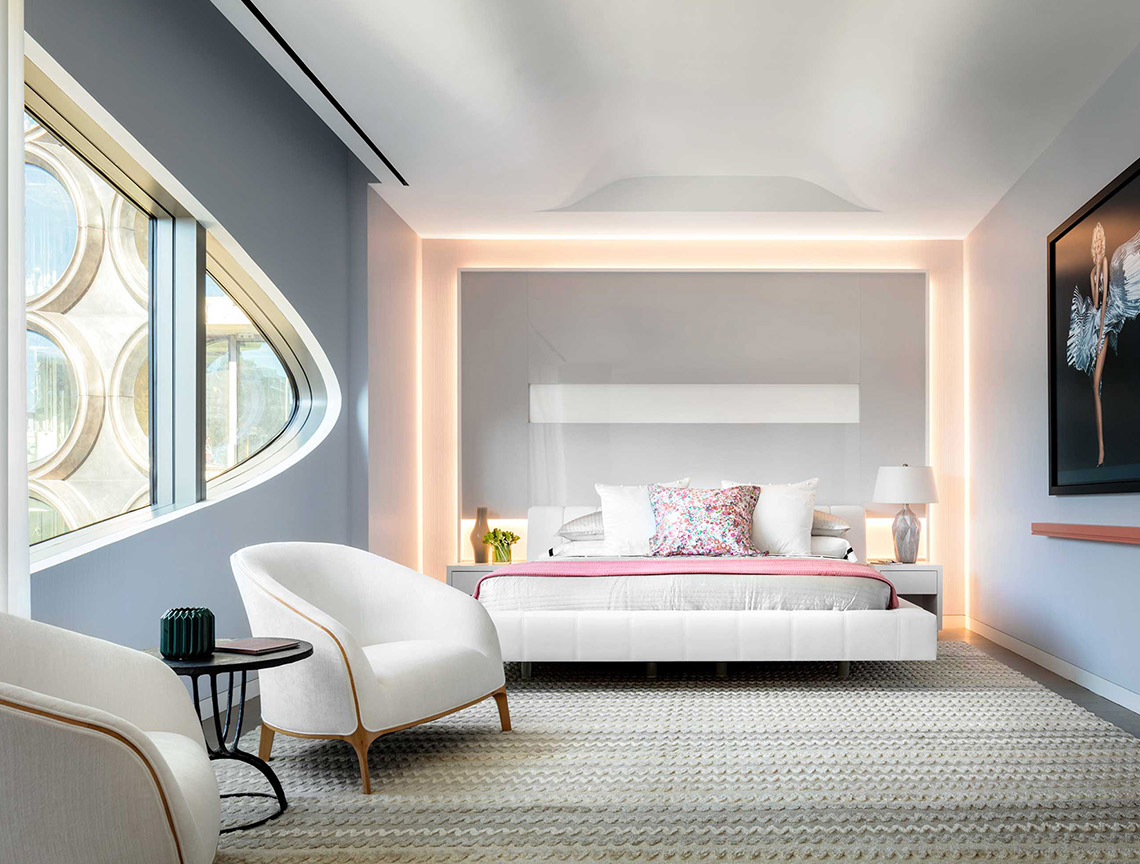 Reprinted from Architectural Digest April 2017