One-of-a-kind Vintage Art Deco Decorative Area Rug in Brown Shades BB3019
7'8" × 10'3"
$

17,000
$17,000
An early 20th century Art Deco antique rug, having an overall design of solid rectilinear forms in shades of brown, ivory and beige creating an overall diagonal step pattern.
Vintage rugs – they are essential objects of desire of not only vintage trend followers but all aficionados of beauty and sublime design. There is a good reason for such vast recognition as vintage carpets constitute the core of taste and artistry of the 20th century progressive thought. They are clearly defined by the past century's celebration of new ideas, modern lifestyle and the Renaissance of all arts which happened about that time. The category of vintage rugs for sale has many faces – there are numerous aspects such as historical period, style, fashion, culture, symbolism and philosophy which add up to form the dazzling array of European Art Deco rugs.
Art Deco is a style of visual arts, architecture and design that first appeared in France just before World War I. The Art Deco movement led to a fast evolution of the rug and textile design, among other art forms. Rug design evolved from traditional floral and highly ornamental to a style of angular elegance with geometric, abstract and modern figurative motifs. The design is frequently spare, geometric, and architectural. The rugs created during this period remain elegant and refined to this day.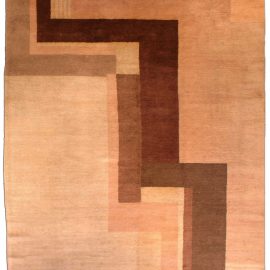 One-of-a-kind Vintage Art Deco Decorative Area Rug in Brown Shades BB3019
$

17,000
In stock