Rug hooking is a typically American craft created out of practical necessity rather than need for beauty. The experts are yet to agree on the technique's origins – while some suggest it was invented in England, others claim that Vikings brought it to Scotland during their travels.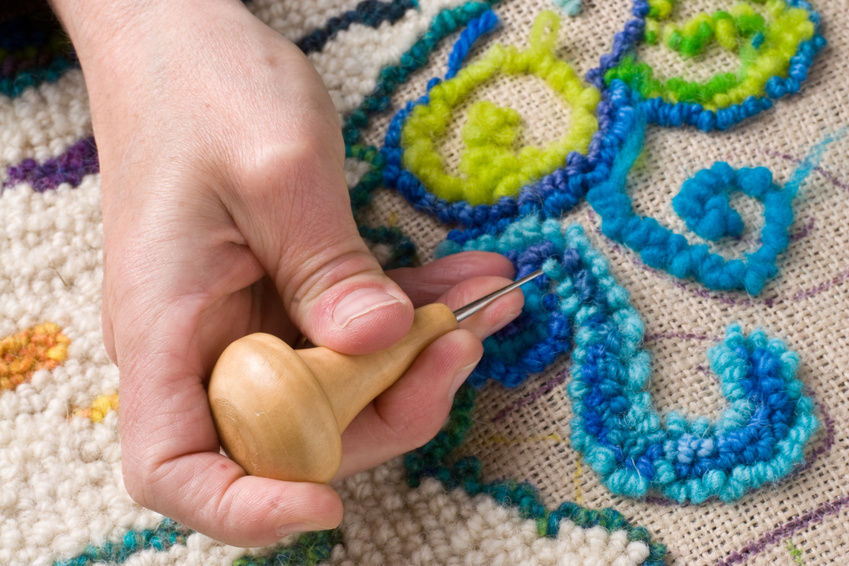 Rug hooking in its present form developed in the 19th century along the Eastern Seaboard in New England in the United States, the Canadian Maritimes, and Newfoundland and Labrador. It was initially perceived as the "craft of the poor", as hooked rugs were made by those who could not afford elegant machine-made carpets imported from England, using scraps of textiles such as burlap. Cotton and silk had to be imported from Europe, rising their already high price.
With time, hooked rugs started to gain popularity, making their production more profitable. However, due to the amount of skill needed to make a carpet it was a time-consuming process. In the 1870s, Edward Sands Frost's idea of printing the designs from stencils made of old copper boilers took the market by storm. Hooked rugs started to be produced on a mass scale, but their quality sharply declined. The craft itself was almost forgotten, but thanks to two remarkable individuals, Pearl McGown and William Winthrop Kent, it was saved from disappearance. Soon rug hooking started to spread outside U.S to Europe, where it gained tremendous popularity in Denmark.
The process of weaving is a simple one: it starts by pulling loops of yarn through a stiff base, usually made of burlap or rug warp then pulled by the loops through the backing material. What makes hooked rugs so beautiful is how precise their designs are. Some of the best pieces look almost life-like! No wonder that even today it remains a popular hobby in the Do-It-Yourself community.