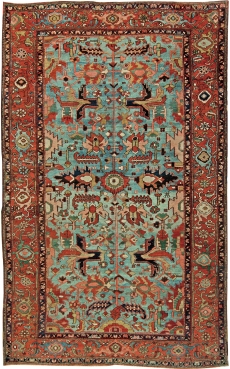 For carpet and rug lovers, northwest Persian creations are a must have. These varieties of rugs include mainly Heriz rugs (also known as Serapi rugs) or the Bakshaish rugs. Persia, as a whole, is known for its authentic oriental antique art and engraving. This is very evident in northwestern Persian rugs as well. They are a special category unto themselves; built off the foundation of the brilliant and striking Persian art culture.
Heriz Rugs
These rugs are produced in Heris, East Azerbaijan in northwestern Iran. Heriz carpets are known for being extremely durable and hard-wearing, many lasting generations. That is why you can still find some of the major 19th century produced Heriz rugs on sale at major auctions in Europe and United States.
These rugs are tough, thick and known for their mystical effect of getting more beautiful with age. The toughness of these rugs is due to the copper deposit in Mount Sabalan. The presence of this high density of copper is transferred through drinking water to sheep leading to traces of copper in the wool produced by them, which in turn leads to production of high quality, tough wool that is more resilient than wool produced in other areas. In terms of design, weavers use bold patterns and geometric figures dominated by a large medallion.
The Bakshaish Rugs
Bakshaish rugs are another major product of northwest Persia. Located in the Tabriz region, Bakshaish is considered the oldest village known for rug weaving. The common thread in these rugs is the use of versatile artistic adaptations of ancient Persian motifs. Based mainly on classical Persian carpets, executed in bold geometric designs- often with emphasis on curvilinear medallion orientations. There are many things that make these carpets unique. Their lively appearance hand-woven by tribal weavers even in modern times, these carpets have received much attention from scholars and fans all across the globe.