There is nothing strange or new about drawing inspiration from TV series or soaps even, but this should be made clear: purchasing clothes identical or resembling those seen on TV shows characters is one thing but having your home redecorated in order to remind you of your favorite soap living room or kitchen… that's a whole different story. If you don't want it to turn out to be an American horror story and don't feel like turning yourself into the walking dead in the process, stick with us through this article and there's a chance you'll come up with something bold and beautiful yourself.
The stairs
Somehow all the great shows, all the lavish, decadent, posh, royal indulgent ones always brag spectacular stairs and entresols, on which the characters could ominously ascend or tragically descend from them. One of the most prominent examples would be of course Gone with the wind.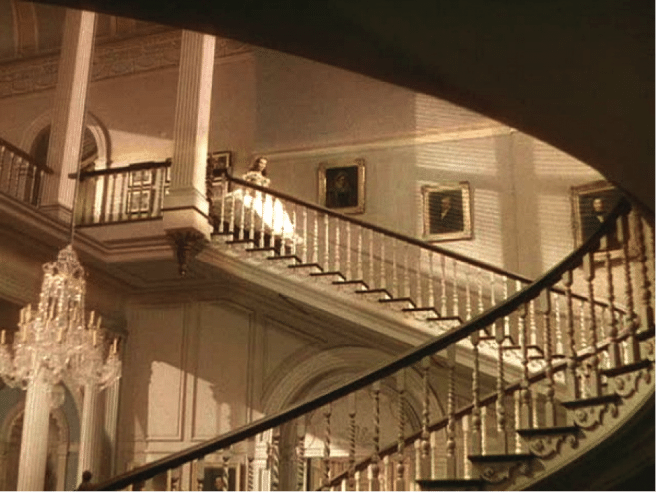 A mansion in Twelve Oaks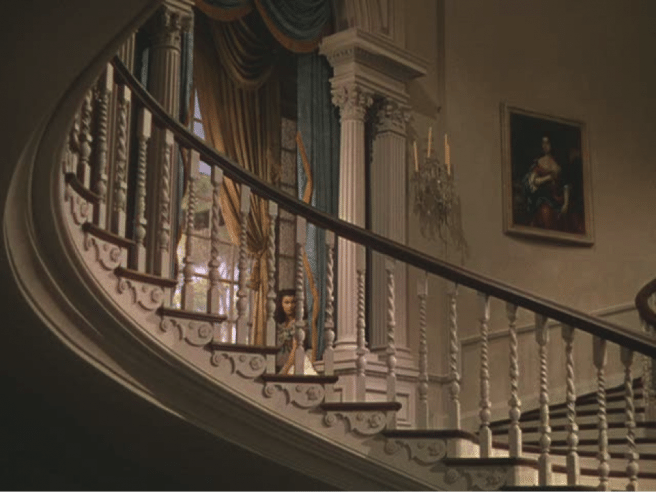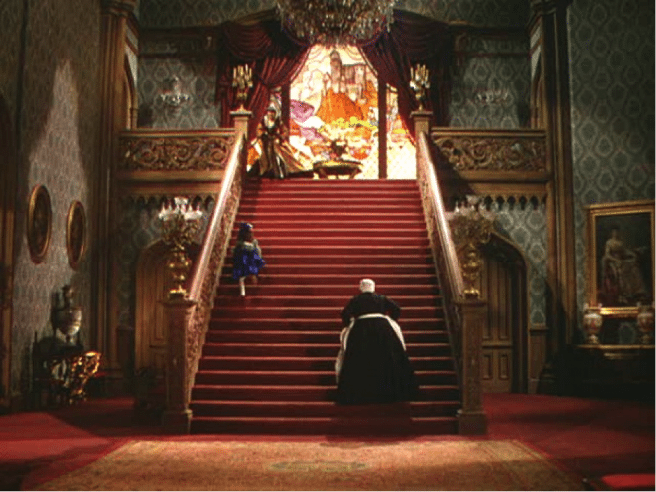 Rhett and Scarlett's house in Atlanta
It goes without saying that the stairs alone could not have achieved the intended level of glamour without the equally important details such as heavy crimson or cerulean and cream drapery curtains, the stain glass window, chandeliers, wooden carved balustrades and, last but not least, a beautiful, truly majestic carpet.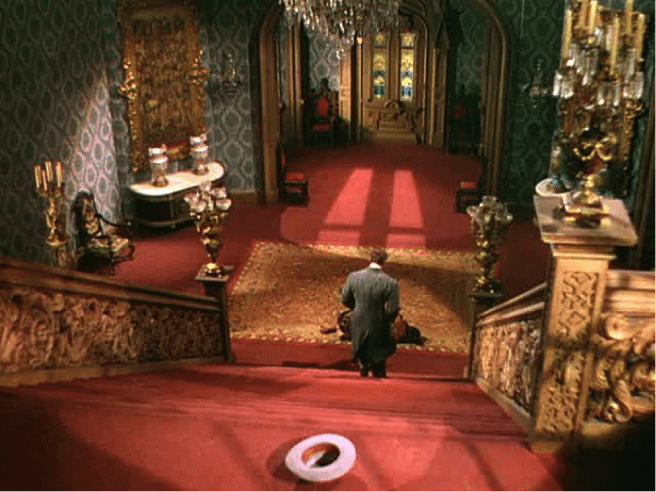 Just notice the abundance of colors and the details on this outstanding Persian Kirman Rug
The other example is commonly associaced with splendor and chic The Great Gatsby.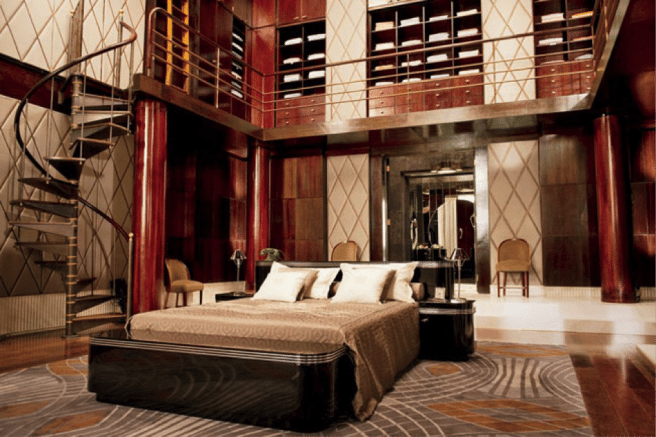 Remember the famous shirt scene? What sets the style of the whole bedroom is a statement-ready playful geometric carpet. The diamond-cut pattern corresponds with these on the wall, while the curved lines seem to be continuing through the S-shaped balustrade of the stairs. Masterpiece!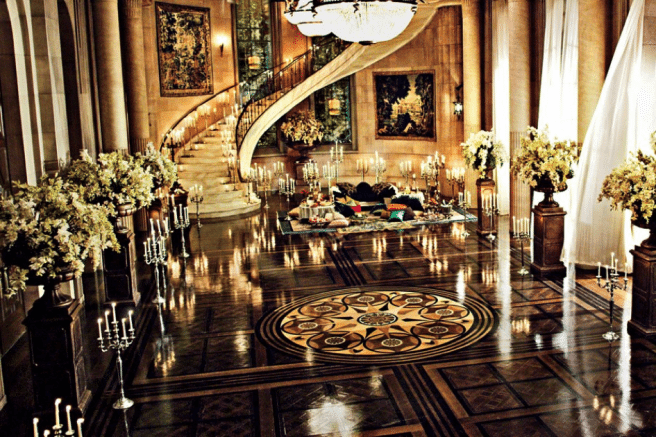 And again the epic staircase illuminated by the light of innumerable candles and their reflection.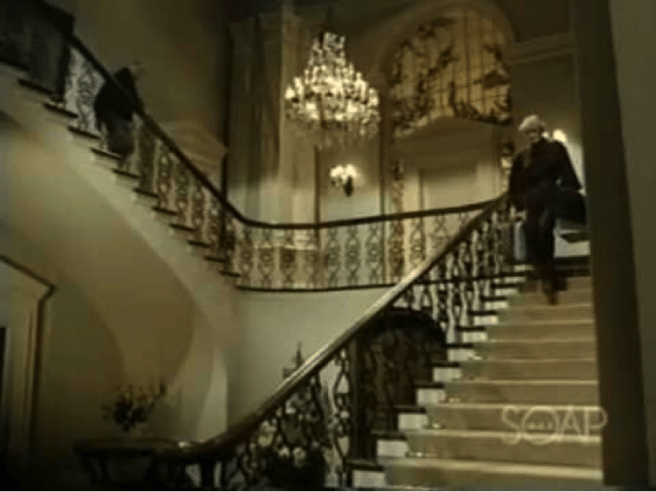 As in the first worldwide-recognizable American TV soap opera staircase alongside with stained-glass window and posh chandelier constitute the affluent style.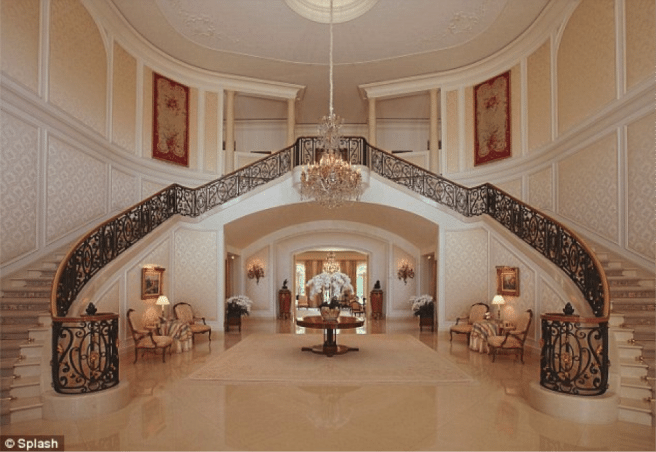 Candy Spelling's mansion bought recently by Petra Ecclestone. Though the residence is told to bear the resemblance of the Carrington real estate from Dynasty, it is no secret that Candy acquired it under the influence of Gone with the Wind compulsion.
As far as compulsion is taken into account, who could resist the indulgent interior of the Mikaelson's House. The Original vampire family sure has the original style!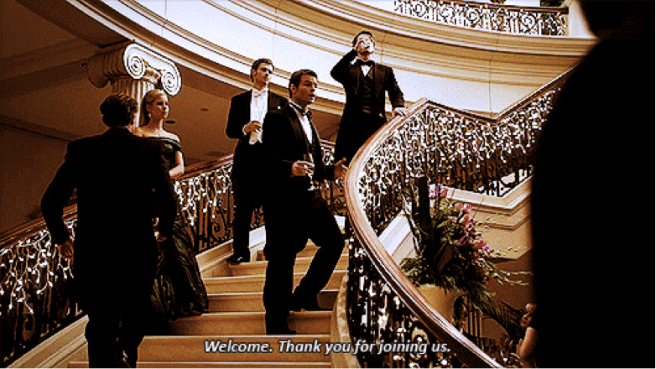 The classical Greek Ionic column completes the look.
Forresters' mansion in the most popular and probably the longest American soap The Bold and the Beautiful.
And naturally, who could ever forget those epic stairs of Gossip Girl. Any of them.
Blair Waldorf's house interior. The columns and the chaise lounge inspire the thought of the classical ancient style.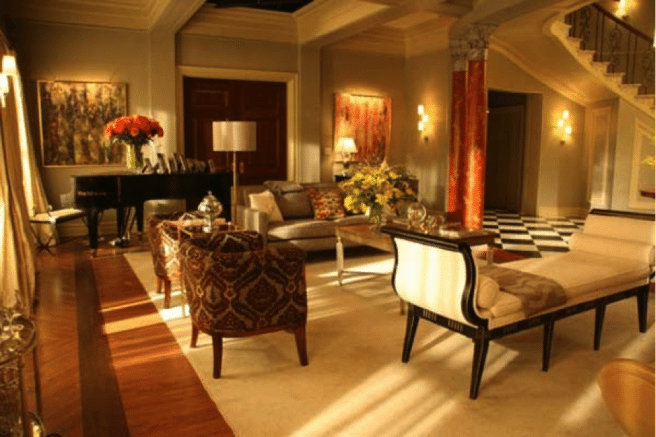 This impressive oversize silky cream carpet is very well placed. The warm mahogany wood nicely contrasts the crude chessboard of the floor in the hallway.