If you take some time pondering over the target groups of most TV dramas you'll probably come to a conclusion that apart from a considerable group of house- wives watching Desperate Housewives or young single adults watching Friends or a wide range of female pensioners sobbing their noses off into their silk handkerchiefs over a zillionth Ridge's break-up or make-up with Brook, there is one significant always faithful group expressing their devotion to any particular TV series in the comments placed below any YouTube 'next episode' presentation by "can't wait!!!!!!!!!" and "ah, soooooo cute!!!!!" squeals. Ladies and gentlemen, parents, grandparents, boy- and girlfriends, never, ever, under no circumstances try to part your beloved teens from their teen drama. It may end with a real‑life drama!
Teen bedrooms
It's as they say, beauty lies in the eyes of the beholder, although some shows are designed especially to captivate our eyes by presenting to us beautiful people in super-stylish clothes and lavish surroundings. One of such shows was undoubtedly previously mentioned on the blog – Gossip Girl. This time though we are having a closer look into teen bedrooms.
Blair's style is classy and simply iconic. And so is her bedroom. Nothing in her outfit as well as in her room is coincidental. Everything is perfectly matched and planned ahead. Now, let us see what her kingdom looks like.
The stone blue walls contrast nicely with cream curtain drapes, fireplace and the furnishing. An outstanding (or shall we say cave in) niche cabinet alongside with the build in reading nook and swivel chair stand opposite to the lavish high bed covered with French pale gold bedspread. And of course, what kind of classical interior it would be without this dark chocolate chaise lounge under the window. In order to make the rom appear even more like a royal suite, for the base of the whole arrangement the designers picked a threadbare antique rug. Take a look at our antique rugs that could enable you to recreate the look of this amazing interior.
A private bathroom may come in handy.
Who wouldn't love a closet like this one? And is it a real sheepskin on the floor? You won't get cold feet (or your feet cold) while choosing your garment for a little while.
Serena is so sweet and naughty at the same time. Her bedroom sure resembles all this.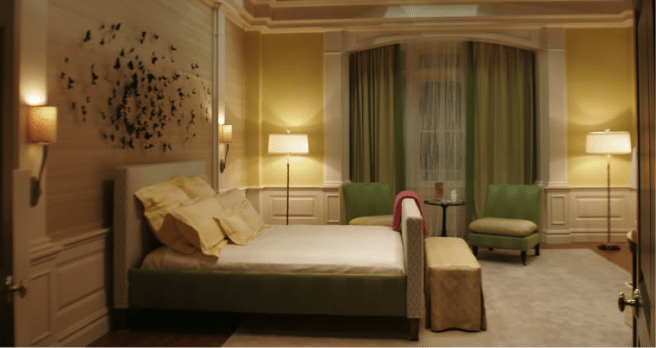 This is Serena's room at Blair's place. It sure couldn't be a brunette's bedroom, now, could it? It makes you think of vanilla ice cream with cinnamon whipped cream. The butterflies' decoration on the wall signals a dreamy nature of the inhabitant and some uneasiness of her mind.
To balance this vanilla sweetness in this angle we see some green hues. Maybe green pepper? Or an olive in a martini? And naturally a perfectly fitted silk carpet. Just like this one:
Serena's room at her mother's place is kept in the same gold and green tones with some taste of cinnamon and dark chocolate. The polka dots on the bed-head prevent the whole look from striking too serious.
The sparkly glam eye artwork brings up the idea of being watched, of the voyeur, but also of the spectator, the fan. It adds up to the overall splendor of the room décor.
Another top popular show is Pretty Little Liars, a drama concerning four girls unified by the common anonymous enemy, who is trying to ruin their lives. What is particular about their rooms is a fact that at one stage the identical copies of them are designed and created by the stalker and when the girls are kidnapped, they wake up in their own – not their own bedrooms. Here we'll have a little analysis of them.
Hanna is what you'd call trés chic. Girly and imaginative with a skin-deep shopper attitude and incredibly strong retorts. Her room is just like it. Girly but with a pinch of pepper. Nearly every group of pink feathers on her wallpaper contains a black one. If you like it, you may get one just like it here. Minimalistic bedside cabinet is exactly the way she thinks. Simple but smart and always hitting the bull's eye. So don't let this Blondie candy look deceive you. She's a real scorcher.
Aria is a book lover and her style can be broadly described as ethno-gothic. The hanging lamps in her room resemble her accessories taste expressed in the choice of such jewelry as feathered shoulder-reaching earrings. She has all of her books at hand within this funky interior and the dominant colors of the pillows on her bed are black and pink just like her hair.
Emily is fit and sporty but also very feminine. Her bedroom features a silk carpet and a vintage bed, but the most characteristic place of it is Emily's window seat.
The reading nook beside the window is staffy but sure fun to work at.
Spencer is the brainy one. Preppy and bright is her style. But this know-it-all science maniac sure hides a princess somewhere under heath. Just look at this canopy bed and the floral-patterned wallpaper.
Perfectly organized at school as well as at home. Take a peek into her wardrobe. Everything is in place.