United States relations with Cuba are easing for the first time in fifty years. Soon enough Americans will be flying back and forth from Miami heading to a Cuban Sandals resort, etc., etc. Before the (I hope not, but likely) total re-build of this iconic island, let's take a glimpse at this moment of very specific interior design, a strangely harmonious hybrid of mid-century luxury, communist minimalism, and Carribean color-ways. These homes in Cuba have been documented by a limited number of photographers, including Michael Eastman and Werner Pawlok. Here we see ten rooms where natural degredation is painterly, sunlight is an architectural element, and tile floors are kaleidoscopic, and.. so much more.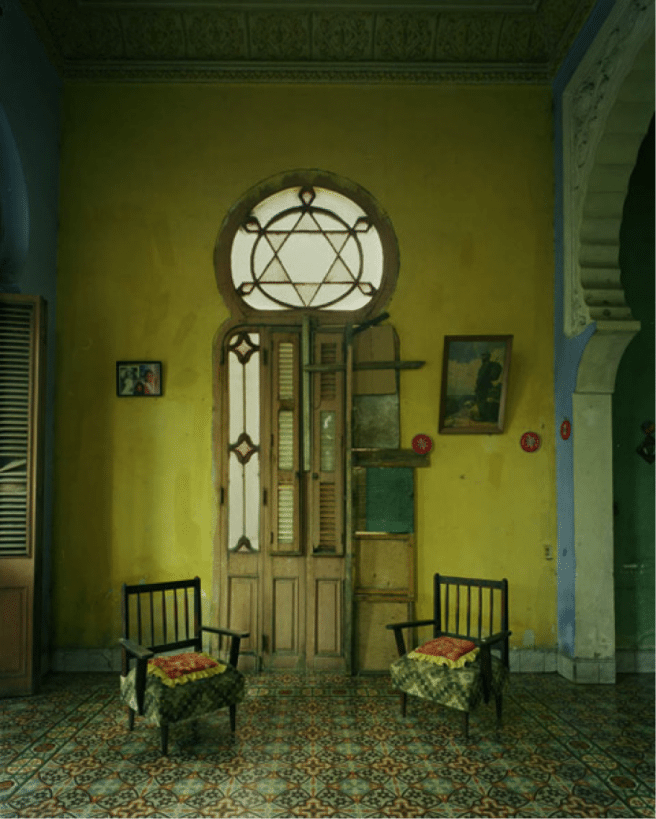 This glass door way seems to be an assemblage version of its former self- but something about the new form is poetic, delicate. I love the conversation here between the top paned glass window and the left stained glass panel and the frenetic pattern of the floor. This room feels so ALIVE with so few things. Be sure to take in the periwinkle archway and red metal circular wall hangings.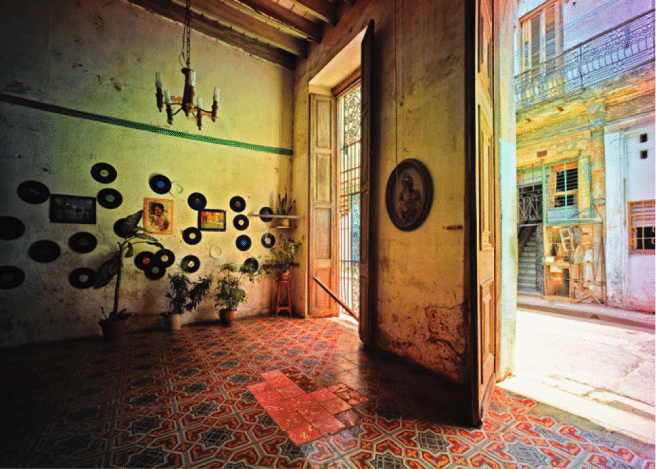 When I say that light is an architectural element, this is what I'm talking about. This natural rainbow gradient here is the result of the collaboration between this interior and the buildings across the street. The colors that we see are always effected by how the sun is reflecting off of objects and buildings around us. The tiling here has a bright, almost middle-eastern feel, and the natural light does the rest of the work. Here the records-as-décor speak to the limited resources available to Cuban people under Castro – but still there is something playful and spirited about the arrangement, very emblematic of Cuban culture and spirit.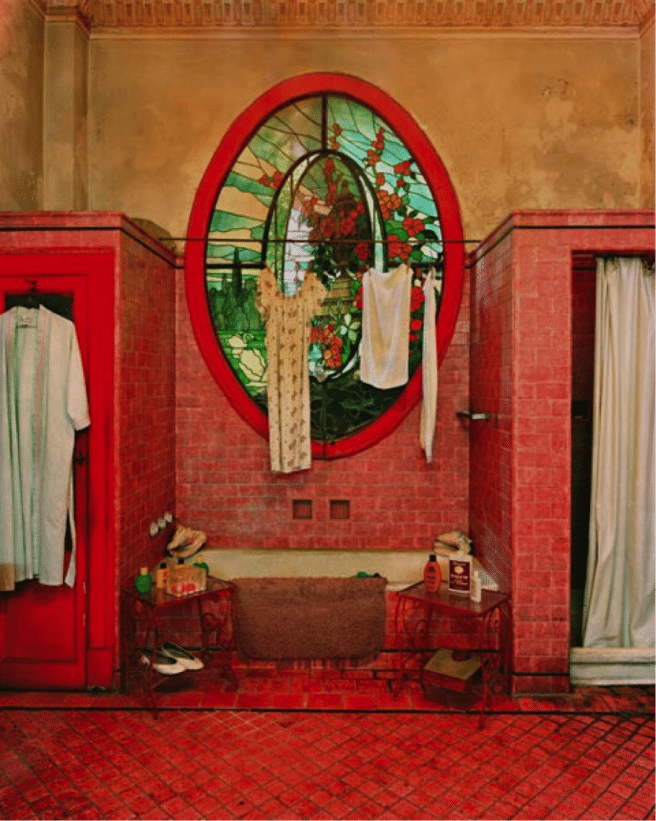 This room is unbelievable. It almost feels like a Fellini still. This red on red on red is high drama for a bathroom. And the stained glass window elevates the room to another level of wow. The space is humbled and settled by the simple clothesline and slippers, a break from the crimson. I imagine that physically being in this room would feel amazing- how that color must vibrate from both the brick and the stained glass. And a morning bath… a real dream.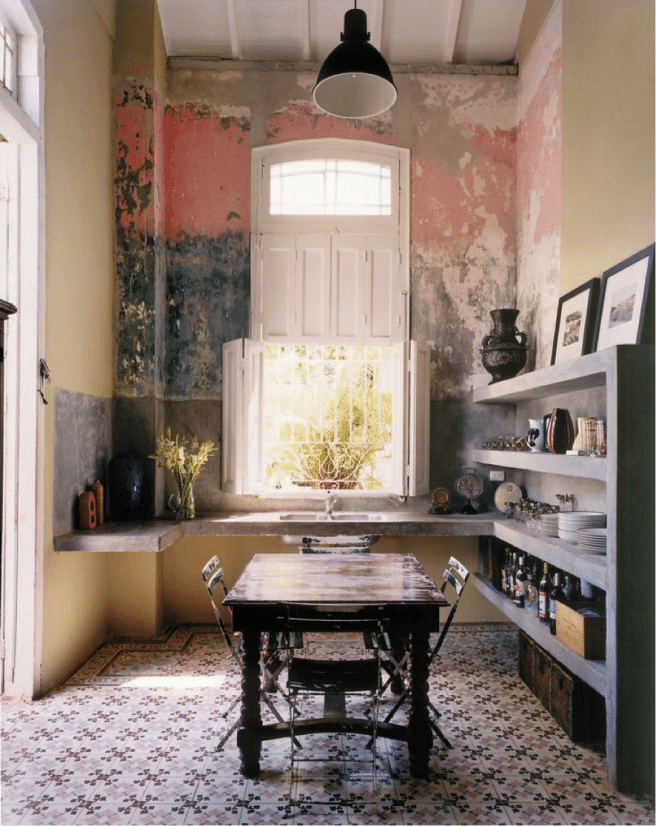 Three layers of peeling wall treatments here. The effect is painterly, gentle. I'm so glad the designer let this live as-is. Here the concrete on the right feels clean rather than heavy, and the wall is almost velvety in the subtle color variations. And even though there are a lot of subtle details to see, this room feels very un-fussy to me, very refreshing.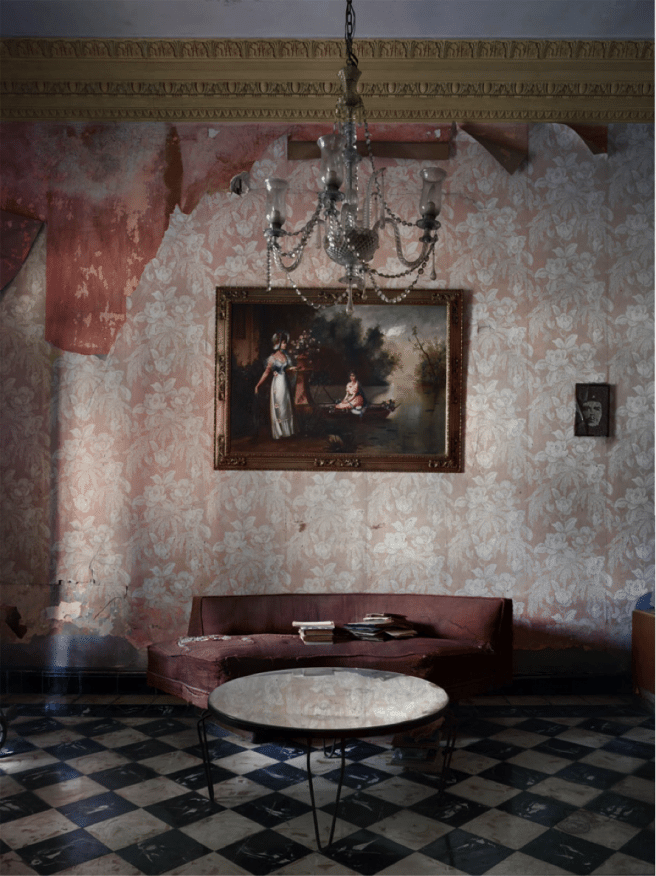 I love this combination of the black and white diamond floor, ultra-feminine pink floral wall, and glass coffee table which reflects. Here we see the earlier stages of what we'll call the paint "evolution process" in these homes. It is clear that there are many layers present on this wall, as we can see the pink peeking through above and a French-ultramine blue appearing on the bottom left. The classical European painting + the portrait of Ché as wall art clearly denote the location of this space.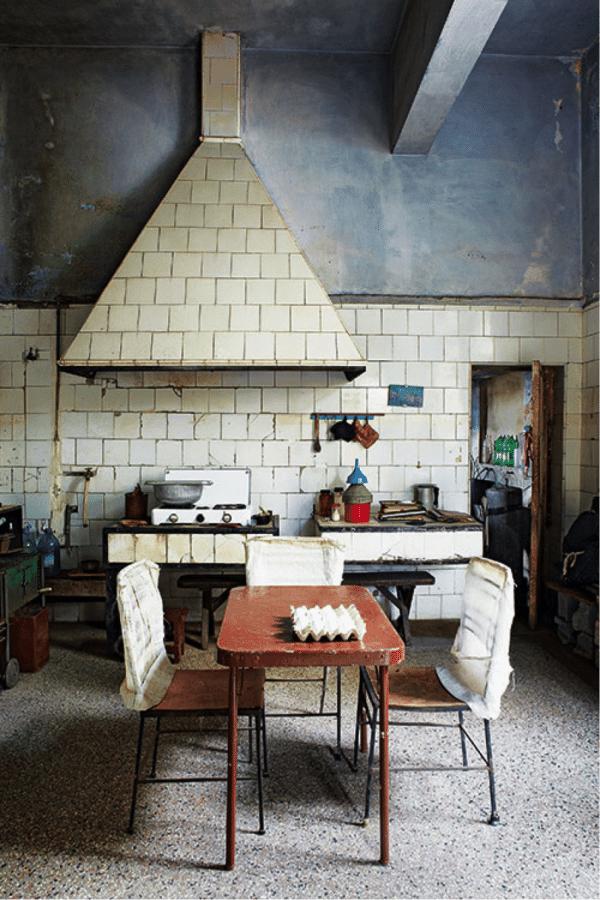 This graphic tiling, which is ever-so-sweetly off kilter, creates a great optical base for this room. The full texture on the floor and the sheer chair coverings help to balance such a strong wall.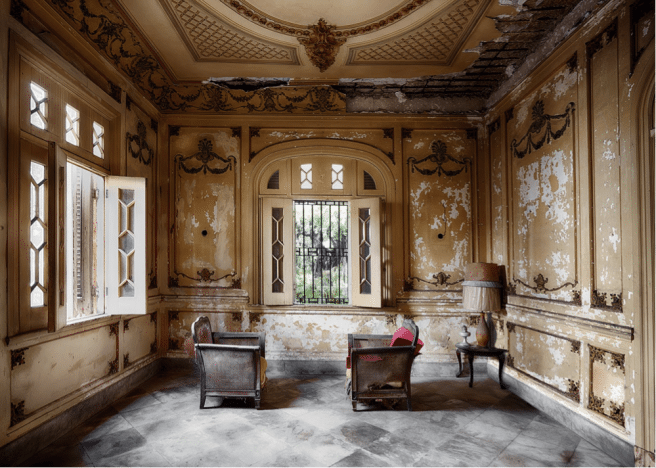 This combination of grey and gold lends a very royal tone to the room, even in its current state. I so wish we could see the entirety of the ceiling, but based on the molding and window designs I imagine that it is truly exceptional.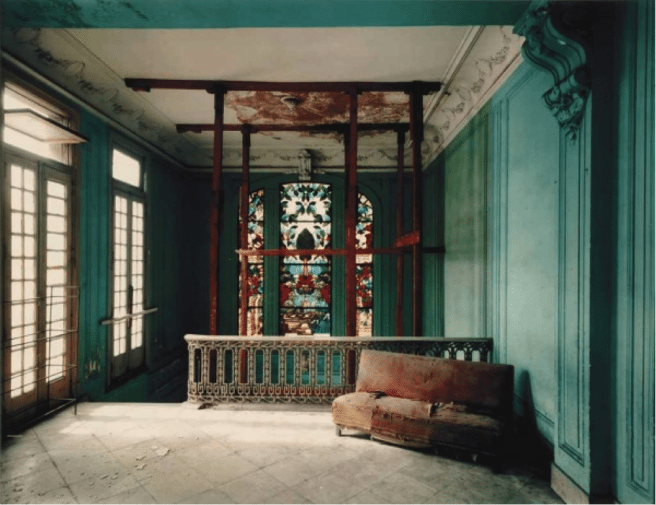 The stained glass at the end of the staircase creates a beautiful vignette. The details on the staircase banister and the ceiling add some formal elegance to this room. The turquoise wall and stone floor is textbook Caribbean- and sets this space apart from its European counterparts. I love this sofa also, and would probably just repair it enough to be functional, but leave it with a lot of its roughness.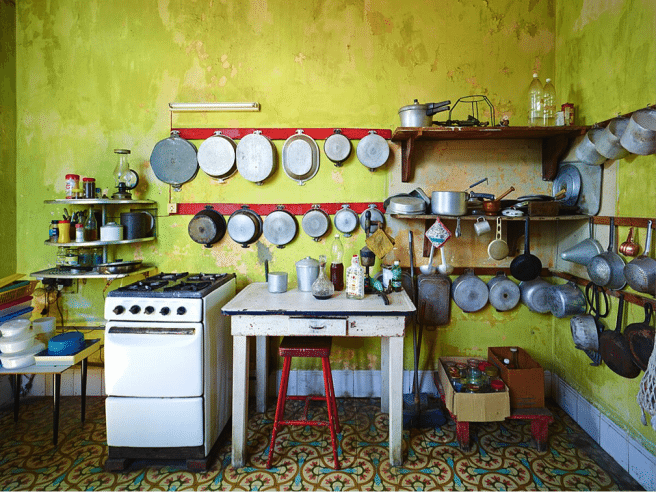 Tile! Chartreuse! Really this room is all about pots and pans. But thankfully some bold architectural elements are in place to preserve this joyful feeling.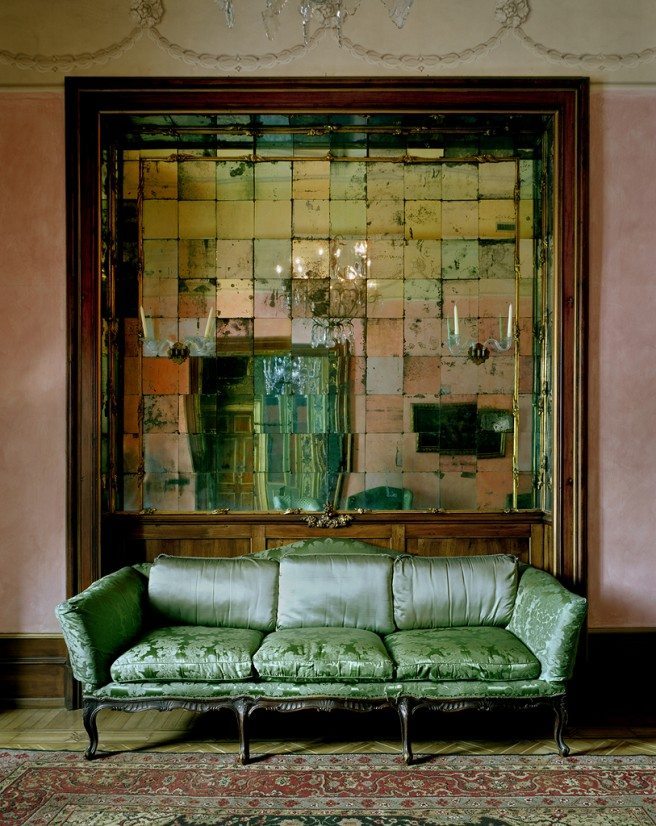 What says mid-century luxury for than a mint velvet sofa? This stained glass paneling behind is beyond beautiful. A simple pairing which perfectly articulates the beauty and specificity of Cuban interiors.
For those of us who have been forced to leave homes and hearts in Havana, these spaces are dreamy, eerie, romantic, and emotional—they appear almost like hallucinations of times past. For the many admirers of Cuban interiors, the spaces are like jumbled time-capsules with some incredible, dimensional color and light. There is a detectable quietness to these spaces, which are full of high energy details. These interiors are unique in their creation and existence, and we all hope that many of them are preserved as we move into the future.