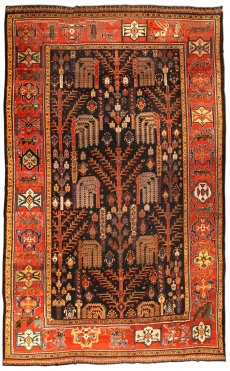 Some people think rugs and carpets are old-fashioned. But while carpets have been filling a dual function in people's homes for thousands of years, they are both Beautiful to look at and a great way to moderate the climate in a room. Why else would they still be around after millennia? The endless design possibilities and amazing colors they offer can transform any room to a magical place. Your floor does not need to be dull and boring. It's the foundation of your room. It expresses your home's soul.
People just starting to shop for the right rug or carpet for their home may be amazed with the many options you can choose from. But you do not have to be a professional interior designer to have an eye for the right floor covering. As long as you feel that your choice adds warmth and reflects your personality in the room, then it is the right choice for you. There is no need to over-complicate things.
Aubergine, green, magenta – name the color and there is a carpet out there that weaves in your color story and perfectly enhances the aesthetics of your room while creating a feeling of luxury and elegance in the surrounding area.
At Doris Leslie Blau we have several collections of rugs and carpets that offer both the comfort and the design to match your personality, style, and decorating requirements.
There are a myriad of hues to choose from, based entirely on your preference. For example, if you feel like being cozy in the winter, you can choose from rich jewel or berry shades such as teal or aubergine, with finishes that are deep and luxurious. If you feel "summery", going for shades like golden yellow or orange with hints of green are an excellent option.
From traditional to contemporary colors and designs and from simple to intricate weaves and textures, our selection can match your specific needs.