There is no better time for some fun DIY than fall, with its long night and capricious weather.  Our 5 amazing DIY décor tricks will keep you busy and illuminate even the gloomiest of days.
A Photo Installation
Who has not heard about a wall gallery? Putting photos in frames in different configurations is what people usually do to enhance the design and bring in some homeliness. However, there are ways to make a wall gallery even greater and more "you". It's something we call "a photo installation".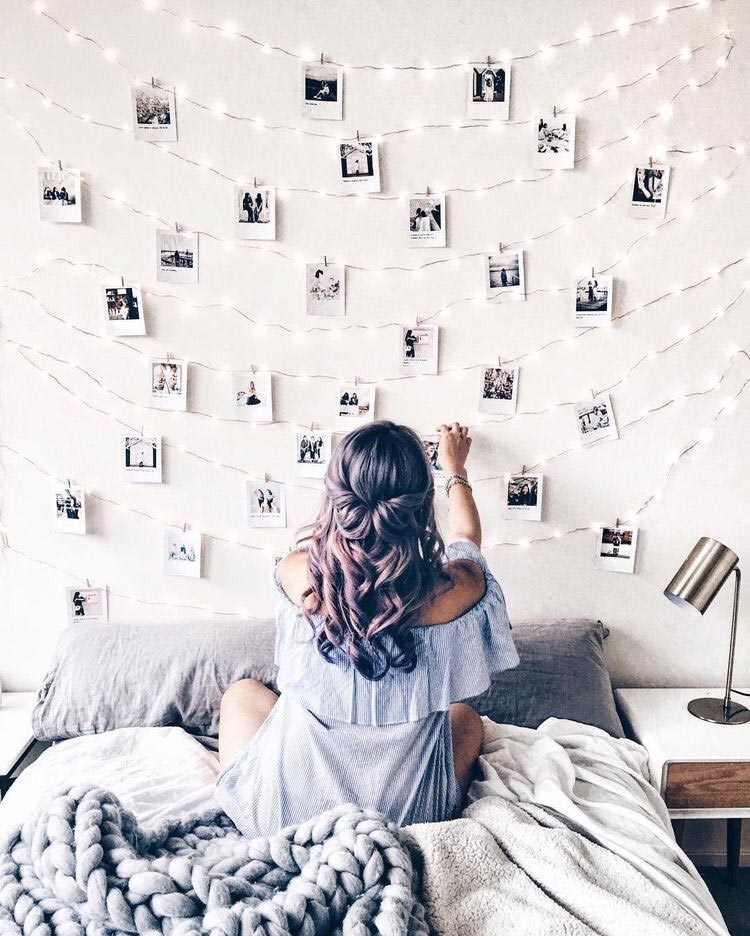 The term obviously refers to the installation art, yet here you are the artist, your home is the location and your photos the objects of admiration. Forget about frames and ready some fancy strings, electric lights as well as extravagant ornaments – they will serve you as the setting for your pictures. Be creative and make an installation that matches your interior arrangements, but most importantly, your character. Such way of exposing snaps of your favorite moments will make watching and reliving them even more special.
Source: Kellimurray, Homey Oh My!
DIY Shelves
A shelf – such a boring thing. Or is it? Well, if you follow our advice, shelves will become one of your favorite furniture in the house. Just make them yourself! You'll be surprised how much can be achieved with ordinary boards and.. ladders. Purchase a ladder + five wooden boards and you've got a beautiful tiered rack to display all of your shoes.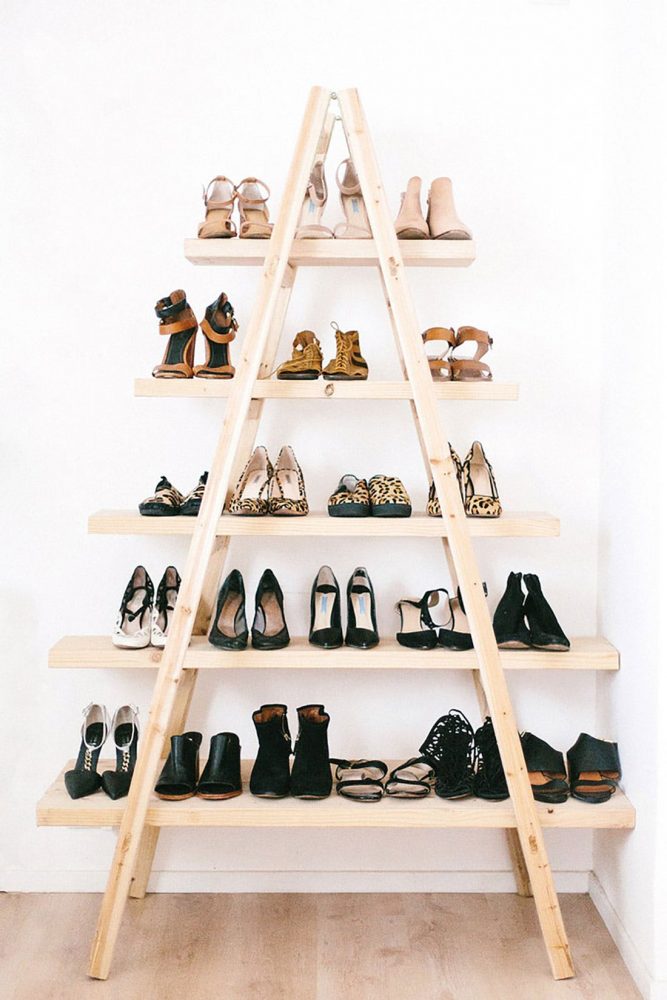 Don't have enough shoes? No problem — use it for books or decorative bins to hold smaller items. This might seem intimidating at first, but it is actually the easiest shelving system ever! One ladder is good but two ladders are even better. Have fun with building larger and more elaborate constructions than can serve you many purposes. Planks can also by hung on strings and attached to the ceiling on different levels, making it the perfect replacement for the outdated wall unit.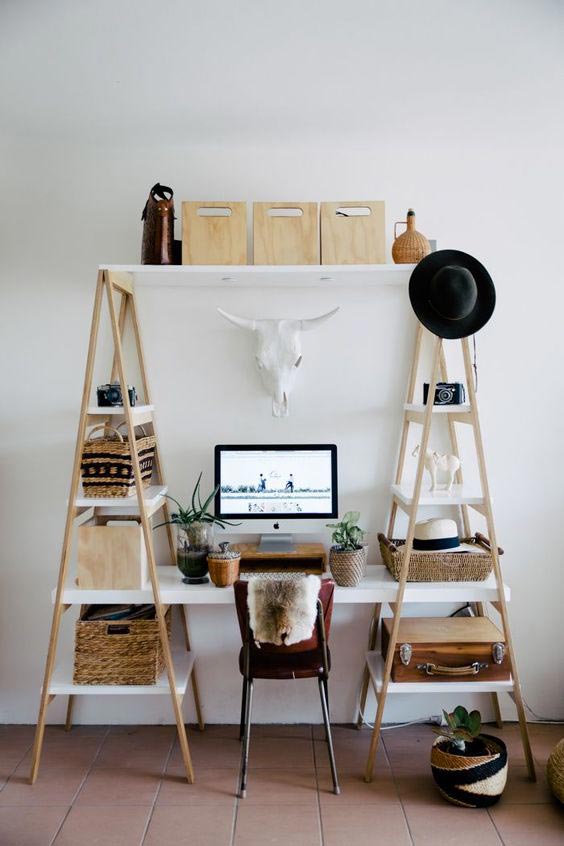 Mason Jar Organizers
Good design always combines beauty with practicality. Easy to say, harder to do? Not necessarily! Iconic mason jars are so aesthetically appealing that they may serve as chic home accessories (not solely in the kitchen). Use them to create fantastic organizers in every room of the house. If you find yourself lacking mason jars, use ordinary ones but enhance them by, for instance, gluing tiny animal figurines to the lids and painting them in your favorite color.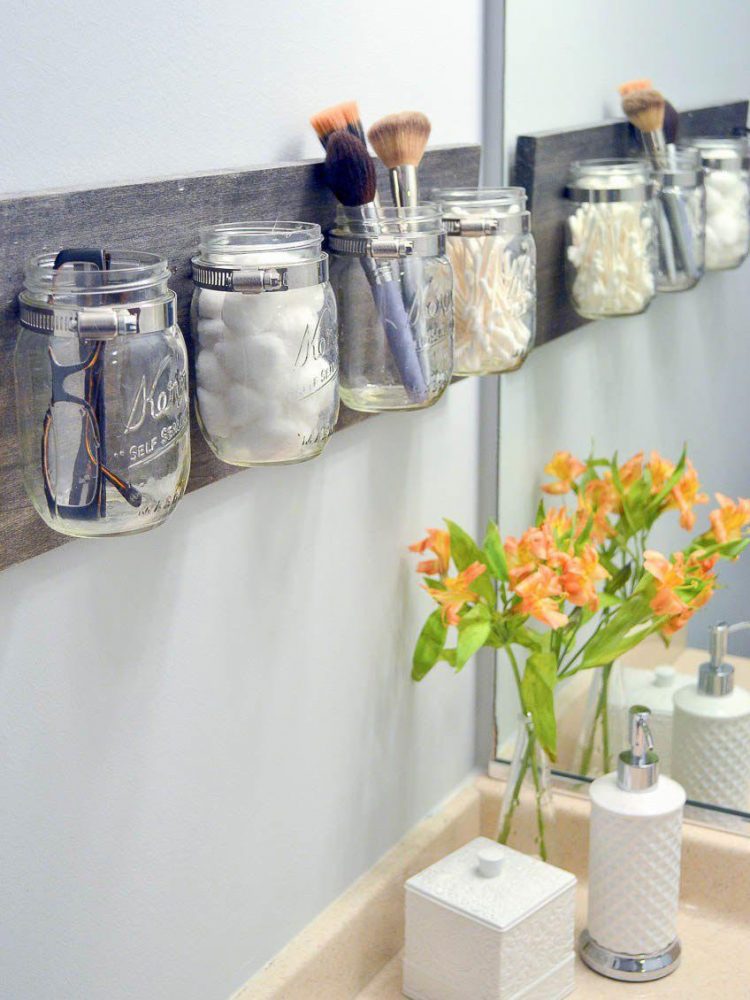 You may also go for the glamour version and cover your jars in glitter! Either way, this absolutely simple(and affordable) trick will turn ordinary objects into amazing home ornaments. That's what we call true decorating!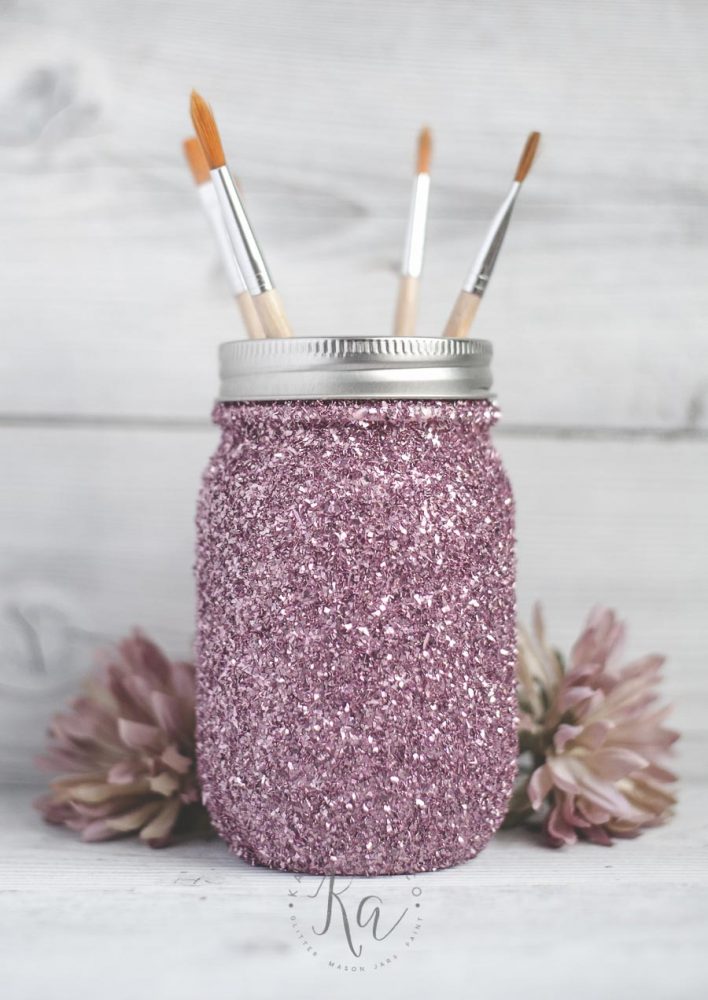 Patterned Drawers
Bored with the old, plain drawers? As this is a post about simple DIY tricks, we will not tell you to get rid of them and get new ones. Instead, activate your creativity and adorn them in the easiest possible way. How?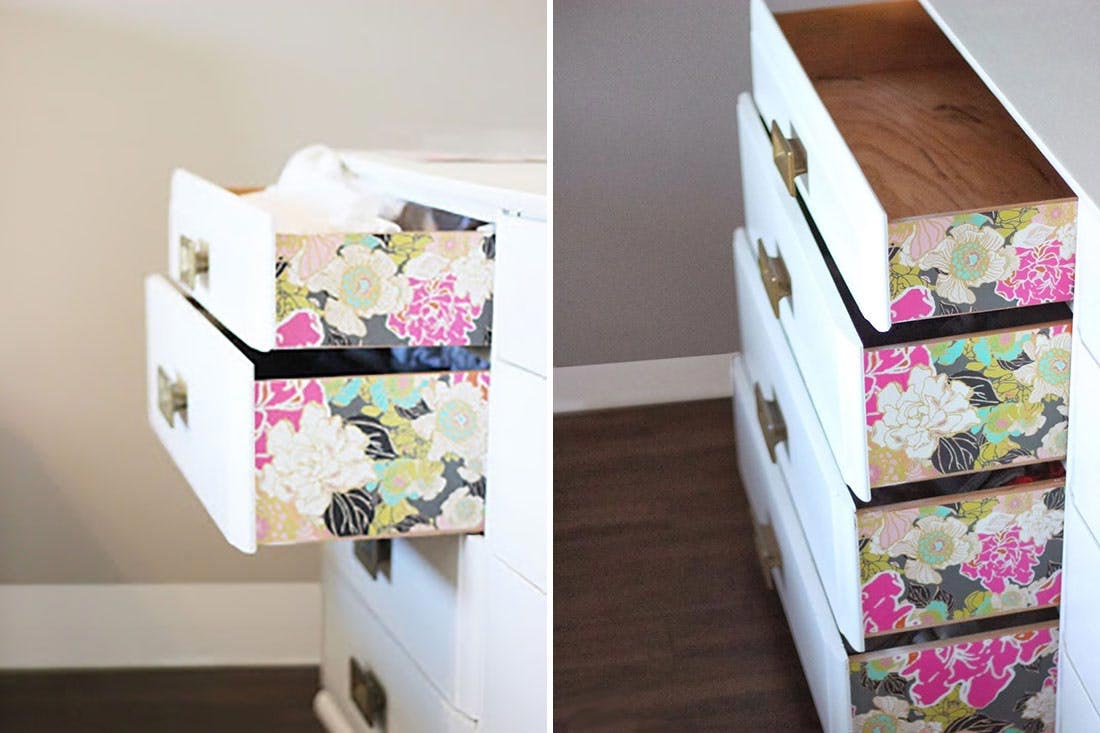 Upgrade them with contact or wrapping paper. Contact paper is sticky and will adhere instantly, but if you fall in love with a certain wrapping paper then just use some Mod Podge to adhere the paper to the drawer. Easy as pie. We guarantee that you'll have friends asking you where they may purchase such amazing furniture. You don't have to keep this trick a secret – the more people enjoy making things with their own hands, the better.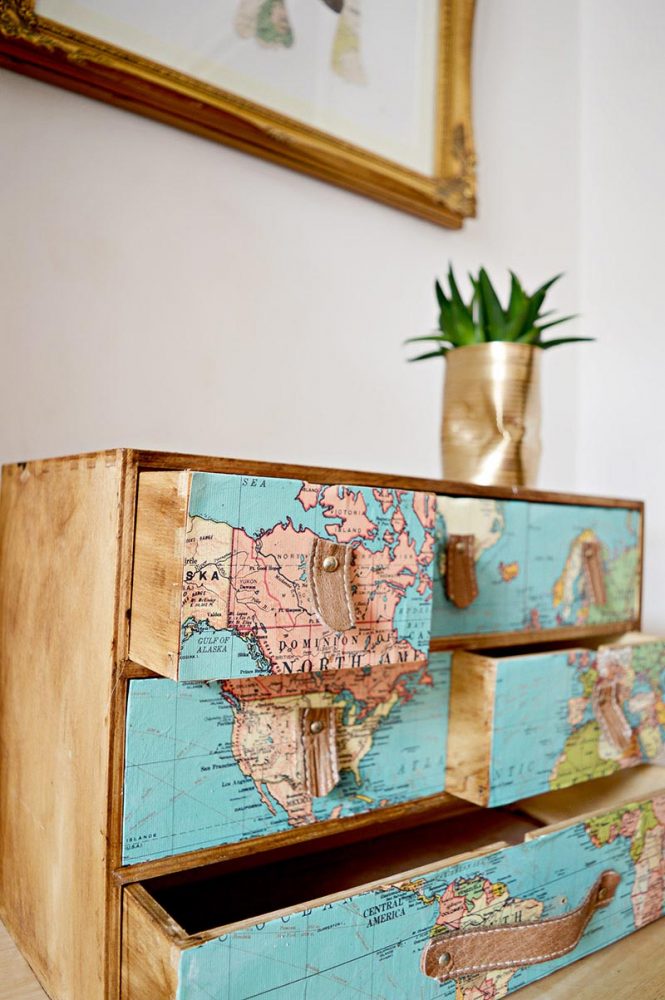 Wood Signs
Wood is good – that is a fact every design aficionado knows by heart. The Farmhouse décor freely applies wood to create the atmosphere of warmth, intimacy and comfort. Use wooden boards to make uncomplicated yet absolutely stunning and inviting decorations.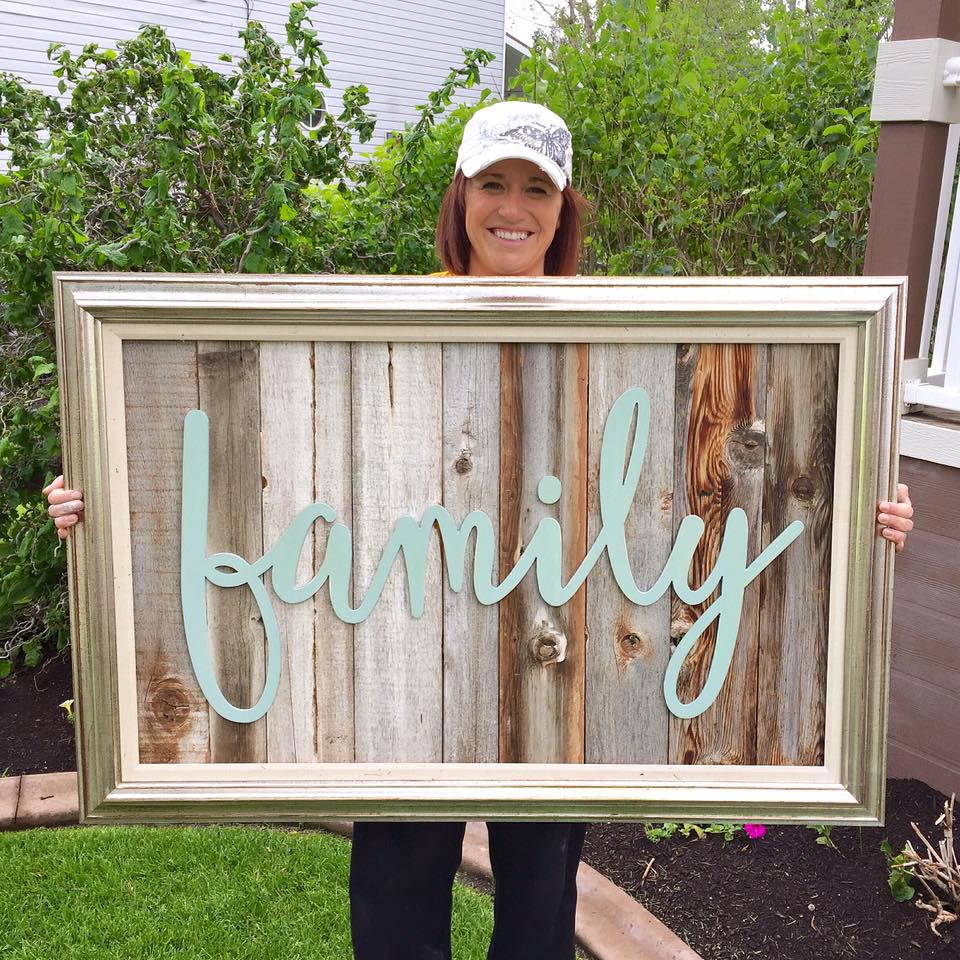 Source:  lillianhopedesigns, infarrantlycreative
Think of them them as your canvas on which you may either paint an abstract picture or write a welcoming phrase. You may also ask a familiar carpenter to carve you a sing. Certainly, such ready-made things are there for sale, but why buy, if you can do it yourself?
For more inspirations, take a peek at Doris Leslie Blau website – we are always at your disposal. And if by any chance you are visiting the capital, step into The Washington Design Center, 1099 14th Street N.W. Washington, D.C. 20005, to see our showroom. You can also give us a call at 202-808-9361.