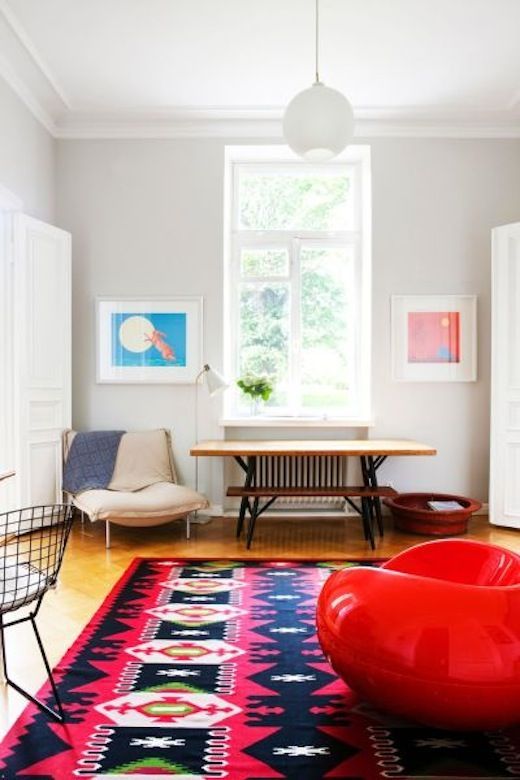 White walls, whitewashed floors, and bright and colorful textiles have long-been described as the staples of Scandinavian design.  Interiors in Sweden, Denmark and Norway have boasted this modern style for decades, designing homes where light can easily bounce off the walls in countries known for cold temperatures; and where interiors are warmed by textiles and accessories that are used to add color, pattern, and life to otherwise stark spaces.  Scandinavian design is full of intriguing juxtapositions – neutral versus bright hues; pattern versus serenely designed spaces; streamlined furnishings versus daring accessories.  These dichotomies can be seen even more clearly in vintage Scandinavian rugs that are gaining in popularity.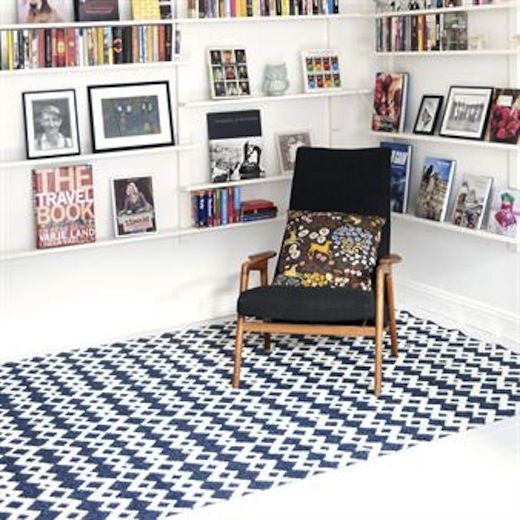 Rugs like this one from Swedish designer Brita Sweden beautifully embrace both color and strong geometric patterns.  This Swedish rug is a great piece to create a strong statement in an otherwise neutral interior.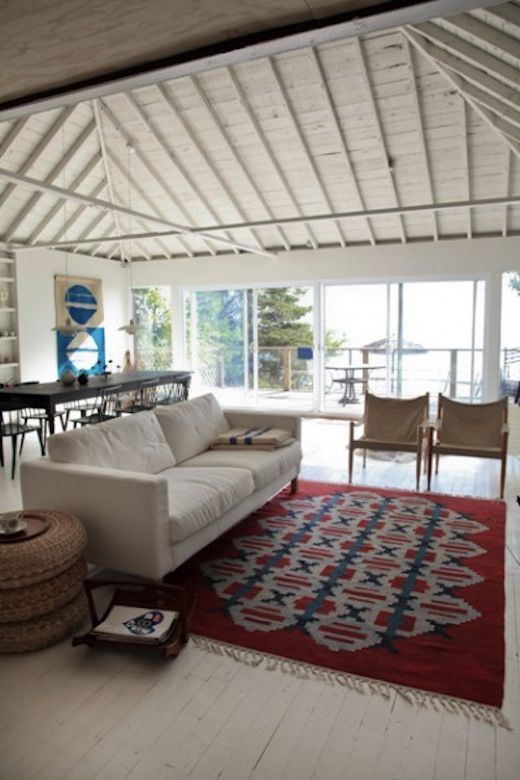 In many ways the power of Scandinavian rugs is their ability to break through the crisp whites, and soft beiges that are so often present in the furnishings in contemporary interiors. Their color and their design inject instant drama to a space.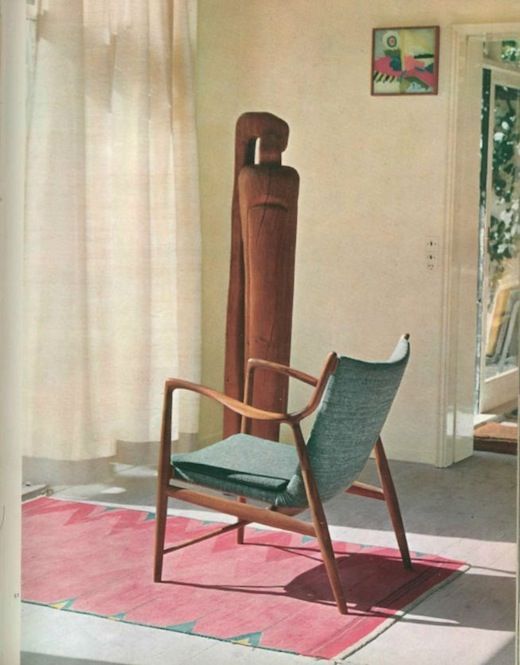 This home from the 1950s shows that even sixty years ago Scandinavian design was ahead of the curve, offering flat woven carpets in the bright hues that are so coveted in today's interiors.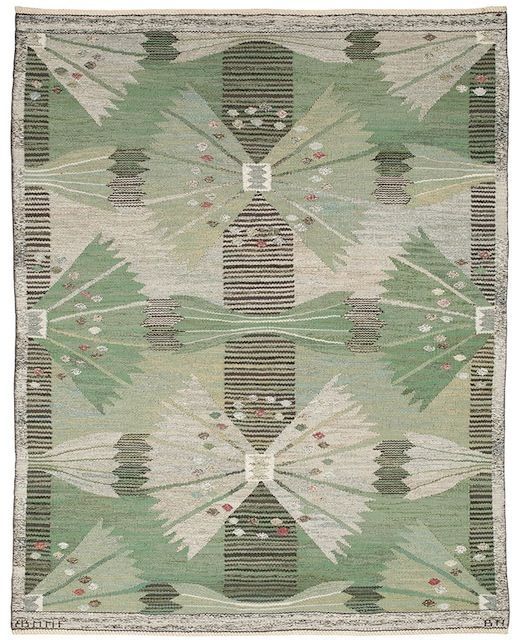 An exploration of the new Scandinavian rug showcase at the DLB shop at ABC Carpet & Home will turn up many of these beautiful vintage pieces from the 40's, 50s and 60s.  This stunning green carpet is a perfect example of the dramatic effect that Scandinavian rugs are able to deliver.  Despite a subdued color palette, the fan design in this rug provides a sense of movement.  Looking at it, it is hard to believe it's from 1943 and not 2013. This rug was designed by Barbro Nilsson for Marta Maas-Fjetterstrom; one of the leading Swedish mills at the time.  The title she gave this rug was "The Park." If you notice on the bottom left hand corner it is signed ABMMF, meaning Marta Mas-Fjetterstrom ltd. and on the bottom right hand corner Barbro Nilsson wove in her initials. Initials in the carpet increases it's value.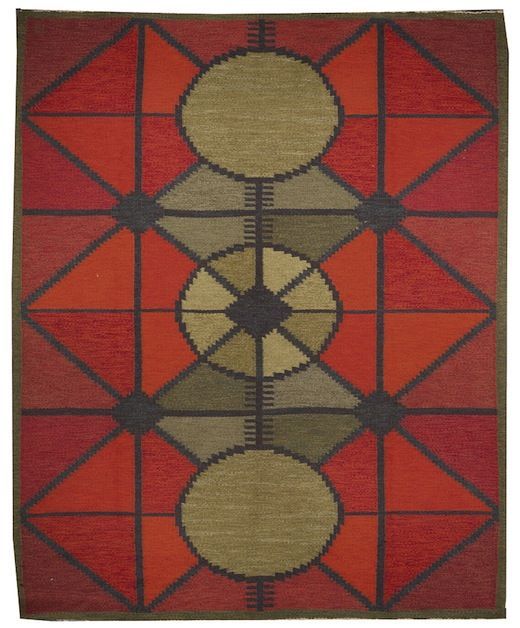 Geometric figures also have a strong presence in Scandinavian rug design.  This vibrant orange and green flat woven rug from Sweden features diamonds and circles that fit directly in line with today's design obsession with such patterns. This rug was designed by Sverige Rolakan.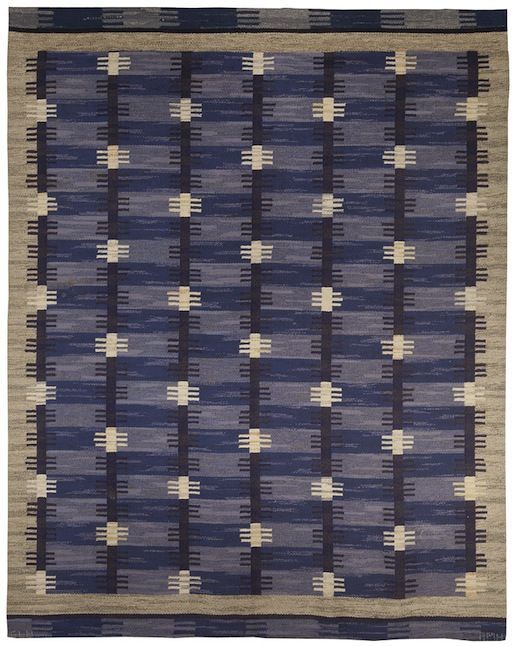 The perfect partner to their sophisticated patterns, color also has great importance in Swedish flat woven rugs.  This navy blue and black rug design features contemporary shades that are in line with today's top Pantone colors.  In a room with a generally neutral color palette, the striking black and blue color combination is sure to stand out. This carpet is signed GLH (Gavleborg County Arts & Crafts) on the  lower left corner and signed by the designer AMH Anna-Maria Hoke on the lower right corner.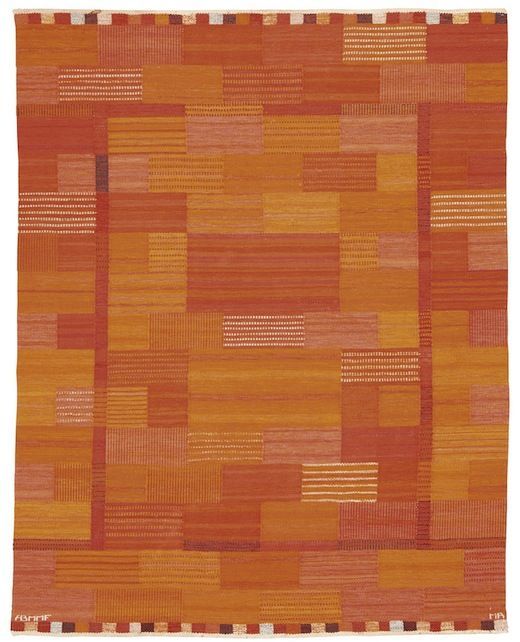 This vintage orange rug from 1963 is filled with juicy hues.  It's the perfect piece to brighten a living area, or to place in a child's room for a splash of color.  Like many Scandinavian rugs, it is designed with the intention of bringing a room to life, making it the perfect statement piece in a room that doesn't boast much in the way of colorful accessories. This rug was designed by Marianne Richter for Marta Maas-Fjetterstrom and titled "Orange Facade." Her initials are woven in on the lower right corner and ABMMF is woven in on the lower left corner.
Vintage Scandinavian rugs and Swedish reproduction rugs are now available at the DLB shop at ABC Carpet & Home at 888 Broadway (East 19th Street) as well as their 61st street location and online. Not only are these striking pieces tailor-made for today's interiors, but you can find them at fair prices that rival those of similar pieces found at auction.