After long and tedious months of waiting, the summer has finally arrived! If you've forgotten to prepare for all these warm afternoons and evenings spent outdoors among friends and family, do not fret With our 5 simple tips you'll soon be ready to entertain in the garden and enjoy the benefits of the best season of the year.
Take Care of Proper Lighting
At the beginning there was light. Sounds like an introduction to a cosmological book, doesn't it? Well, light has many powerful associations in every culture because nothing can make us feel more safe, warm and homely than a properly illuminated interior. If you want to recreate that cozy atmosphere in the open air, go with the flow and do it with the aid of lanterns, candles or designer lights. It is one of the most affordable, easy and impressive ways of making everyone feel at home al fresco.
Sources: zevyjoy.com, hejdoll.com
Combine electric light with live fire. Hang up cotton lights, or fancy customized light bulbs on a decorative cable, making a delicate, glimmering mesh above the heads. Now, think about the best spots to locate candles and lanterns on the ground and furniture. You can use this situation as a pretext for some DIY in the candleholder department. Oh, and don't forget that some candles may even help you repel mosquitoes and other annoying insects! No matter if it's a balcony, a terrace, a patio or a bower – lights will transform your outdoor heaven into the most magical place in the house.
Source: blog.styleestate.com
Turn Your Garden into a Second Living Room…
…and it may even prove to be the first living room during the summer season 😉 Who said that outdoor furniture has to be barely comfortable and made of plastic? That is an investment definitely worth making, so waste no more time and get rid of hard and incommodious chairs that have been standing there forever. Instead, discover the indescribable merits of soft upholstery, spacious seats, cushy backrests and a plethora of cushions – all adjusted to the external conditions.
Sources: apartment34.com,  Pinterest
If you care so much about the comfort and design inside of the house, there is no reason to neglect the outside, especially during the summer. Not limited by walls, surrounded by greenery and lights, your summer living room in fresh air will become a shrine of peace and the place of your personal getaway.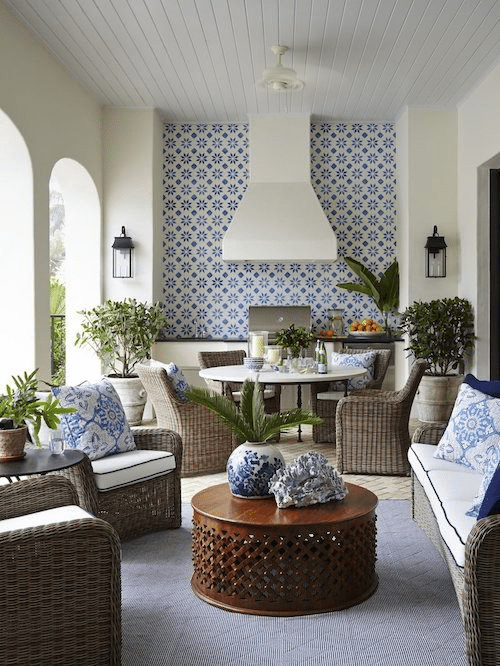 Keep It Cozy with Textiles
Furniture, lights – what's next? We at DLB know that nothing completes a room like a rug. Textiles in all forms and shapes create a feeling of comfort and snugness but they also bring in patterns, colors, textures, and can entirely change the perception of space. In your outer living room try to experiment with different fabrics. Blankets are a "must have" because even during the warmest summers nights can be a bit chilly – it would be a shame to hide in the house when the sky is sparkling with stars and the champagne is still sparkling in glasses, wouldn't it? Then, there are rugs.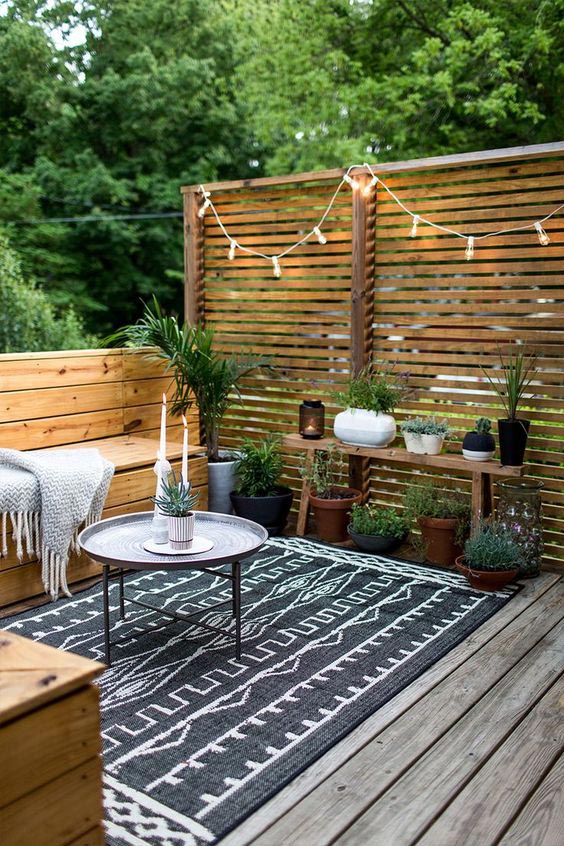 Sources: allisonmcnamara.com, delbarrmoradi.com
We would not recommend a precious antique Persian Tabriz to be subjected to wind, sun and rain, however, there are many types of carpets that do not fear to be left outside. Think about vintage Scandinavian rollakans, Turkish kilims or Moroccan Beni Ourains. You may layer them for even better decorative effect. Finally, there are garden curtains. They will help you enclose the outdoor retreat without a sense of gravity. Textiles will do the work, trust us on that one.
Doris Leslie Blau Vintage Moroccan, Samarkand, New Moroccan Rug
Surround Yourself with Greenery
Yes, yes – this whole year is all about greenery color. But now we are talking about real greenery. There are several approaches to maintaining the garden – some like it lush, some stick with good old grass. Anyhow, your outdoor living room calls for some green (especially if it's emerging in a balcony of a big city block of flats). Fill it with potted plants; focus especially of succulents and low-maintenance specimens like ferns, cacti or arecaceae, commonly known as palm trees. Putting your flower pots on the floor is one way but it takes up a lot of precious space.
Sources: homebeautiful.com.au, sfgirlbybay.com
Recently, the design world has experienced a revival of a quite ancient yet still up-to-date decorating idea. What we are talking about here is a macramé – a hand-knotted textile that can serve you many purposes, including becoming a plant hanger (a fantastic opportunity for DIY). With Exotic plants, your second living room will thrive and attract with recherché charm.
Build the Right Atmosphere with Accessories
Last but not least, the finishing touch to your exterior getaway – additives. To conclude the project, think about your preferable style and try to spice up the space with some special matching items. For free-spirited lovers of ethnic vibe we recommend a Moroccan arrangement with pronounced tribal patterns, golden lanterns and vibrant hues. Travel souvenirs, arabesques and poufs will easily fit into this kind of décor. If you are more into simplistic solutions and rely on minimalism, a Scandinavian design might be just what you're looking for.
Sources: House Beautiful, mydomainehome.com.au
There, avoid many contrasting colors and let the white shade prevail. To evade boredom, experiment with textures – a shaggy rug (a sheep hide, a rya or a Beni Ourain) may help you introduce a bit of decorating stir to the otherwise calm and simple décor. Regardless of style, think about a little terrarium every here and there. It will juice up your outdoor heaven even further and make it not only the coziest but also the most fashionable "room" in the house.
For more inspirations, take a peek at Doris Leslie Blau website – we are always at your disposal. And if by any chance you are visiting the capital, step into The Washington Design Center, 1099 14th Street N.W. Washington, D.C. 20005, to see our showroom. You can also give us a call at 202-808-9361.