Oh, we know, we know – 'colors of the year' spring up like mushrooms. 2018 hasn't finished yet and we already have an appointed king of 2019! But we must admit, this one is by far our favorite both in terms of name and appearance. Night Watch by PPG Pittsburg Paints, a dark but highly pigmented green shade seems to us just on point. It evokes many connotations, from lush tropical foliage, through precious stones to rainy coniferous forests. More exciting than Hunter Green, less garish than Greenery, Night Watch is a quintessence of calm and elegance. No wonder it works beautifully in a wide gamut of arrangements.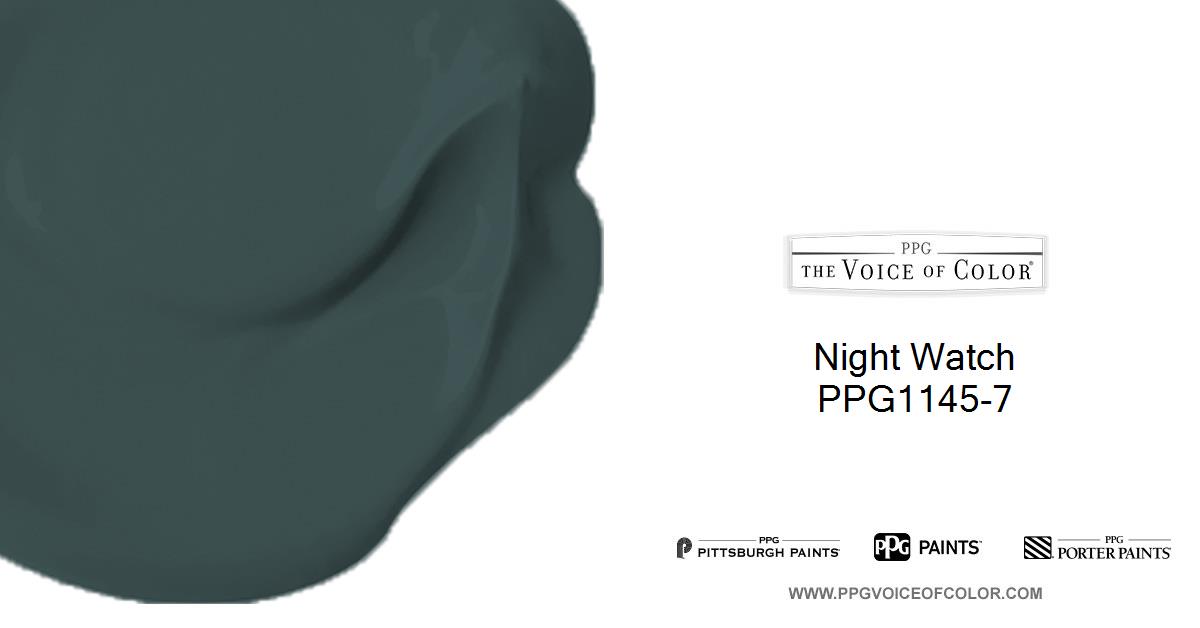 Check our top 10 interiors in Night Watch and see how can you let it into your own décor!
Double Green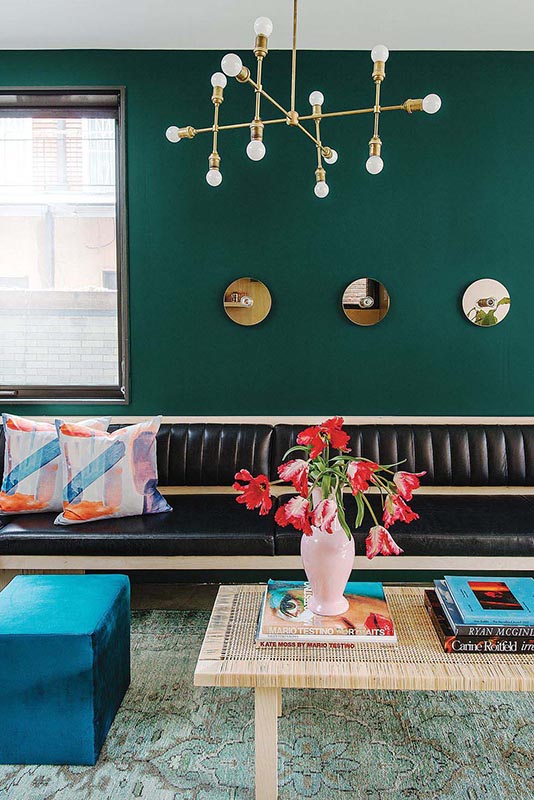 Royal Touch
Night Watch from the wall is repeated on the stunning oriental rug which doubles its impact. Cobalt and fuchsia are here for color-blocking, creating a complementary combination. The relatively dim space is enlightened thanks to golden additives.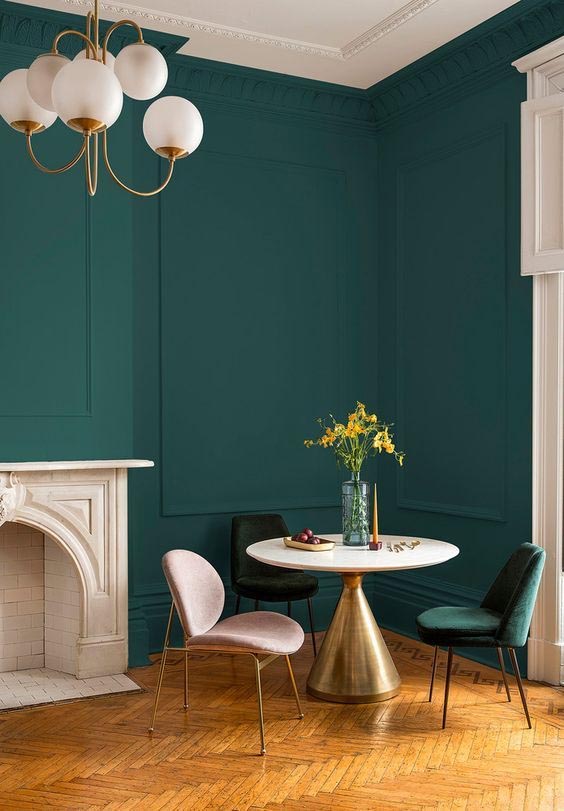 The PPG color of the year belongs to 'jewel tones' so it feels best in truly palatial interiors. There aren't many ornaments in this living room – the setting does the job. Night Watch with the herringbone floor, mantelpiece and gold table base construct the refined atmosphere. As you can see, the color is ideally suited for French-inspired decors.
Scandinavian Manner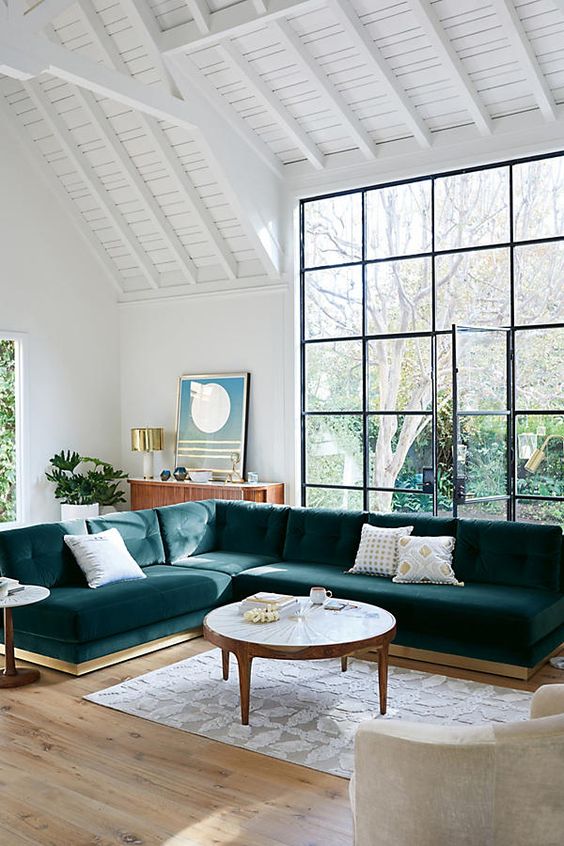 If you like Night Watch but the vision of repainting walls scares you, go with textiles. A sofa with emerald upholstery (preferably velvet) can work even in Scandinavian Farmhouse! This airy interior confirms our theory. When introducing such color on a large surface, remember to tone down the rest of the elements with the palette of neutrals.
Spanish Mission Revamped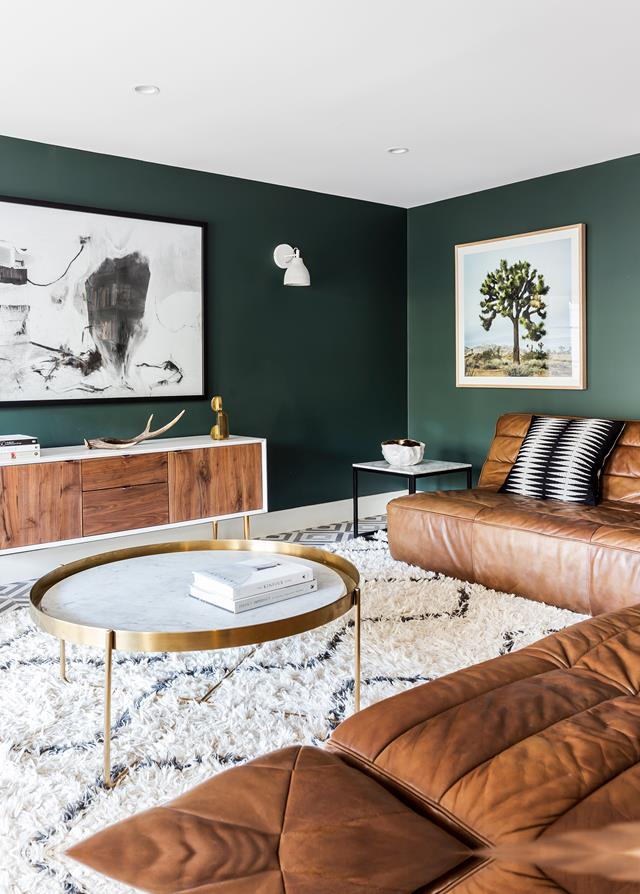 Arent & Pyke did miracles in this Spanish Mission home. Night Watch ideally rounds off the cozy living room, supported by the shaggy Moroccan rug and leather lounge suite. Green and brown form an interesting contrast, balanced by the whiteness of the area rug. Although royal, the color apparently works also in more homely interiors.
Ediotor's choice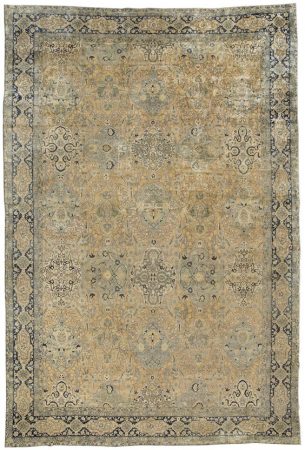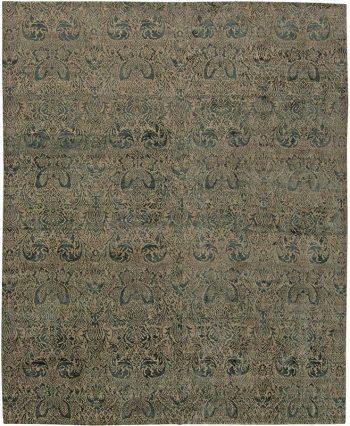 Powder Room Elegance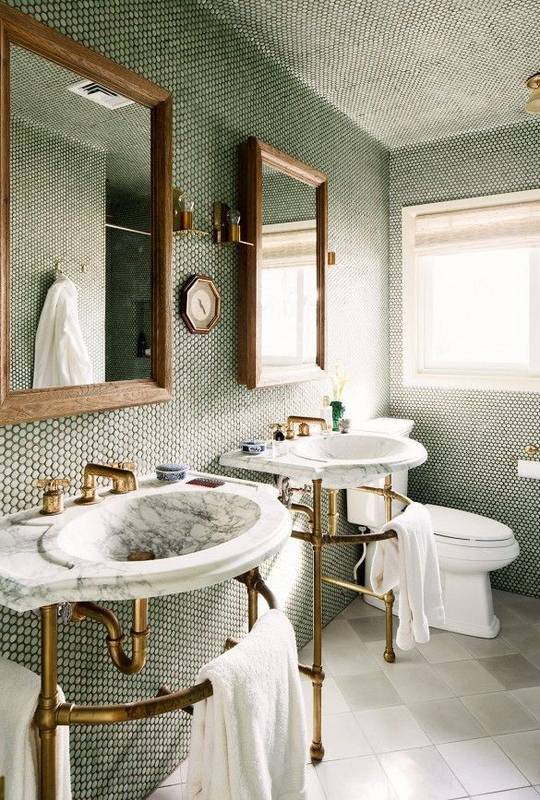 Look and admire –green bathroom mosaic is a brilliant idea! Firstly, it fits well with copper or golden taps. Secondly, it gives the impression of freshness. Thirdly, it allows for creative departure from standard bathroom colors such as white or gray.
Night Watch Over Your Sleep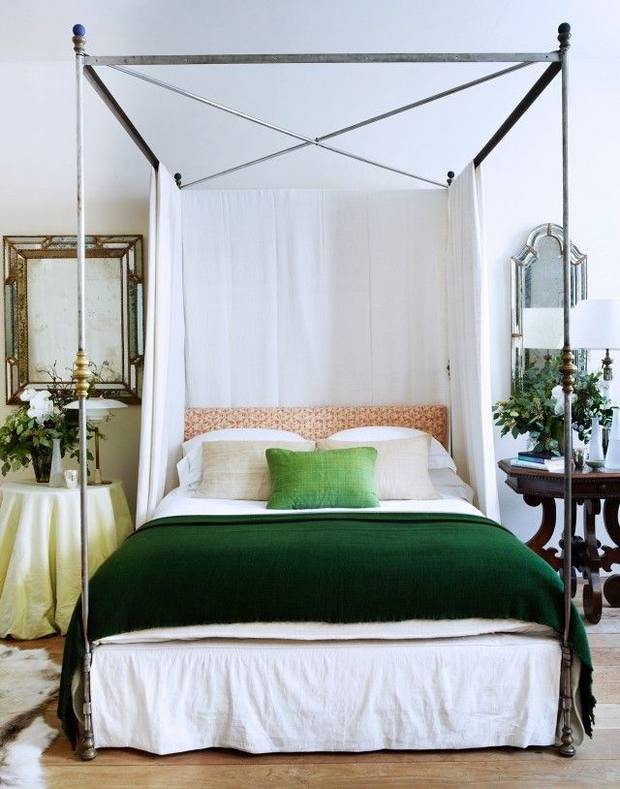 For the second time we prove that the power of textiles should not be underestimated. Bedspread in Night Watch adds a fairytale vibe and wonderfully contrasts with white bedding. This is the fastest and easiest way to introduce the fashionable shade to your home, without the need for major changes.
Dark Fantasies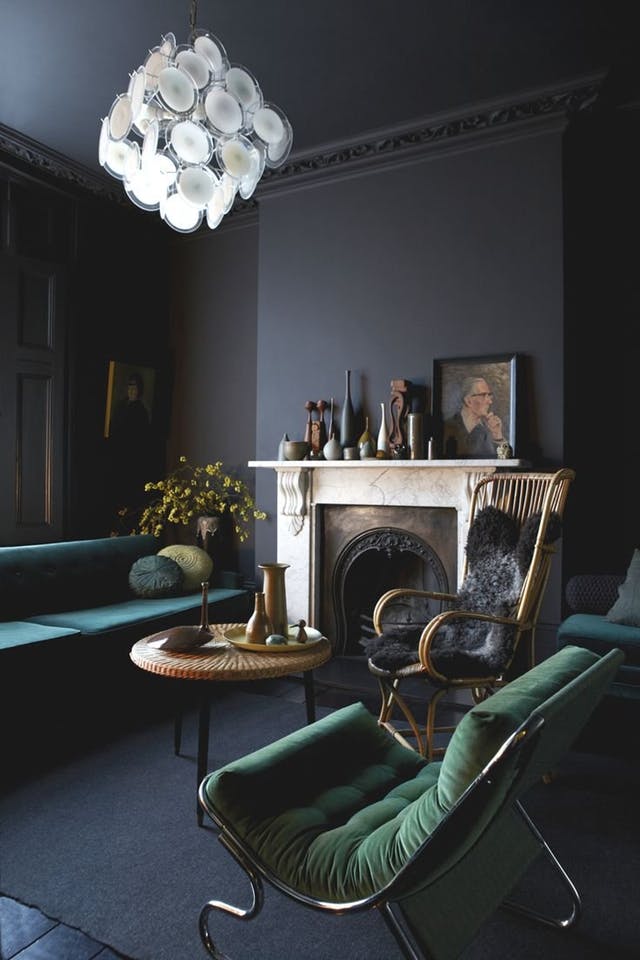 If you dream of a sophisticated allover moody arrangement, black walls and green upholstery are your bull's eye. Don't be scared, all you need to do is light it up a bit with some white and gold additives. Dine With Night WatchOnce again, the PPG's marvelous color helps to make a statement in a simple interior. Without the eager help of Night Watch, this minimalistic dining room would be, well, let's say it – characterless. Fortunately, the velvet chairs save the day (and the décor).
Green All the Way
Night Watch – the total look! The green walls, sofa and mantelpiece present themselves phenomenally in this heavily stylized space. In conjunction with candles, lights, gilded elements and the presumed fire from the fireplace, the color creates a magical atmosphere.
Kitchen Wants It Too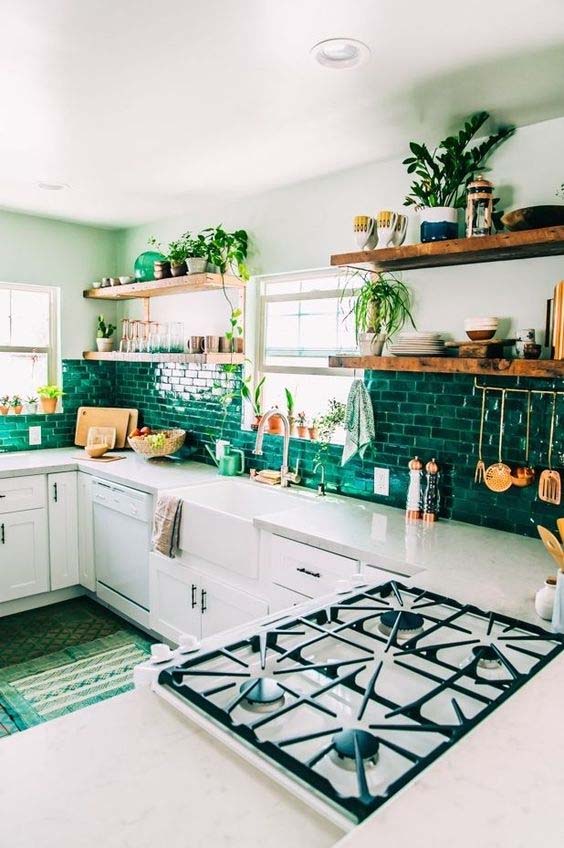 Night Watch on the tiles looks great not only in the bathroom but also in the kitchen. The emerald accent will blend in perfectly with wooden countertops and shelves. It's a perfect solution for the opponents of colorful furniture fronts as beiges and whites will pair well with the saturated green. Especially if you surround them with living plants!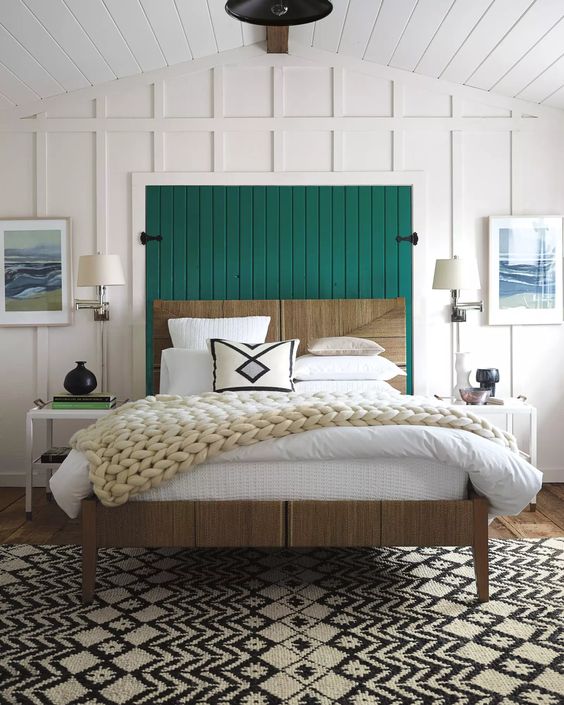 Doris Leslie Blau can help you find the right Persian carpet or oriental rug. We have a large showroom in New York City plus online catalogs and supplementary information. For help choosing a product for your needs, contact us online or call 212-586-5511.