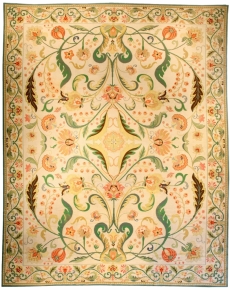 Embroidered rugs and carpets, also known as needlepoint or needlework rugsrugs, are among the most prized pieces of home décor available in the market. They add sophistication, elegance and beauty to any room. They are masterpieces from previous generations bring with them a long history.
What is an Embroidered Rug?
Embroidered rugs are a cloth based rug onto which yarn is stitched. They are not like woven rugs, where the patterns are constructed or formed on a loom.
History
Not only was embroidery used for decoration but also as a symbol of wealth and prestige. In the past, it was only aristocratic women, who embroidered rugs for their homes. The patterns and styles used for embroidery are also distinct in each country, incorporating local traditions and culture in their patterns.
During the 16th century embroidered rugs were adopted for commercial sale. During this period, designers used animals and regional flowers in the patterns and included a coat of arms to distinguish the person who designed them. After centuries, Victorian embroidered carpets with illusionistic, three dimensional flowers became popular. Over time, patterns became more elaborate and distinguished. There are even patterns that tell stories inspired by local traditions and cultural beliefs.
Embroidered rugs have a rich history and have never really gone out of style. Embroidered rugs will look great in traditional homes, contemporary rooms, or as part of an heirloom theme. You just need to choose a pattern or style that goes well with your furniture and other home décor. You can view our unique collection of embroidered rugs and carpets and picture how they would look in your home.