Publication: The East Hampton Press & The Southampton Press
By Marshall Watson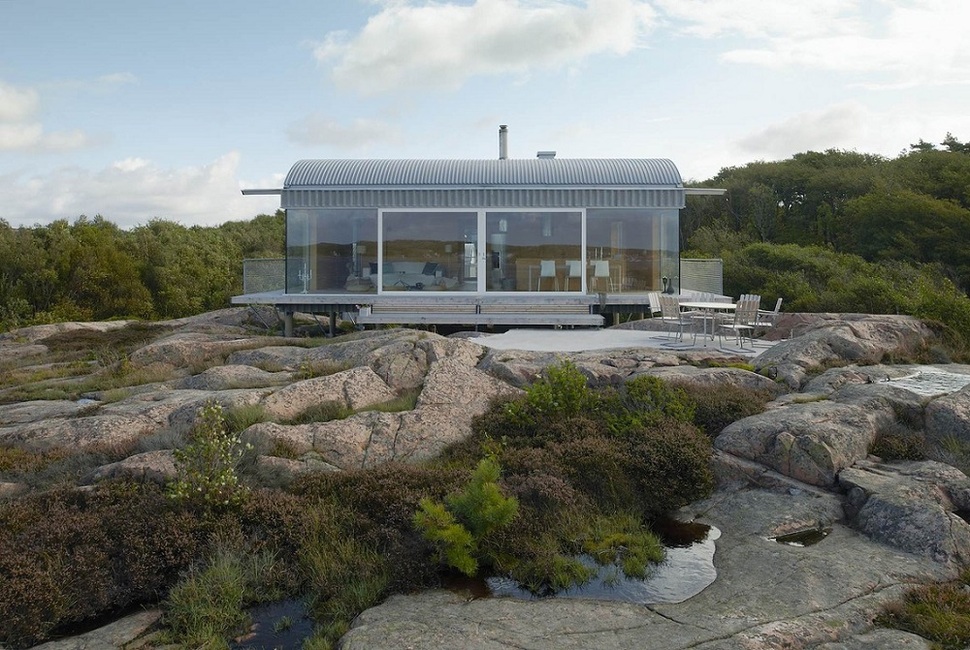 While leafing through the fabric wings of F. Schumacher & Co.'s voluminous collection, I could not help but notice sheath after sheath of metal embroidered, metal beaded, metal crimped and metal woven textiles. Though predominantly loomed with silver and steel, there was no shortage of gold, copper and bronze begging to be scanned as well. The suffusion of metal is ubiquitous in the fabric industry.Sometimes ever-so-subtle tiny loops peeked through that suddenly caught my attention—as if out of the corner of my eye I mistakenly saw a firefly. And sometimes, the fabric was entirely woven of metal, as if prepared for Medea's gift to Jason that would momentarily immolate him to death.
The metal textiles are found more prevalent in casement (sheer and curtain) applications. But certainly there is no shortage in the world of upholstery fabrics.
Camille Madonna, a 30-year-veteran at F. Schumacher, gave me her perspective on metallics in interior design: "The starting point of any room during the '80s was the print, and for that matter the more prints the merrier. After the print-on-print craze, we calmed down to two-color prints, simpler damasks and toiles. From there silks took over and then, moving on to plain linens and cottons," she said. "Now the younger designers in their 30s are still asking for the flat texture of linens but with an understated bit of bling. They want a touch of romantic glam, a bit of glitter like the soft sparkle of champagne. This metallic infusion is not the harsh yesteryear of hard-core chain mail, but the softer mineral undertones reminiscent of spas.
"The designers are asking for the dry, crisp look of linen but with a little Fred Astaire mixed in, that bit of jewelry that you put on at the end of the day," she continued. "We have responded with subtle introductions of metal threading, beading and yarns. We have also produced glazed linens with a metallic finish."
Camille further added, "silver and steel are still the overriding favorites."
I have taken note that the carpet industry has also begun to embrace silver and steel. Susan Izsaac from Doris Leslie Blau concurred.
"Metallic thread woven through fabric and clothing has been a handicraft in India for centuries. So it is only a natural progression in the process of weaving carpets," she said.
"Think of all the magnificent saris!" she continued. "The Indians interweave the finest of metal threads with their silk, cotton and wool threads. India's metal fibers are supple and soft, interlaced exquisitely with their patterns. In their refined techniques of rug weaving, the resulting effect is one of shimmer with a subtle softness of texture."
She said that her company is also commissioning work in Nepal, where the weaving is of a completely different nature, not of a lesser quality, simply different.
"The Nepalese actually relish a textural juxtaposition of rough with refined, so we are collaborating on rugs that employ metal in a raw, rough state," Susan said. "The thread we use in these rugs is actually solid-spun steel, not combined or mercerized with any other fiber. The effect is purer steel, a harder texture and quite dramatic." When asked why she is using so much metal in her designs, especially steel, Ms. Izsaac replied, "Interiors are filled with metal accents from nail heads to steel sabots on furniture, to chrome furnishings and lighting."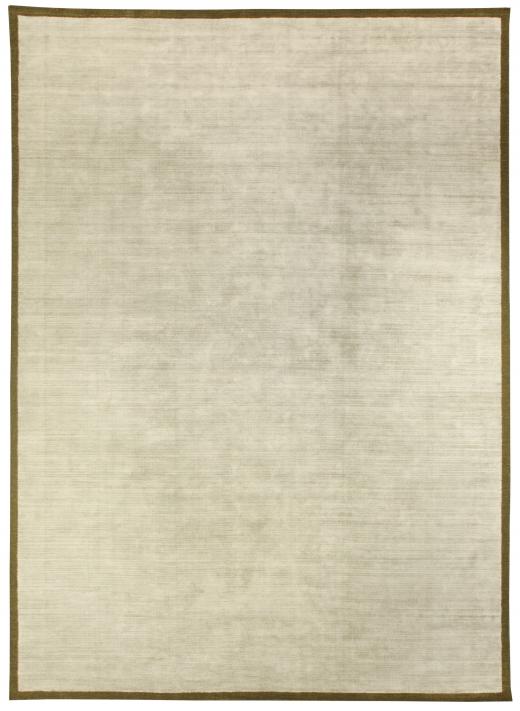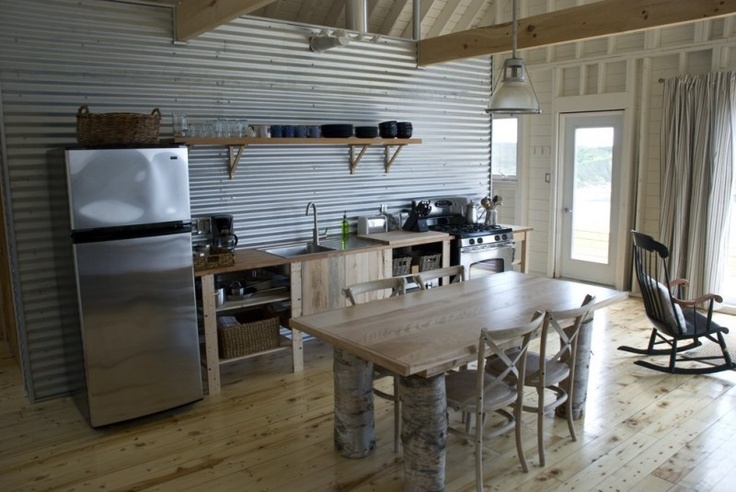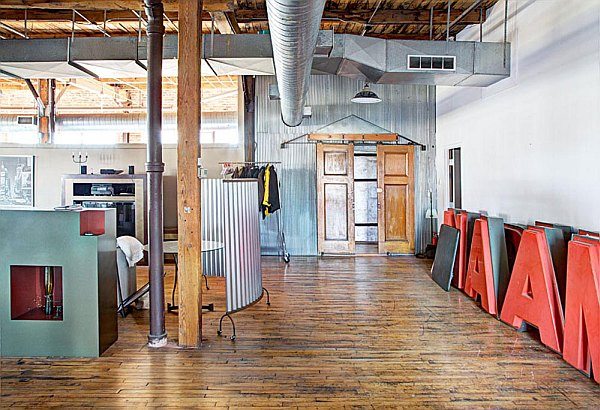 When asked to comment on metals' emerging popularity in carpet fabrication, Carpet Man's Marilyn Levine, here in Southampton, remembered the "metal-like" sheen provided by fibers made from a synthetic called "Lurex."
Many of us might remember some excruciating shirts or blouses made from such a material. But Marilyn reassured me that it is more tame now and used in carpets sparingly.
When selecting the contrasting elements for my own furniture collection for Edward Ferrell+Lewis Mittman, I hankered for a hint of glamorous adornment that would step up my soft-textured cerused finishes. As my collection's veneers swayed toward the mineral tones, I sought a cooler metal shimmer that complemented these veneers.
Silver and polished nickel were too elegant, while polished chrome was too Las Vegas. And pewter was a dull wallflower. But for me, polished steel struck the ideal chord between industrial familiarity and icy glint.
As with every fashionable material du jour, polished steel is currently striking the perfect chord and harmonizing with all other fashionable tones. Even more striking is the inclusion of tubular steel and sheet-metal steel accents in the world of outdoor furniture, where rust and corrosion can be the métier of the moment.
David Sutherland's mirror-polished stainless-steel-and-canvas collection, called the "Mariners Collection," illustrates the penchant toward steel. This yacht-ready assemblage of carefree canvas-covered metal seems both chic and glamorous in its relaxed presentation.
In addition, other high-end outdoor teak manufacturers have been capping the legs and feet of their tables and chairs with polished steel sabots while garnishing their chaise lounges with flattened steel arm pads and glinting hinges. The effect is unquestionably elegant.
When asked of steel's longevity with outdoor applications, Lainie Kritser of David Sutherland reassures me that, "The stainless steel by itself is of high quality and quite resistant to corrosion. It is used on ships and yachts all over the high seas. It contributes to a trim elegant look. However, for an extra precaution, we coat our steel with an exterior lacquer."
The silver metal revolution has not lessened its market grip, as evidenced by the last four years of product that is widely available, according to sales people at Suffolk Designer Lighting in Southampton. They acknowledge the preponderance of polished nickel still extant in the world of lighting.
Stainless steel is known to be a heavier solid metal and less frequently introduced in lighting design. But Bill Kreitsek Jr. of Suffolk Designer Lighting has been customizing steel lighting designs for lofts in Manhattan for the last year.
The trend toward a subtler glam suffuses the market at the moment. One finds it interesting that despite the relative inflexibility of steel, known for its sturdy resilience, steel is being introduced more and more frequently into the world of high fashion interior design for its softer side and glamorous appeal. As the design eye tires of the expected surfaces, sheens and textures, steel and its many attributes are perking up the duller corners of our industry.