Located northwest of Arak, southeast of Hamadan and about 400 km southwest of Tehran –Malayer is a small town recognized for its carpets production. It is generally located between the most significant areas of weaving industry, namely Hamadan and Sarouk. During the 19th and the early 20th centuries, in Malayer, as well as other nearby villages, small antique rugs were manufactured. They were chiefly made by individual craftsmen.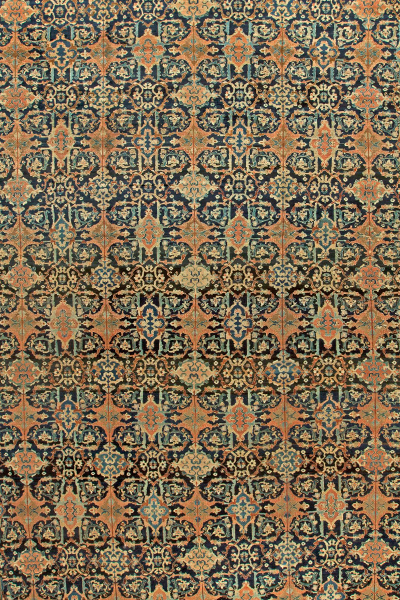 As for larger and oversized carpets, they were woven only on commission. Because of the extensive choice of designs and colors, Malayer rugs are absolutely unique. While for most of the types of Persian rugs we can indicate typical characteristics, Malayer rugs can be distinguished by much more different patterns and broader palette of colors. The example of the Malayer rug's design is botteh (the Persian word for bush, shrub) – sprouting seed (representing the birth of birds), and diamonds in the presence of flowers and vines. In addition to Boteh-pattern, Herati-pattern (a flower inside a rhomb surrounded by four acanthus-leaves) was also frequently applied by tribal rug weavers. These used to be the common motifs of Malayer rugs. On an antique Malayer carpet, various tones of colors can be observed – from sage green, watermelon, red, light blue to pinkish brown, gold and brownish red with the background of deep navy blue. Red and its diverse shades are very often used.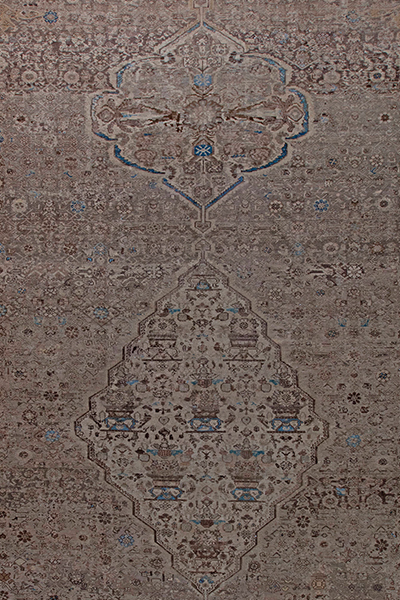 The majority of Malayer rugs are small or mid-size (4 x 6 to 8 x 10 feet). Materials used are mostly cotton or wool; cotton for warps (foundation), cotton or wool for wefts. The technique of making these carpets varies from the one used in the production of other Persian rugs. Due to the fact that the tribal weavers from Malayer were frequently of Turkish origin, they employed Gourde – the Turkish knot. As contrasted with asymmetrical knot of most Persian carpets, Gourde is a symmetrical knot. The quality of a given carpet depends on the number of its knots. Antique Malayer rugs are normally a low cut pile.
Malayer rugs are known for their original designs, and are commonly considered to be one of the most decorative Persian carpet types. These hand-knotted carpets are sometimes called 'Hamadan Senneh' rugs – on account of the fact that basically that's the combination of two styles: the fine weave of Hamadans and the symmetrically-knotted, single-wefted Herati-pattern which is akin to that of the Senneh carpets.
Source:
http://www.claremontrug.com/antique-rugs-information/antique-persian-rug-guide/malayer-rugs/