'Karabakhian rug has a very significant tradition. When you deal with something traditional and ancient, it is difficult to replicate it. Ancient Karabakhian rugs are examples of high art. These are rugs for modern consumers, which can serve as decorations for their homes'.
One of the four core categories of carpets made in Azerbaijan – Karabagh rugs – were added to UNESCO's Representative Masterpiece of Intangible Heritage as part of Azerbaijani carpets. As many other types of rugs, they were named after the region where they were manufactured. Karabagh is located in eastern Armenia and southwestern Azerbaijan encompassing three regions: Highland Karabagh (historical Artsakh, present-day Nagorno-Karabagh), Lowland Karabagh and a part of Syunik.
Interestingly, the first time when the Armenian word gorg (meaning pile carpet) was mentioned, was in 1242-43, so quite long ego. It was written on the Armenian inscription on the wall of the Kaptavan Church in Artsakh. Moreover, in the fifth-century Armenian translation of the Bible, the Armenian word for carpet first appeared.
In the past, in Karabagh (Artsakh), carpet-weaving used to be women's profession exclusively. Rugs were of great significance that time, they weren't simply decorations at one's home. Armenian rugs served as imposing and expensive gifts and were always in kings' hands. People produced them with esteem, they were the objects of cult, symbol and protection. No wonder high quality rugs were woven, and now the extant ones can be seen in museums and private collections in the whole world. 'Artsakh carpets occupy a special place in the history of Armenian carpet-making' claims Hravatd Hakobyan, the art historian. Generally, as far as the commercial purposes are concerned, the business started to flourish in the second half of the 19th century. Shusha, the city in the region of Nagorno-Karabagh in the South Caucasus, became the center of Karabagh carpet-weaving. In an international show that took place in Paris in 1867, some prominent weavers were awarded prizes. Susha's carpets were also prized in Moscow Polytechnic Exhibition years later.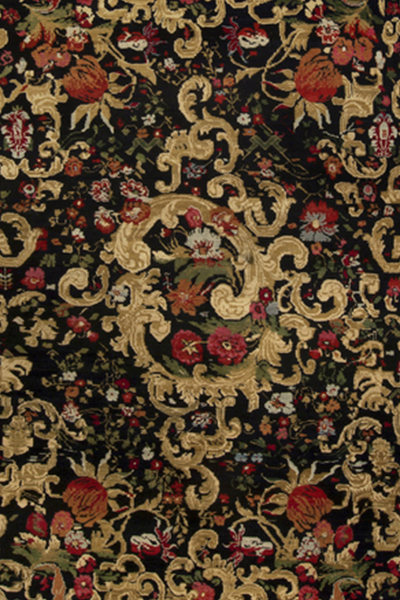 If we translate the name Karabagh (or Garabagh) into English, we'll see that what it means is, accidently or not, compatible with the design of some of the Karabagh carpets. 'Black garden' is the translation, and many of the Karabagh rugs have black fields or borders bedecked with flowers on them. It is believed that there are 33 compositions of Karabagh carpets – some of them were influenced by the Tabriz and Iranian carpet schools, but the other ones are original. Karabagh rugs are made of local sheep wool and have long tight and mild pile. As for the design, these colorful rugs can be divided into 4 categories: with a medallion, without a medallion, carpets for Namaz (Muslim prayer), and the ones with a plot. On Karabagh rugs we can notice geometrical patterns, as well as floral ones. Besides, the typical motifs include the depiction of animals like dragons or eagles (mostly Armenian carpets). Because of the diversified styles, colors and motifs, they can be further subdivided into artsvagorgs (eagle-carpets), otsagorgs serpent-carpets, vishapagors (dragon-carpets) and so on. Azerbaijan carpets can be divided into 4 'carpet schools': Guba Shirvan (with centers in Guba, Shirvan and Baku), Ganje Kazakh (Ganje and Kazakh region), Karabagh (Susha town) and Tabriz (Tabriz and Ardebil). Ornaments and manufacturing techniques differ slightly in these regions.
Sometimes, due to their alikeness, Karabagh carpets are confused with other types of rugs, especially Kazaks (large medallion patterns, tribal geometric motifs). It is not uncommon that they are associated with French carpets – namely Aubusson or Savonnerie, on account of the realistic floral ornaments. Generally, several design categories of Karabagh rugs can be distinguished: the village type (akin to amply colored Kazaks), the city type (classical Persian style) and Russian design.
Stretching over thousand years, the tradition of carpet-weaving is still cultivated among Armenians. 'Karabagh Rug' company promotes these unique carpets around the world, whose quality is not in the slightest worse than of those exceptional rugs woven in the past. Fortunately, today some famous Karabagh carpets can be seen in numerous museums. For instance the zili carpet (silk Karabagh, 16-17th century) is now kept in the Museum of Arts in Berlin. Furthermore, 600 carpets were taken from the town in army vehicles before the occupation of the city by the Armenian military forces. Owing to this, they were protected and are currently kept at the Baku museum.
Sources:
http://www.visions.az/en/news/334/7901de15/
Source of quotes:
https://www.dorisleslieblau.com/antique-rugs