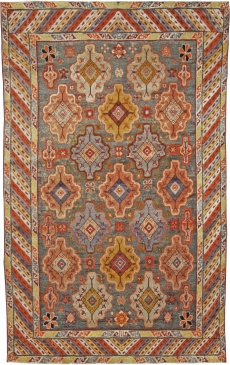 Oushak or Ushak Carpets are a great example of the creativity and artistic ability of the Turkish or Anatolian region. These rugs derive their name from the city Uşak which was the center of rug production in the heyday of the Ottoman Empire until the early 20th century. Anatolia, literally 'land of the rising sun,' gave rise to an amazingly popular assortment of rugs which made enough of a lasting impression that Ushak is now an English word.
The Versatility of Ushak Rugs
Brilliance, craftsmanship and artistic expertise are the hallmarks of Ushak carpets. Many of the 15th and 16th century masterpieces belong to this category of vintage Turkish rugs. Among these are the famous medallion and star rugs. Oushak rugs are woven of luminous and silky wool dyed with colors featuring cinnamons, blues, terracotta tints, greens, golds, ivories, grays, and saffron color contrasts.
The Turning Point
The specific designs in these ancient carpets changed with the onset of the 19th century. This was during the rebirth of Oriental rug weaving and Oushak became the preeminent center of the carpet-weaving industry. Carpets during this period began to include Persian floral patterns and production of room-sized carpets as demanded by European markets.
The inclusion of new desigsns into the old Oushak rug weaving gave birth to a new kind of carpet characterized by large knots and all-wool foundation. At present these carpets are still very popular with Oushak lovers all over the world. They are major branch of the carpet family tree and their engrossed illuminating vibrant designs make them a first choice of millions.