Reprinted from The Huffington Post, April 2015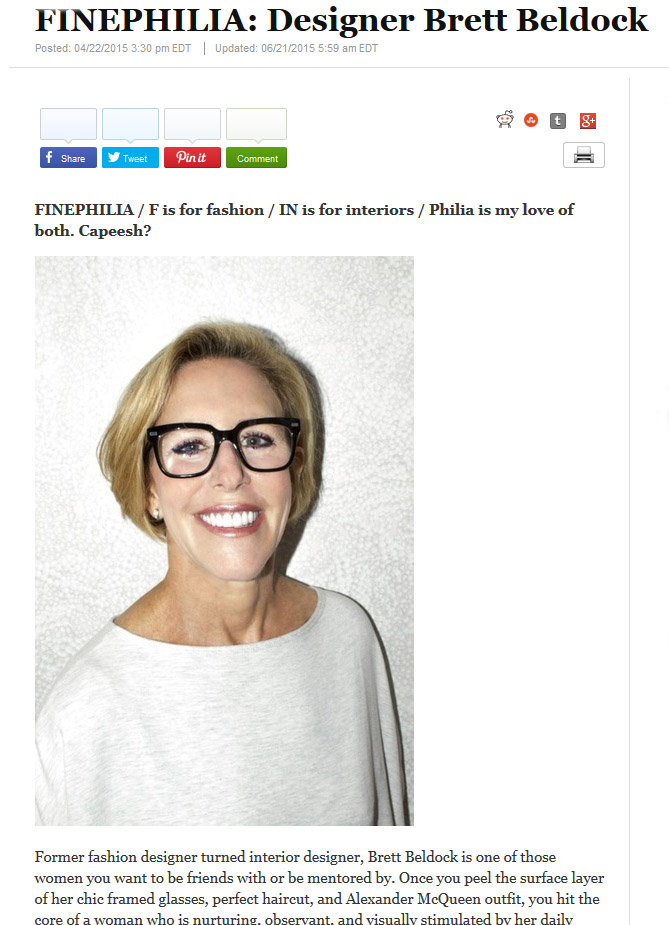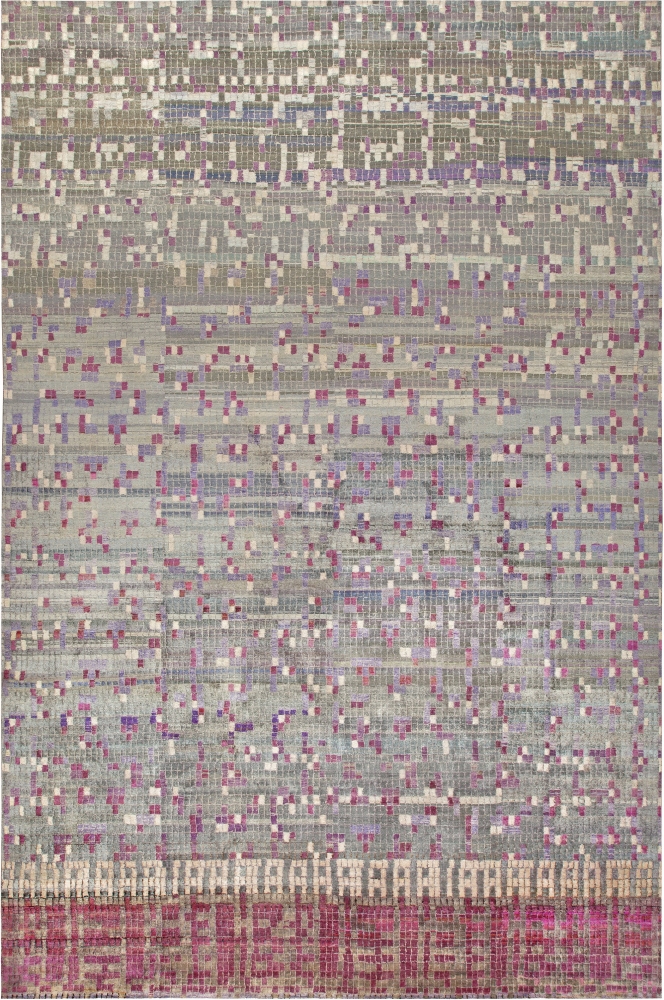 Reprinted from The Huffington Post, April 2015
FINEPHILIA / F is for fashion / IN is for interiors / Philia is my love of both. Capeesh?
Former fashion designer turned interior designer, Brett Beldock is one of those women you want to be friends with or be mentored by. Once you peel the surface layer of her chic framed glasses, perfect haircut, and Alexander McQueen outfit, you hit the core of a woman who is nurturing, observant, and visually stimulated by her daily surroundings. There are many designers who are influenced by fashion design, however Brett has lived in it and amongst it since she was born. Now, a mogul in her own right, Brett has grown Brett Design into a lucrative and successful design firm, with showrooms representing her beautiful, one-of-a-kind wallpapers in New York, Los Angeles, and Dallas. I spoke with the designer and was fascinated about what I learned about her upbringing, her inspirations, lifestyle, and acclimated level of success.
You have such a beautiful collection of furniture, rugs, and wallpaper. Have you always had a love for design?
I was born into it. Both my mother and grandmother were important women in the fashion world. My grandmother brought the first European designer to the USA, Givenchy for liscencing. She was partners with the great Claire Mccardle in the 30s 40s and 50s. My mother had a business with a fabulous designer named Adri and worked with the great Herbert Kasper as a kid. There were sketches with fabrics all over the floor, and I got a chance to be a dresser for runnway shows. I dressed Bethanne and Pat Cleavland.
How long have you been designing interiors for?
Since 1989.
Are you from New York originally?
Yes I am an NYC girl. I went to the Little Red School House on Bleeker street.
Have you always lived in New York City?
i have lived in Paris when I was a senior in high school, and in Israel designing for a leather and suede company. In the late 70s and 80s I spent 5 months a year designing in Asia.
Where are you products represented?
My wallpapers are represented at Holland and Sherry in Miami and NY, and at Harbinger in LA and EC DICKENS IN DALLAS. My furniture is at Profiles NY and at EC Dickens Dallas as well.
If you weren't a designer what would you be doing?
Probably breeding dogs. My great love is my Boxer Grace. I could be around Boxer puppies 24 hours a day. Maybe I could have also been a newscaster. I love all of theses great women today on MSNBC.
I hear you live in Harlem, how much of an influence does your neighborhood have on you?
Harlem has a flavor. It is a little village within NY. I think living here I am more free to be outrageous and creative. The view from my office is of St. John the divine, Columbia, and Morningside Park. The sunsets west have inspired additional colorways of our ombre wallpaper.
Where do you get your inspiration from?
From everywhere! Yesterday i saw a piece of old wood on the side walk with snow melting on it. The lilac salt was making the snow pinkish …I ran upstairs and designed 3 tables in oak gouged grain filled with color. I like to spend Sundays at the Cooper Hewitt they have a tools exibit .. I came home and did a wallpaper based on African tools …. The latest Armory art show at the pier inspired me to add to my jewlry tattoo line.
What's next for Brett Design?
I just want to do more and more products. They are so easy for me. I would love to do more rugs . We have a line with Doris Leslie Blau and I am anxious to do more. I think we should do fabrics and sheets thats a natural.

Anything else we should know or that you want to mention?
I have been lucky. My friends in the industry have been really supportive of my products and that is really nice because there is a lot out there to buy. So when they use your designs you feel fortunate.
Photo provided by Brett Design
www.brettdesigninc.com