Paul Vincent Wiseman was born in a small agricultural community of California's Sacramento. His childhood on a pear farm was idyllic: "The nice part was that we were close to the capital, Sacramento, and close to San Francisco. So it was like growing up in a very rural area with a lot of sophistication. It's an unusual place; it looks kind of like the Mississippi Delta, except there are no snakes or alligators.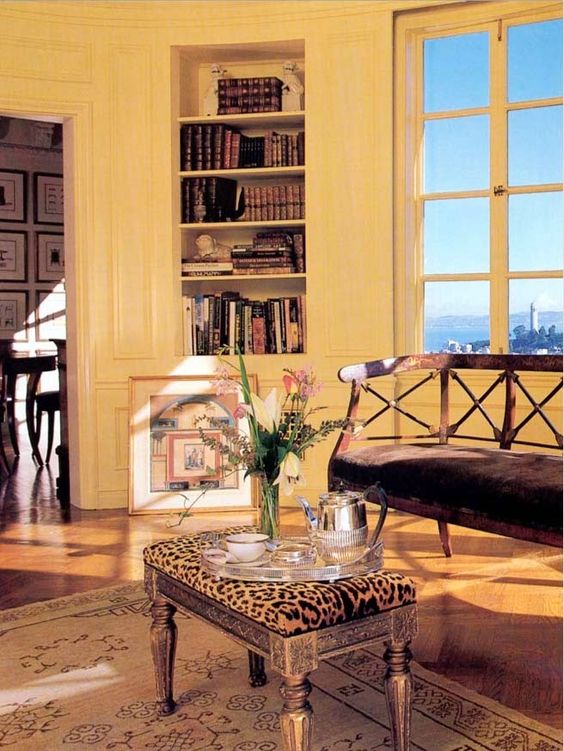 We all live on islands connected by drawbridges. "I am," he declares, "the only decorator in San Francisco who can drive a tractor and a 10-wheel truck.".
After graduating from high school, his wanderlust took Wiseman to England, France, Germany, Italy, Greece, Turkey, Romania and Bulgaria, where he experienced the diversity not only in cultural but also artistic sense. The designer attended the University of California at both its Berkeley and Davis campuses, studying political science, which he sincerely hated. However, Wiseman was reluctant to drop out and if it wasn't for his friend, he might have never become an interior designer: "He said to me, Why are you studying political science? All you ever do is talk about art and history. Why don't you do something with art history and architecture?'". Wiseman started by getting necessary experience in the industry by working for Hexter Fabrics, Winfield Windsor, the antiques dealer, and Robert Hering.
In 1980, Wiseman, aged twenty seven, set his San Francisco-based company, The Wiseman Group. What back then seemed like a dream, now became the reality – his business is recognized as one of the top interior design enterprises, respected for the quality of its work and for superb contact with clients: "When The Wiseman Group creates a home environment that captures the essence of how our clients wish to live, those clients feel grounded and empowered. Living in a space that is both beautiful and authentic to the self nurtures the soul. We believe that people, feeling at ease and connected in this way, will go out into the world and do good things.".
Thanks to his travels, Wiseman was exposed to numerous cultures, but the ones which influenced his style the most were the classic Italian, French, English, and Spanish works. Deep appreciation for history, culture, art, and architecture allowed him to understand the importance of hand-made goods. Artists from all over the world provide the designer with custom elements, a signature of his projects. However, what Wiseman is best known for is a personal touch which reflects the personality of his clients: "I always try to explain to my clients that it's their house, not mine. If it looks like my house, I've failed. You can buy the right car, the right clothes, the right address, but when it comes to the decoration of your home, it's a very personal reflection. Some people are frightened of that, so they hire a look. That's not what I do." he said. Thanks to his warm approach, the designer ensured loyalty of his clientele.
Wiseman has been on the A.D. 100 Best Designers list for the past 15 years, which – together with The Robb Report's 11th Annual "Best of the Best" issue listing Paul as one of the five best interior designers worldwide – is a proof of his superb skills in decorating. Serving on the advisory board for Academy of Art College in San Francisco's Interior Design Department, Wiseman teaches aspiring designers the secrets of his profession, always with a charming smile.
source:
http://www.thestylesaloniste.com/2014/07/designer-i-love-paul-wiseman.html
http://www.architecturaldigest.com/story/wiseman-article-022006