Judith Johansson is one of the legendary Swedish rug designers. She was born in 1916 in southern Sweden, in a serene tiny rural village. From her earliest years she had been exposed to the breathtaking and majestic natural environment of Scandinavia what shaped her impeccable sense of beauty.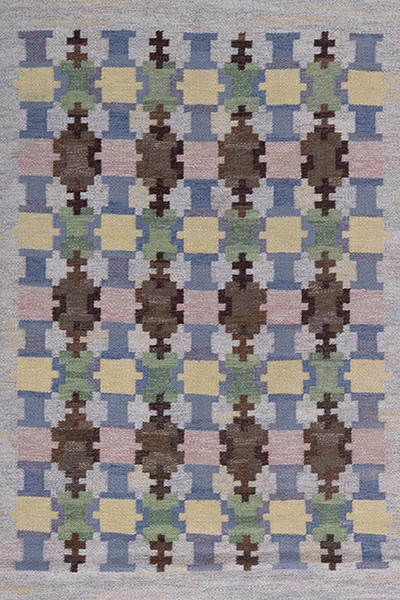 She was born in the region that has been, and still is, renowned for its crafting and textile heritage. Judith not only absorbed the knowledge of her ancestors, she also largely contributed to the local revival of the business and helped to increase the production of ornamental flat weave röllakan rugs and upholstered furniture.
The designer created an imposing collection of flat weave Swedish rugs and tapestries, both of ecclesiastical and secular kind. Johansson's masterpieces were produced from the late 1940's until the mid-1960's in her private atelier, which in the mid-1980's has been taken over by her daughter.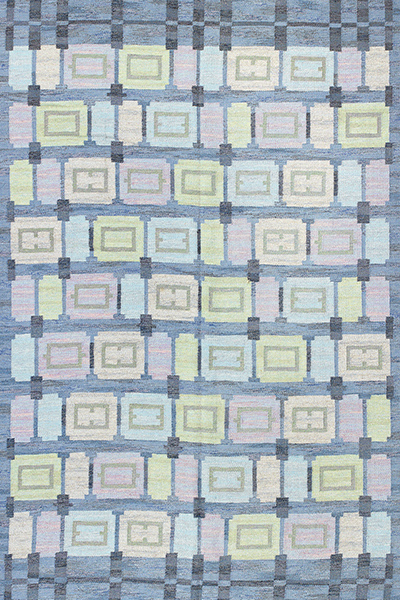 In her creative work she engaged a unique and exceptional design process. Judith was first painting watercolor sketches which were later transformed into modern weaving patterns. Her pieces are imbued with the idyllic countryside atmosphere or thrilling and dramatic landscapes of mountainous Sweden. Although most of her inspiration comes from the natural environment, she also invented a vast number of original, abstract designs exuding angular elegance. One can find there unobvious floral motifs as well as largely geometric creations. The weaving artist was never afraid to use strong colors, such as deep indigo, and was eager to experiment with the convention. All of her originally designed and hand-woven rugs proudly bear a signature in the form of Judith's initials – "JJ". She was significantly awarded several times for her undoubted achievements and a large contribution to Scandinavian design. Johansson died in 1993, however she will always remain a paramount figure in the pantheon of world's greatest creators.