When France's unified ethnographic art museum, the Musée du Quai Branly, first opened in Paris in summer 2006, the Moroccan carpet holdings of the former Museum of African and Oceanic Arts (MAAO) had been augmented by examples acquired by gift and purchase from the Korolnik Collection. We look at the background to one of the carpet world's most committed partnerships.
Swiss collectors Annette Korolnik-Andersch and Marcel Korolnik have been researching and acquiring Moroccan tribal carpets and other weavings since the early 1990s. Their collection concentrates on textiles woven before 1960, and reflects their primary focus on authenticity, relevance and aesthetic quality.
Even as children, both Annette and Marcel showed clear signs of the unusual destiny that awaited them. Annette was brought up surrounded by artists and literati – her father Alfred Andersch was a well-known German writer – but was immersed at the same time in the local culture of the Swiss mountain villages. A nomadic streak kept the Andersch family on the move – they lived at different times in Bonn, Berlin, Hamburg, Rome, Zurich, and Berzona in the Ticino. As a small child in the 1950s, she remembers collecting shells on the sandbanks of Sardinia and storing them in a locally woven basket that seemed to her spectacularly beautiful.
Born in 1945, Marcel came from a more conventional background. By his early teens he was already looking for an escape from his rather humdrum existence, and found it endlessly tramping the streets of Zurich with his beloved camera for company. At 19 he was sent to the UK to complete his language studies. Rather than attending college to learn English he chose to acquire it by osmosis as he crisscrossed the country in an old car.
In 1968, having gained a commercial diploma, Marcel entered an advertising agency. Under the wing of an ex-Hollywood director he learned to produce TV commercials and publicity documentaries, and for ten years this was his main professional activity. Next came his own marketing and communications agency in Zurich, a business that he ran until 2003 when he committed himself to the arts, initially taking up postgraduate studies in cultural management.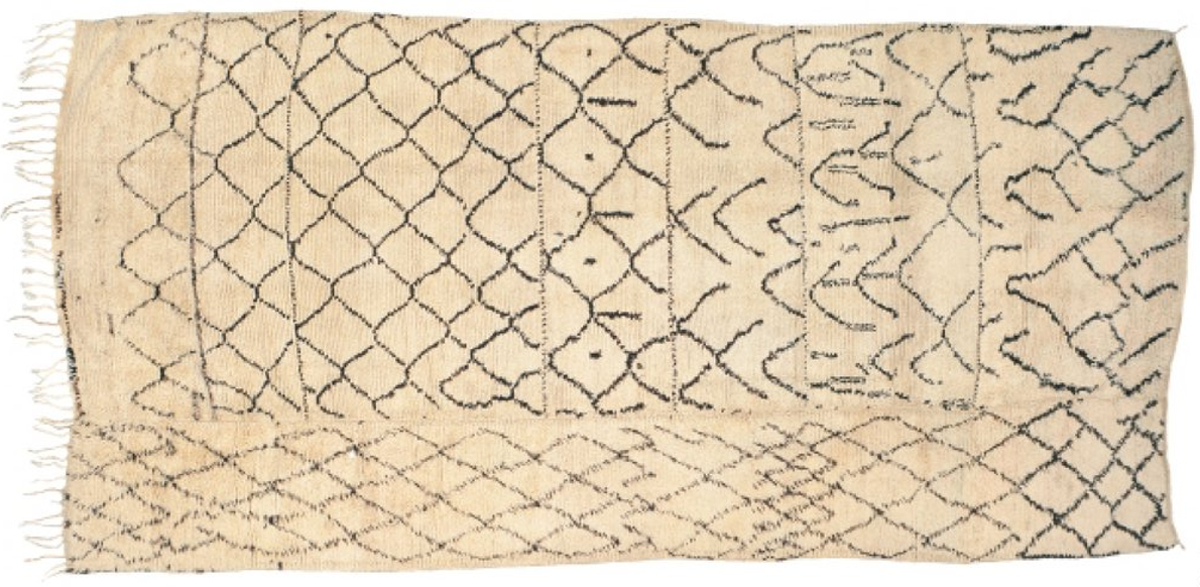 1. Beni Ouarain knotted pile carpet, northeastern Middle Atlas, Morocco, first quarter 20th century. 2.00 x 4.20m (6'7″ x 13'9″). This Berber archetype was originally used as a bedding rug in a tent, but was transformed into a carpet by the addition of an extra narrow strip made by the same weaver when her family adopted a sedentary lifestyle and moved into a house. Korolnik Collection, Musée du Quai Branly, Paris, 70.2004.5.1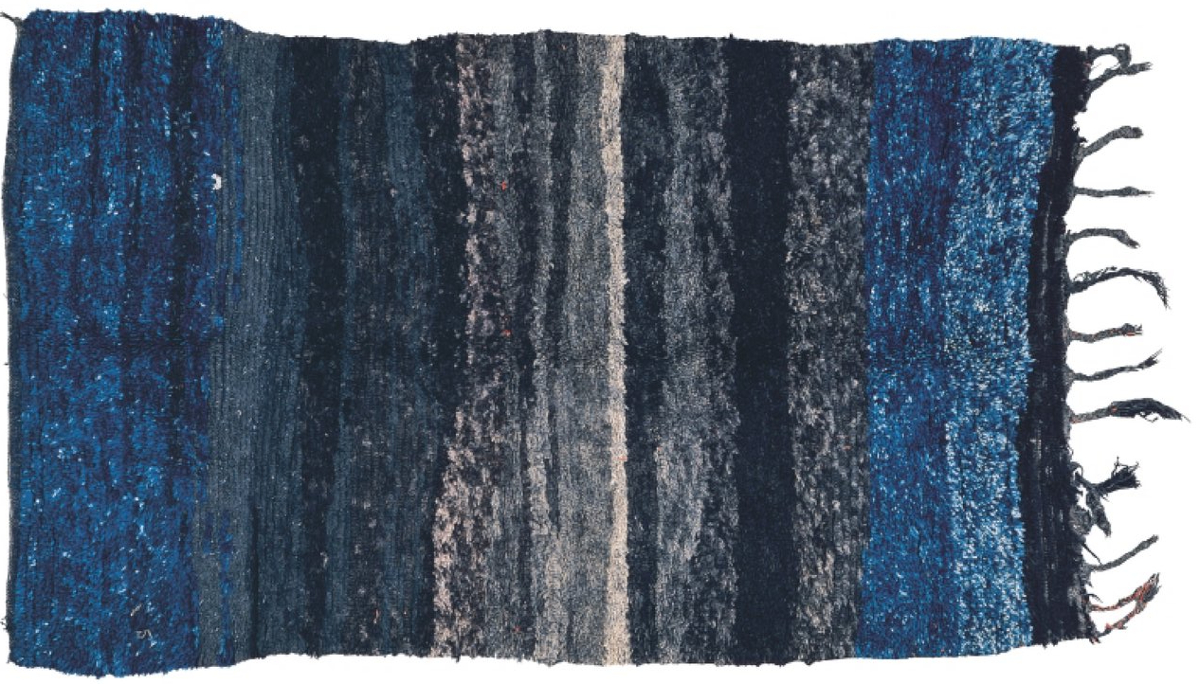 2. Beni M'Guild knotted pile carpet, central Middle Atlas, Morocco, ca. 1925-35. 1.30 x 2.15m (4'3″ x 7'1″). With a rare and much sought-after palette for this region, the carpet was acquired from its weaver, an old woman who had moved from the desert to live in the Middle Atlas near Timahdit, and wished to depict a thunderstorm in her weaving. Korolnik Collection, Musée du Quai Branly, Paris, 70.2004.17.3
Now based in Berlin, he organises cultural projects and events, curating exhibitions and editing publications dedicated to eminent 20th century writers and historians. Photography also continues to play an important role in his life, his characteristically abstract and atmospheric images evoking details of nature and landscapes.
Annette's education took her to art schools in Basel and Zurich as well as to Central St Martins School of Art in London. An early apprenticeship in scientific design trained her hand and eye as well as developing analytical skills, while later studies in textile design provided the essential technical and aesthetic grounding for her eventual commitment to the world of carpets and textiles. Her creative gifts led at one point to the world of haute couture, developing designs for Yves Saint Laurent, but this ended in 1971 when she opted for the life of a mother and freelance artist. Since then her paintings and mixed media objects have been featured in more than fifty exhibitions and won many awards.
As a young couple the Korolniks traveled as much as they could with their two children. In Italy and Portugal they lived the simple rural lifestyle of their host families, an experience that reminded Annette of her youth in the mountains of southern Switzerland. "We never liked to travel as foreign tourists. We wanted to experience a place from the inside", they remember. The same principle would underpin all their future travels in Morocco.
Once their children had become independent, the Korolniks felt ready to fulfill their fondest dream – "to experience the desert". They decided to head for Marrakesh and on into the High Atlas Mountains, exploring, photographing and painting. It was at this time that they bought their first rugs – a Haouz and a Zemmour. They also had their first taste of Berber warmth and hospitality when Annette, falling ill in Zagora, was nursed by a family whose traditional remedies of calm, tea and music restored her to health.
What was it about Morocco that drew the couple back again and again? The answers come quickly: "It's the wild, endlessly varied landscape, always full of surprises… walking in the desert sand and suddenly discovering a crystal clear stream surrounded by immensely tall palm trees"; "…the way mountain people communicate, the way they greet you"; "…their beautiful textiles, barely known or recorded when we first saw them" …In short, they had fallen in love. Back home, they decided to learn as much as possible about the country. They determined to observe and experience the everyday life of the inhabitants, to find out about their history, their problems, and their incredibly rich textile culture.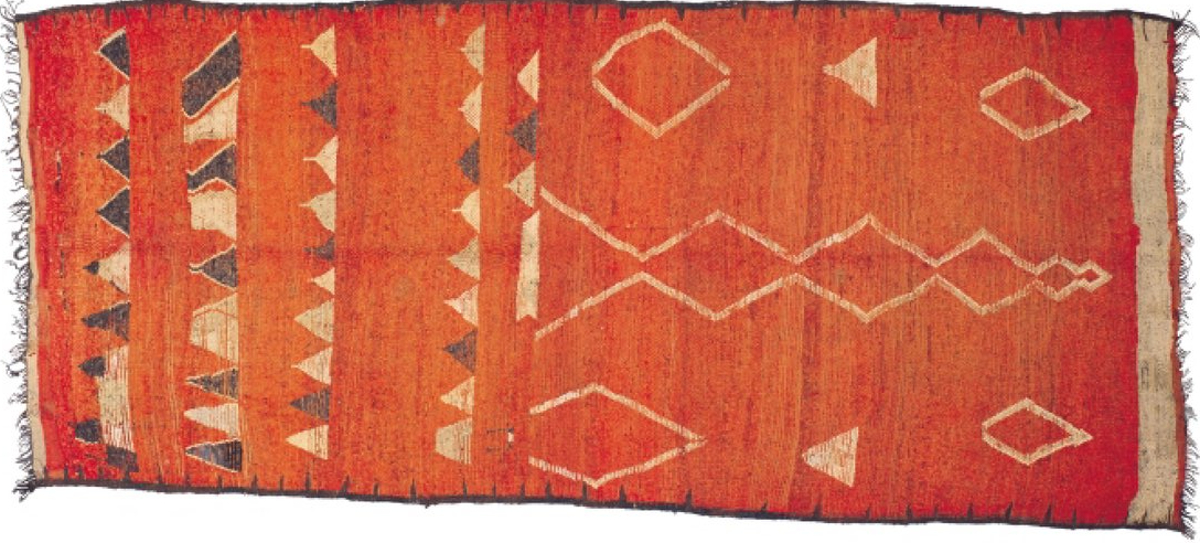 3. Rehamna knotted pile carpet, Oulad Izar sub-group, Plains of Marrakesh/Haouz region, Morocco, early 20th century. 1.56 x 3.50m (5'1″ x 11'6″). This is the first Rehamna carpet acquired by the collectors and remains one of their favourites. Korolnik Collection, Berlin, K 15/1994
Books were the first step, beginning with Wilfried Stanzer's book Berber: Tribal Carpets and Weavings from Morocco (1991), based on the Richard Hersberger Collection. This was followed by the Washington Textile Museum's 1980 exhibition catalogue From the Far West: Carpets and Textiles of Morocco. The discovery of a huge gallery full of Moroccan textiles in the Musée d'Afrique et d'Océanie (MAAO) in Paris also proved to be a real revelation. The Korolniks, artists themselves, were deeply impressed by the high aesthetic quality of this material.
Between 1992 and 1996 the Korolniks made frequent research trips to Morocco, focusing particularly on the weavings of the Haouz (Plains of Marrakesh) region, and on Rehamna rugs in particular. With the Lamdaghri brothers, respected carpet dealers from the Marrakesh bazaar, they visited villages in the plains, seeking out weaving families of Arab origin such as the Rehamna or the Ahmar. Interviews followed, Annette talking to the women, Marcel the men. First the discussion ranged over matters relating to the village, the tribal group and its origin, family ties and the significance of the zaouia (religious center of a group) and moussem(tribal sacred places). In time they would move on to economic issues, eventually broaching the subject of carpet weaving past and present.
Interviews usually took place in the morning with the Lamdaghris effecting introductions and serving as interpreters. The visits provided the opportunity to see hundreds of carpets, which was to prove a valuable training in the understanding of provenance. Annette and Marcel nevertheless maintained a strict division between fieldwork and collecting. And rather than acquiring rugs directly from the weaving families, they would buy them later in the Marrakesh bazaar from the Lamdaghris, with whom they have maintained an uninterrupted friendship.
The couple were scrupulous in preparing for their field studies, and particularly in the formulation of a questionnaire, a project that involved an exhaustive review of the relevant literature. Much of this work was carried out in 1994, when a Goethe Institute scholarship enabled Annette to spend three months in Rabat. The rich resources of the Bibliothèque La Source, run by the Dominican 'Pères Blancs', proved invaluable. The task involved studying the mainly French language sources, drafting tribal maps based on the 1936 Census, and facing up to the enormous problem of terminology in this crucible of different cultures.
4. 'Black' Rehamna knotted pile carpet, M'Taguil subgroup, Plains of Marrakesh/ Haouz region, Morocco, ca. 1920-30. 1.30 x 4.50m (4'3″ x 14'9″). No more than four or five 'Black' Rehamna's are known, all woven by the M'Taguil. Korolnik Collection, Musée du Quai Branly, Paris, 70.2004.2.6
The thoroughness of their preparation set the Korolniks apart from many carpet experts. In order to extrapolate the features of Rehamna rugs, for example, they examined and compared hundreds of carpets. Even then they accepted that strict categorisation into tribes or sub-groups according to details of structure, design or palette was not ultimately possible, admitting straightforwardly that the rugs were "unpredictable", showing features that were "constantly surprising". They moreover rejected the simplistic theory of development from plain to ever more heavily decorated models, observing that from the mid-19th to the mid-20th century "one finds everything, side by side".
More than this, they were well aware that any interpretation of motifs gleaned from the interview process would remain speculative. It was possible that the women no longer knew the meanings of their designs or, if they did, were unwilling to reveal them.
In addition to intensive research in the Rehamna region (see HALI 99, 1998), the couple carried out short exploratory surveys into other regions of Morocco, sometimes accompanying the Lamdaghris on their buying trips. Looking at rugs together offered further opportunities to gather information in an informal, spontaneous setting. These journeys enabled them to add some outstanding rugs to their collection, including examples from the Beni Ouarain (1), Beni M'Guild (2,6), Zemmour, Sektana (7), and Aït Ouaouzguite.
They had set themselves the goal of acquiring a comprehensive collection of tribal carpets, blankets and textiles representing most weaving groups of rural Morocco. Most of their pieces were sourced from the families in which they had originated, fulfilling the Korolniks' insistence that they should be fully authentic examples of each weaving tradition. Some additional pieces were discovered by chance – in Rabat, in Zurich, through the internet, in the Paris flea market. While quality and aesthetics played a primary determining role in these purchases, occasional examples of lesser merit were included for the sake of completeness. In 1996 the collection was exhibited at the Museum Bellerive in Zurich, and has continued to be made available through loans to subsequent exhibitions.
Between 1996 and 2001, the couple focused more and more on regions in the Anti-Atlas, and specifically on the previously unknown henna-painted ritual textiles that were the subject of their second fieldwork survey. In terms of information, photographs and original pieces, the investigation among Chleuh Berber groups, such as the Fejia and Ait Atta proved abundantly successful. The results it yielded are recorded in their 2003 publication The Colour of Henna(HALI 123, pp.32-33), and led to a series of exhibitions in Switzerland, Germany and the United States. On the occasion of the opening in Zurich, the couple received the McMullan Award from veteran collector Russell Pickering, for their contribution to the field of Moroccan textiles.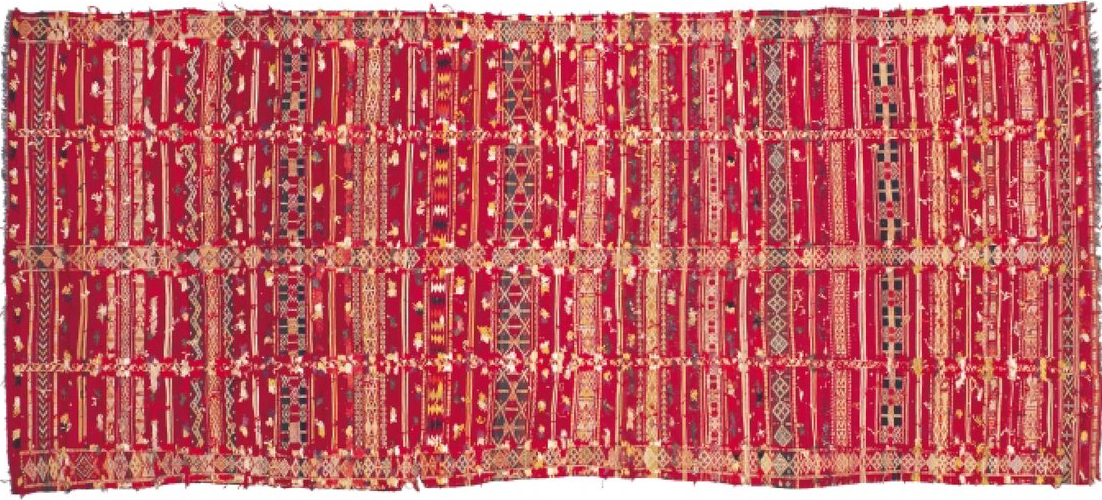 5. Zemmour Confederation flat-woven ceremonial blanket or hanbel (detail), Ait Ouahi tribe, Middle Atlas,Morocco, ca. 1880-1910, 1.57 x 3.72m (5'2″ x 12'2″). Consideredby the Korolniks to be the 'Rolls Royce' of their collection. Korolnik Collection, Berlin, K 26/1996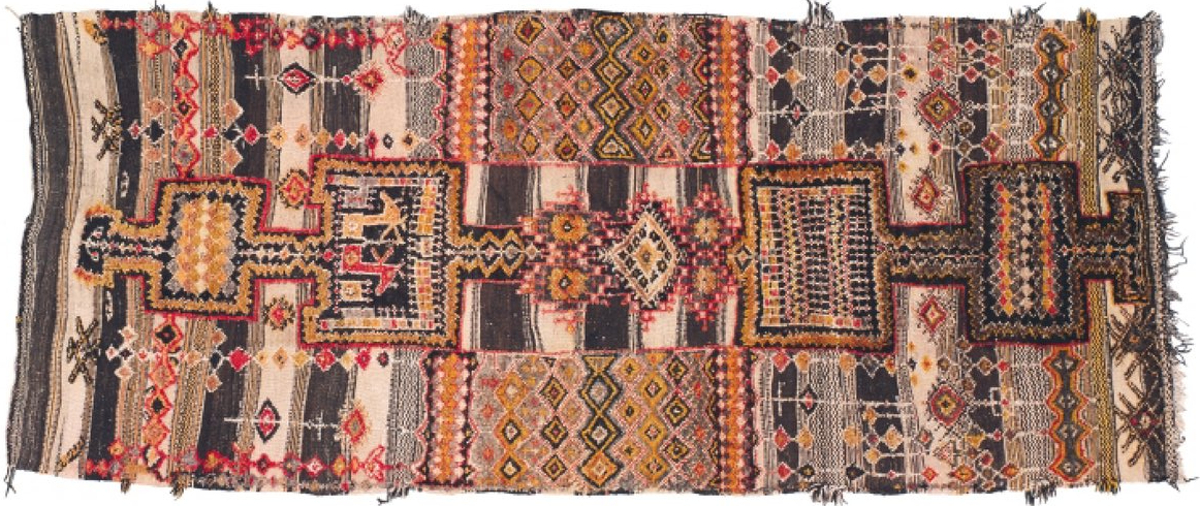 7. Sektana mixed technique (knotted pile and flat-woven) rug or blanket, Anti-Atlas, Morocco, ca. 1940-50. 1.47 x 3.55m (4'10" x 11'8″). This unusual rug with animal representations is one of a wide range of carpets, flat-weaves and textiles from southern Morocco, no matter how different, that were all once attributed to the 'Beni Yaacoub'. When working among the neighbouring tribes, the Korolniks were were able to identify it as Sektana with complete confidence. Korolnik Collection, Berlin, K 153/199
Collecting textiles is part of the story, but conserving and documenting them is equally important. Back in Switzerland, each acquisition was cleaned, deep-frozen, stabilised or restored as necessary, stored in a dry, cool room and regularly checked for moth infestation. Marcel set up a digital inventory providing comprehensive documentation for each piece, including professional color transparencies and related field photographs, and in some cases structural and dye analyses, the latter carried out by Dr Harald Böhmer in Istanbul.
In all their field research the Korolniks have been conscious first and foremost of the respect and discretion due to their hosts. They are respectful, too, of academic ethnography, well aware of the limitations of fieldwork conducted over so short a period. They have restricted their focus to textile subjects and their conclusions have been put forward with due caution, frequently with the rider that further fieldwork and documentation remain to be done.
Since the mid-1990s, more and more collectors have directed their attention to Moroccan rugs and textiles. The resulting competition meant that by 2003 the supply of authentic, old and outstanding pieces was exhausted. The Korolnik Collection, by then very substantial, was thus unlikely to continue to grow, particularly in the field of pile carpets, so Annette and Marcel began to feel the time had come to safeguard the future of their treasures, together with their documentation, in an active and professional public institution.
When the Musée Branly expressed their wish to add some high quality pieces to their holdings, the Korolniks realised that the time had come to divide the collection. Half the Haouz pile rugs (4) and groups of flatweaves from the same region were part-sold, part donated to Branly, together with a number of knottedpile carpets and textiles from the Middle Atlas (1, 2). Today the Korolnik Collection consists of the remaining Haouz pile rugs, flatweaves and knotted carpets from the Middle Atlas, and all the material from southern Morocco, including the henna-painted material, as well as some thirty textiles from Tunisia.
For the future, the Korolniks plan to continue their research in Morocco, perhaps diversifying to include other textile areas such as tie-dye or sprang technique. Among their future projects are a publication on Haouz carpets (3, 4, 8), and exhibitions of flatweaves of the AntiAtlas and Jebel Siroua (7) regions and the Zemmour Confederation. Their commitment to the radiance and spirit of Moroccan textiles remains as firm as ever.

8. Ahmar knotted pile carpet, Oulad Youssef subgroup, Plains of Marrakesh/ Haouz region, Morocco, ca. 1890-1910. 2.08 x 5.29m (6'10" x 17'4″). This wonderful rug was purchased just over the border of Oulad Dlim territory from a farmer who needed to sell a carpet to buy a new motor for his tractor. Korolnik Collection, Berlin, K 137/1996