Born in 1923 in Svalöv, Ingrid Dessau was a legend of Swedish design. Her revolutionary ideas and impeccable taste changed Scandinavian aesthetics in more ways than one can imagine. Dessau began her formal training at the young age of 17 at the famed Tekniska skolan in Stockholm, known today as Konstfack.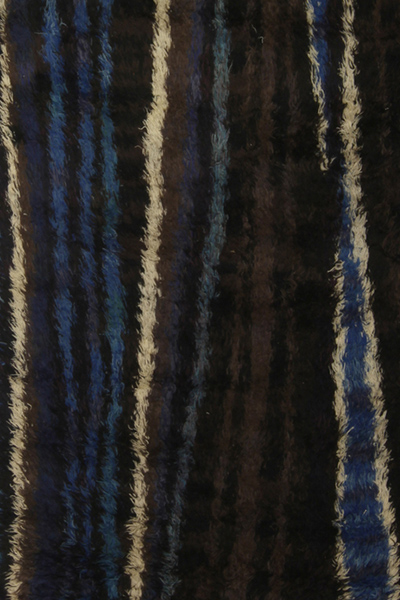 In the early days of her career, Ingrid was an influential figure in her local Hemslöjden craft center. During that period, she designed numerous carpets and decorative pieces and documented the history Swedish textiles with watercolor paintings. Soon her talent was noticed by no one else but famed Barbro Nilsson herself. Nilsson convinced young Dessau to join the atelier, which she lead together with another icon of Swedish design, Märta Måås-Fjetterström.
Ingrid had her grand debut in 1953 during the joint exhibition by Signe Persson-Melin at Galerie Moderne in Stockholm. Five years earlier, Dessau traveled do New York and Mexico, where she could experience the countries' rich culture first hand. Both those events changed her and her style forever and build a solid foundation for her late career. Between 1945 and 1986, she freelanced for Kristianstad Läns Hemslöjd, Kasthall, Kinnasand and Hitex. Years later, she continued to work as a freelancer, enjoying her creative freedom. Her works were commissioned by inter alia Swedish parliament, however it were the table linens, which she designed for the 90th anniversary of the Nobel Prize ceremony that earned her most praise.
Dessau is best known for her abstract-inspired designs, which earned her international attention and a loyal clientele. Ingrid's style is deeply rooted in tradition, which she enhanced with modern influences and methods. Her signature "ID." decorates one of the best-selling carpets in the world.
The designer passed away in 2000, living a considerable legacy. In 2008 the Design Archive and the Textile Museum of Borås organized an exhibition of her works in order to memorialize her posthumously. To this day, Design Archive holds an extensive collection of both textiles and sketches from Ingrid Dessau's career, keeping her genius and wonderful Swedish rugs from being forgotten.