Reprinted from Home + Design Departures, Fall 2015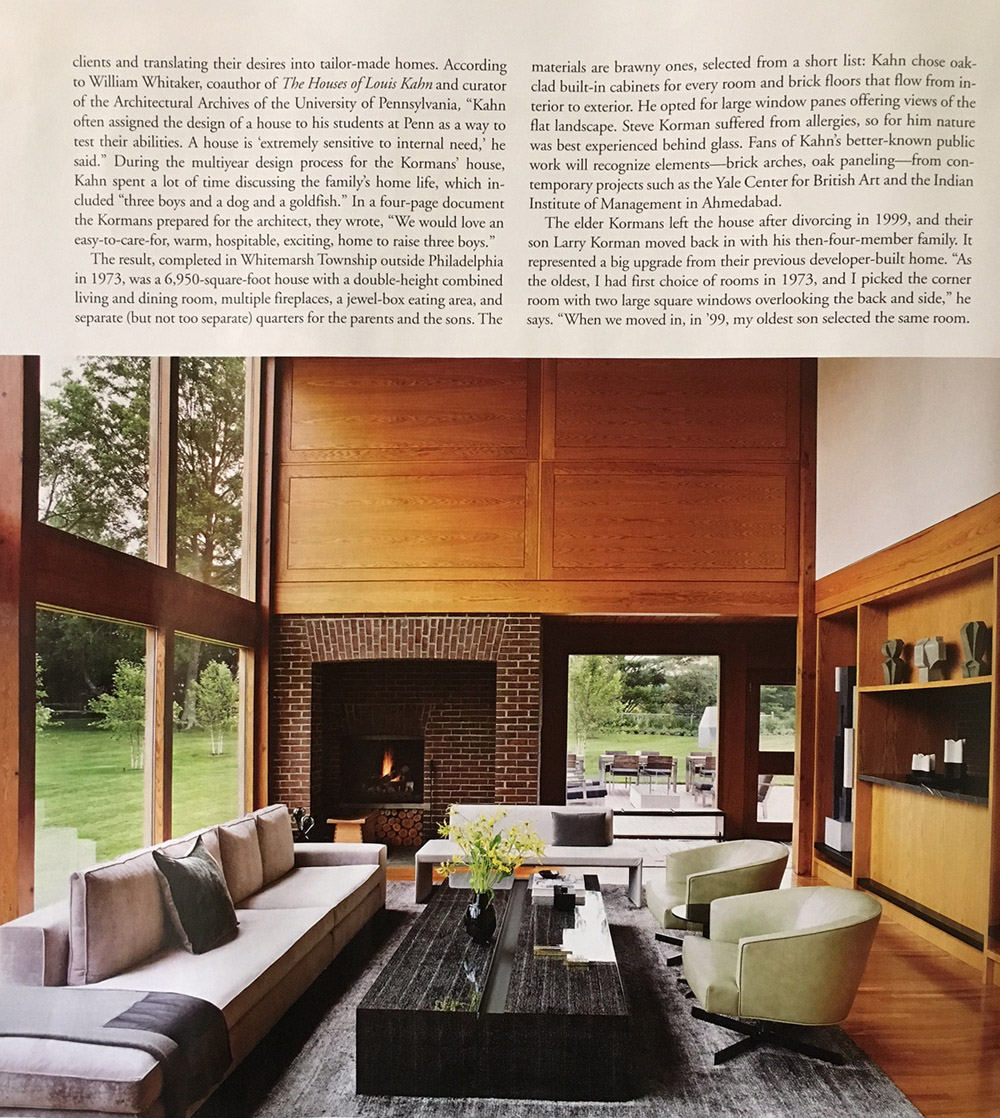 Modern Family: Louis Kahn, Revamped
The Living Room
Custom silk-and-wool rug by Doris Leslie Blau
By Alexandra Lange
Reprinted from Home + Design Departures, Fall 2015
The last residence built by architect Louis Kahn—to house "three boys, a dog, and a goldfish," in 1973—has undergone a revamping by designer Jennifer Post. The serene results respect the past, but with an eye for the present.
When Steven and Toby Korman hired architect Louis Kahn, in 1971, he was at the peak of his career: He was working on the Kimbell Art Museum, in Fort Worth, Texas; the Phillips Exeter Academy Library, in New Hampshire; and the National Assembly Building of Bangladesh, in Dhaka; and had already finished the Salk Institute for Biological Studies, in La Jolla, California (now on many lists of the best 20th-century American architecture). Today Kahn is also known for the Franklin D. Roosevelt Four Freedoms Park, on New York's Roosevelt Island, whose 1974 design was completed posthumously in 2012. A charismatic teacher, Kahn had moved architecture away from steel and glass and toward simple, monumental forms, usually made from concrete, brick, and wood. The Kormans had been watching Kahn's work in Philadelphia, where his practice was based, and pursued him through mutual friends for about a year to be their architect. Steve Korman had run his family's building-supply business in the 1960s (he later managed their many rental properties), which gave him an appreciation for Kahn's care with materials.
Even as he built significant public works, Kahn also designed houses (nine were built in and around Philadelphia alone), listening closely to clients and translating their desires into tailor-made homes. According to William Whitaker, coauthor of The Houses of Louis Kahn and curator of the Architectural Archives of the University of Pennsylvania, "Kahn often assigned the design of a house to his students at Penn as a way to test their abilities. A house is 'extremely sensitive to internal need,' he said." During the multiyear design process for the Kormans' house, Kahn spent a lot of time discussing the family's home life, which included "three boys and a dog and a goldfish." In a four-page document the Kormans prepared for the architect, they wrote, "We would love an easy-to-care-for, warm, hospitable, exciting, home to raise three boys."
The result, completed in Whitemarsh Township outside Philadelphia in 1973, was a 6,950-square-foot house with a double-height combined living and dining room, multiple fireplaces, a jewel-box eating area, and separate (but not too separate) quarters for the parents and the sons. The materials are brawny ones, selected from a short list: Kahn chose oak-clad built-in cabinets for every room and brick floors that flow from interior to exterior. He opted for large window panes offering views of the flat landscape. Steve Korman suffered from allergies, so for him nature was best experienced behind glass. Fans of Kahn's better-known public work will recognize elements—brick arches, oak paneling—from contemporary projects such as the Yale Center for British Art and the Indian Institute of Management in Ahmedabad.
The elder Kormans left the house after divorcing in 1999, and their son Larry Korman moved back in with his then-four-member family. It represented a big upgrade from their previous developer-built home. "As the oldest, I had first choice of rooms in 1973, and I picked the corner room with two large square windows overlooking the back and side," he says. "When we moved in, in '99, my oldest son selected the same room. That first month, I would read to him before bed and sometimes fall asleep, too. I would wake in the middle of the night and completely feel as if I was back in the '70s in my old room."
Larry is now part of the fourth generation of Kormans in the real estate business and co-CEO of Korman Communities and president of AKA Hotel Residences. "I took care of the lawn as a kid," he says. "I took care of the house, so it was natural I would return to it." His first tasks were restoring the structure, redoing the roof, treating the brick, and replacing failed windows. Work continues on the cypress exterior, getting it to the weathered silver color that Kahn intended. But Larry and his wife, Korin, also considered the needs of their family and arranged for a recent revamping of the decor by New York-based designer Jennifer Post. "I'm very protective of the architecture," Larry says. "But every ten years the house can have a unique feel and look in terms of its interior design. I know people were up in arms about it, but she was the first interior designer to get the scale right."
In the winter of 2013 Post started work on the Korman House, updating the first floor and the master bedroom suite. "I wanted to respect the orange oak," she says. "But Larry is very Tom Ford." The hues of Kahn's wood built-ins and paneling dictated many of her color choices, which run in various shades of charcoal and green. She also stuck to a limited, albeit different, palette of natural materials. "Everything is organic, and everything is custom-made" to reflect the size and simplicity of Kahn's architecture, Post says, stroking a cashmere-upholstered Minotti dining chair. She opted to repeat leather, silk, stone, and bronze elements from room to room, which are also accessorized with vintage and contemporary art objects, including a giant, blobby 1960s Italian ceramic vase. "We had to break up all the 90-degree angles."
For the kitchen, Post created a bronze light fixture whose golden glow through the floor-to-ceiling windows welcomes nighttime arrivals into the house. "I have an early memory of Kahn, his London Fog jacket on his shoulder like a cape, asking my dad where the sun comes up," Larry says. As an example of how Post understood the house, Korman points to a new 12-foot coffee table: It's sized to the room, where "everyone else tried to put in a traditional coffee table," he says. In the master suite, for which Kahn had constructed two walls of built-in closets and two skylit bathrooms, Post lightened the palette with an off-white upholstered bed and a curvy chartreuse chair.
In thinking about the future, Larry has sometimes reached into the past, incorporating elements Kahn had suggested in sketches but that his parents were unable to implement due to their budget. Two upper walls in the living room have been redone in Venetian plaster with a quarter-inch reveal that Kahn had originally specified. But in the library, Post covered two walls in a yellow Maharam silk to complement the wood paneling. "Kahn would never do that," she says. "But it's textural and blends with the wood's tonality."
The inceptive landscape plans had encountered more cost cutting than the architecture's design as "my father in no way wanted to compromise Kahn's vision," Larry says. But lately he has been working with Harriet Pattison, the original landscape architect and the mother of Kahn's son, Nathaniel, to realize various final elements in her drawings. "My motto has been slowly but slowly," says Larry. "I always ask, Is this what Lou Kahn would want? What would Kahn purists say? This isn't just my house."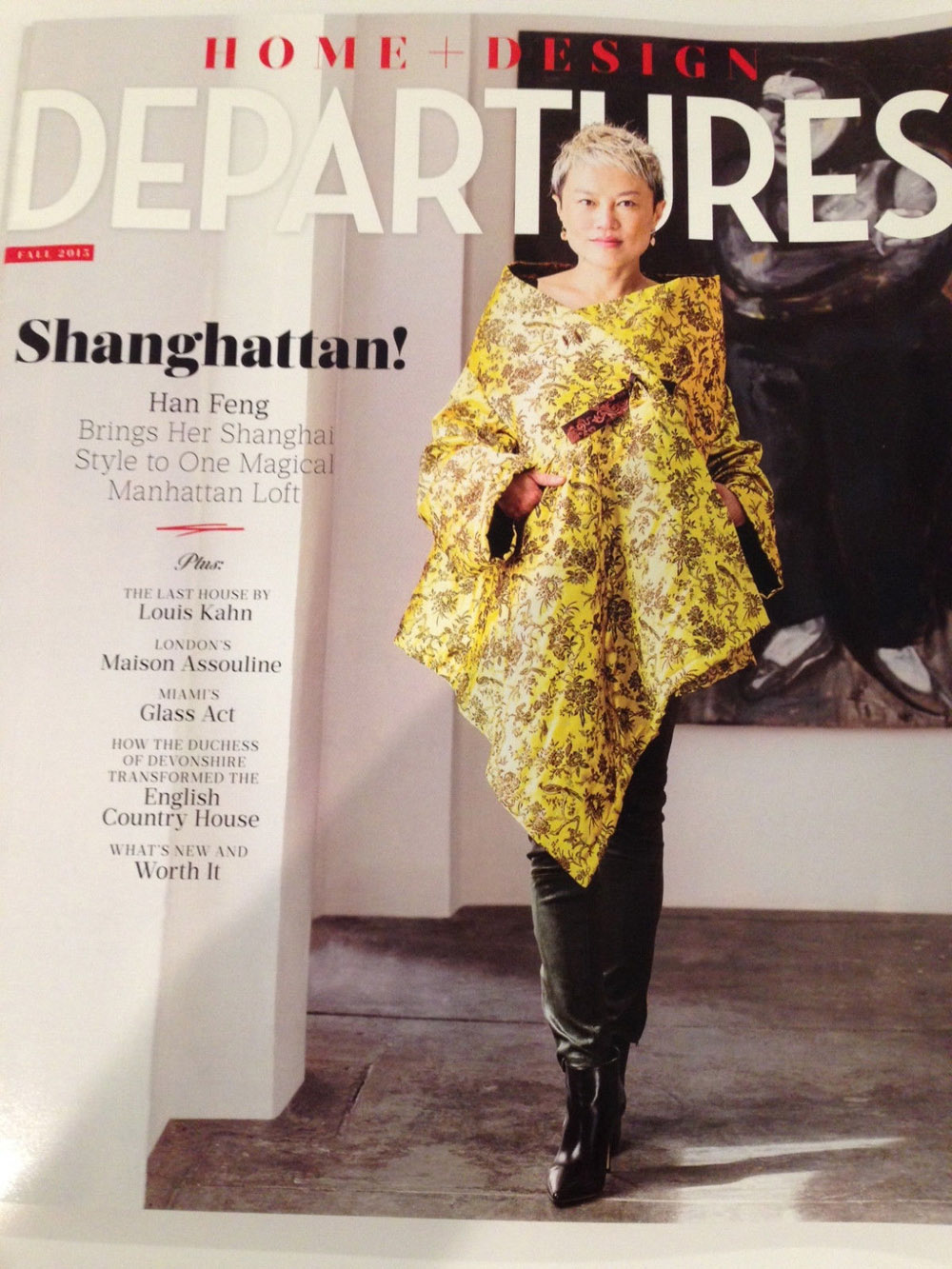 Reprinted from Home + Design Departures, Fall 2015