Reprinted from Miami Herald, October 2015
By Elaine Markoutsas
Universal UClick
Reprinted from Miami Herald, October 2015
There's an exciting new artistry underfoot. And the merging of traditional rug weaving with fresh design insights, technology and expanded color palettes has opened the door to an explosion of styles.
With a growing desire for more modern style in home decor, most of the bubbling up has been in the contemporary category. But even the most traditional Oriental patterns have been tweaked to give them a new sensibility. Overdyeing, for example, a technique that applies unconventional hues such as magenta, turquoise, emerald or amethyst to traditional styles, worn or threadbare (often vintage), has been dominant in recent years. The intriguing hybrid particularly caught on with those who appreciate references to the past with a modern twist.
Updating the past also has filtered into flat-weaves, or kilims, with shifts in scale (usually upsized) and unexpected, sometimes fashion-like hues. Of course, there are those designs, like diamonds or checkers, that transcend trend — especially in black on white or tan. Spanish fashion designer Sybilla added her own signature to a check (with a skinny red border), and to diamonds (with one seemingly random red one in a sea of black) for the Barcelona brand Nanimarquina.
While most rugs ground a room, an exquisite rug elevates it, say Shea Soucie and Martin Horner, from the interior design firm Soucie Horner Ltd. The two collaborated with third-generation rug purveyor Oscar Isberian on an artisanal collection called SHIIR. Their nuanced rugs, which are crafted in India and Nepal, underscore complex textures and luminescence, achieved with a blending of materials, including cashmere, mohair, silk and linen. Their designs are varied, from Cotswold mosses to vintage mirrors to mushroom caps, and The tag line for the collection is "innovation meets tradition."
One of the more ambitious retail undertakings is Restoration Hardware's collaboration with Ben Soleimani, described as a "rug icon." Indeed, his pedigree is impressive; he's from a fourth-generation family that founded the prestigious Mansour, dealers in the finest antique Persian rugs. Soleimani created a collection that initially featured 400 styles (now 5,000 options), and while his mantra is less is more, there's a lot to appeal to modernists and traditionalists alike. It's clear that his rich background comes into play as a designer, as he's a master of subtleties, tone on tone, texture, with high-low piles. He says his inspirations come from the shape of a tree, the print of a dress, the way clouds form, the stone on an old building, with the age coming through.
Innovation, of course, has been percolating for some time at the high end. One of the first to play with antique motifs is Stephanie Odegard, who, without formal design training, launched a company in 1987 that has become a standard for modernized Tibetan rugs. She claims credit for introducing silk to wool to lend sheen (today, a less expensive option called "viscose" is often is employed by manufacturers). She has developed rugs inspired by batik textiles and those made of felt.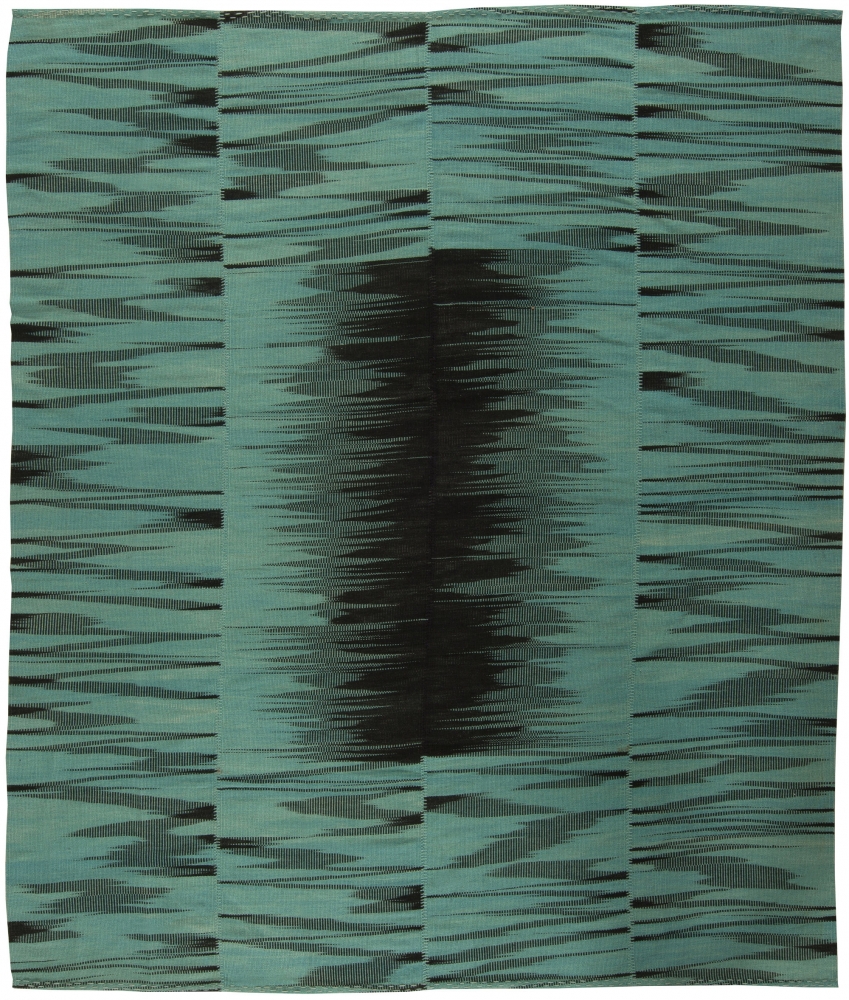 A striking Turkish modernist kilim called Elmer from Doris Leslie Blau has an almost three-dimensional effect,
with the way the black weaves seem to pop from the colored ground.
Doris Leslie Blau is another name highly regarded in interior design, one that has been a go-to source for eclectic antique rugs for 45 years. But the company also has stepped up its bespoke category, and among its new modernist designs are horizontally striped Turkish kilims "that follow no rules." As with recent fabric, tile and wallcovering designs, there has been one important catalyst to innovation: computers.
"Computers have given us the ability to easily create graphs and play with a variety of designs transcending cultures and centuries," says Susan Izsak, who designs rugs for Doris Leslie Blau. "We can accurately transfer or interpret artworks and play with the depth of the texture. The high-low rugs are some of our most popular."
Artists like Madeline Weinrib, who specializes in antique Indian dhurries, also fashions her own. She talked about her process, and segueing from painting to rug design with San Francisco writer Diane Dorrans Saeks: "I had to rethink my technique and my perspective. I trained myself to see from the floor as opposed to the wall, and realizing that it had to exist in dialogue with the decor in the room, that it would have furniture placed on it. I had to work with that. In painting, it's a world of its own. Not rugs."
The sometimes daunting price points for high design can range to tens of thousands of dollars. But there has been a push among rug manufacturers for innovation not only in styling, but also merchandising, even at more mainstream levels, where there are some surprisingly good-looking offerings at just under $1,000. Some retailers are reaching out to textile designers to lend that expertise to rugs, such as Crate and Barrel's recent teaming with London-based Genevieve Bennett. Bennett's collection includes unusual Scottish argyle and African shoowa inspirations in hand-hooked rugs.
So what's trending in rug design?
▪ Geometric patterns: While not new, of course, what does stand out is beefier scale, new colorations, overlays and textures. And op-art effects, as in Golran's Lake collection, inspired by artists Yaacov Agam and Victor Vasarely.
▪ Graphic pow: An overlapping category shows designs with high contrasts, like the popular zigzag, chevron, wide stripes or dots.
▪ Fading away: While this look got traction with overdyed Orientals, it has morphed into other looks that include florals and geometrics with overlays and fades. The fading can be in the weave itself (a stripped-away effect that reveals the warp or foundation) or in the dye – as in Safavieh's dip-dye rugs, which are patterned, and look like color has just rubbed off. Burn-out effects also are achieved by high-low piles.
▪ Dimensional. Those high-low piles underscore tone-on-tone patterns like damasks.
▪ Abstract. Art-inspired, some as bold as a Jackson Pollack, others more subtle, like nuanced watercolor imagery that evokes rippling water, space-agey effects or even pixelated, digitized computer-inspired graphics.
▪ Overstitched, embroidered. Patricia Urquiola was one of the first to bring this romantic contemporary look: hand-stitching, simple embroidery techniques — think big cross-stitches on woven rugs. For the Barcelona-based GAN, these design were huge. The trend continues with Charlotte Lancelot's Silai collection. These, of course, are dimensional, but there also are weaves that have a 3-D look.
▪ Menswear looks and fabric-inspired textures: dapper large-scale plaids and houndstooth as well as jaunty boucle-like tweeds, often in neutral ground, though sometimes punched up with vivid colors.
▪ To dye for: batik looks and other special coloring techniques like space-dying, which lends an ombre-like effect and dimension to yarn, with skeins of two or more colors repeated along the length. The manufacturer Feizy has even introduced space-dyed polyester, a first in the machine-made category, in its Milton collection.
▪ A palette of materials. In addition to wool, cotton, silk, saris and synthetics, there is jute, sisal, bamboo, woven leather and suede, as well as hair on hide, which is popular in tile-like patchwork applications.
▪ Interesting weaves. Like soumak, it's a braided look. The expansion of colors, styles and techniques is casting rugs in a new spotlight. Designers long have recognized the importance of a rug in an interior.
"A rug truly anchors the room," says Beth Arrowood, creative director of NIBA Collections. An interior designer, Arrowood founded her company as an alternative to customized and in-stock home decor rugs. "It's the best way to begin planning the decor. You can draw inspiration for your design scheme by pulling colors, textures and design influences from the rug. Ideally, after your fixed finishes (floors, tiles, cabinetry, wall paint, wallpaper, lighting fixtures, etc.) are in, you then coordinate with your rug and draw inspiration for the furniture, accessories, window treatments and fabrics."
Chicago designer Julia Buckingham, who is launching a line of home accessories with Global Views, says: "The rug is extremely important. It brings the room together. It brings warmth and instantly transforms the look. I place the rug as the last jewel in the crown of each room."
Reprinted from Miami Herald, October 2015