Every year Arlette Bollag and Toni Hutmacher host an exhibition in their Zurich gallery worthy of international attention. Their shows are particularly strong, usually presenting some of the best collections of kilims in the world.
Visitors to Nomadenschätze gallery in Zurich are usually in for quite a treat with this exhibition. The gallery hosts a number of different exhibitions each year, offering photography, contemporary art and nomadic weavings, so although the objects and their medium of artistic expression change, in essence the gallery always remains focused on presenting unusual, powerful and graphic works of art.
Anyone who has visited Nomadenschätze over the years will know that Arlette Bollag and Toni Hutmacher's first love in the field of textile arts is of kilims, so they are particularly proud and excited to have been able over the course of the last year or so to have collected so many excellent flatweaves. As Arlette says, "It is very unusual nowadays to be able to see so many good antique kilims together in one place, whether they are for sale or not."
Although not all the exhibited pieces are posted on the company's website, a visit to www.nomadenschaetze.com demonstrates their keen eye for color, compositional form and the unusual: in other words they have kilims that will appeal equally to the lover of tribal flatweaves and the art connoisseur.
Two such kilims are illustrated here. Both hail from northwest Persia and are different expressions of the tribal weaving cultures of this complex region. The vital modern design of the Karadagh kilim echoes the minimalism of some 20th century artists yet it is also a genuinely rare kilim since flatweaves of this design and size are not common currency in this region. The Shahsavan fragment is an old and finely made example of a type of cover of which few examples have survived, so much so that the design is most commonly associated with flatwoven khorjin backs. The range of colors, in particular the aubergine, greens and the delicate pink, and the articulation of the design prompt Arlette and Toni to date this fragment to the start of the 19th century – all of which are matters of interest to collectors, but to the uninitiated it is a weaving of joyful colors that dance across the rug in a rhythmic pattern that dazzles the eye.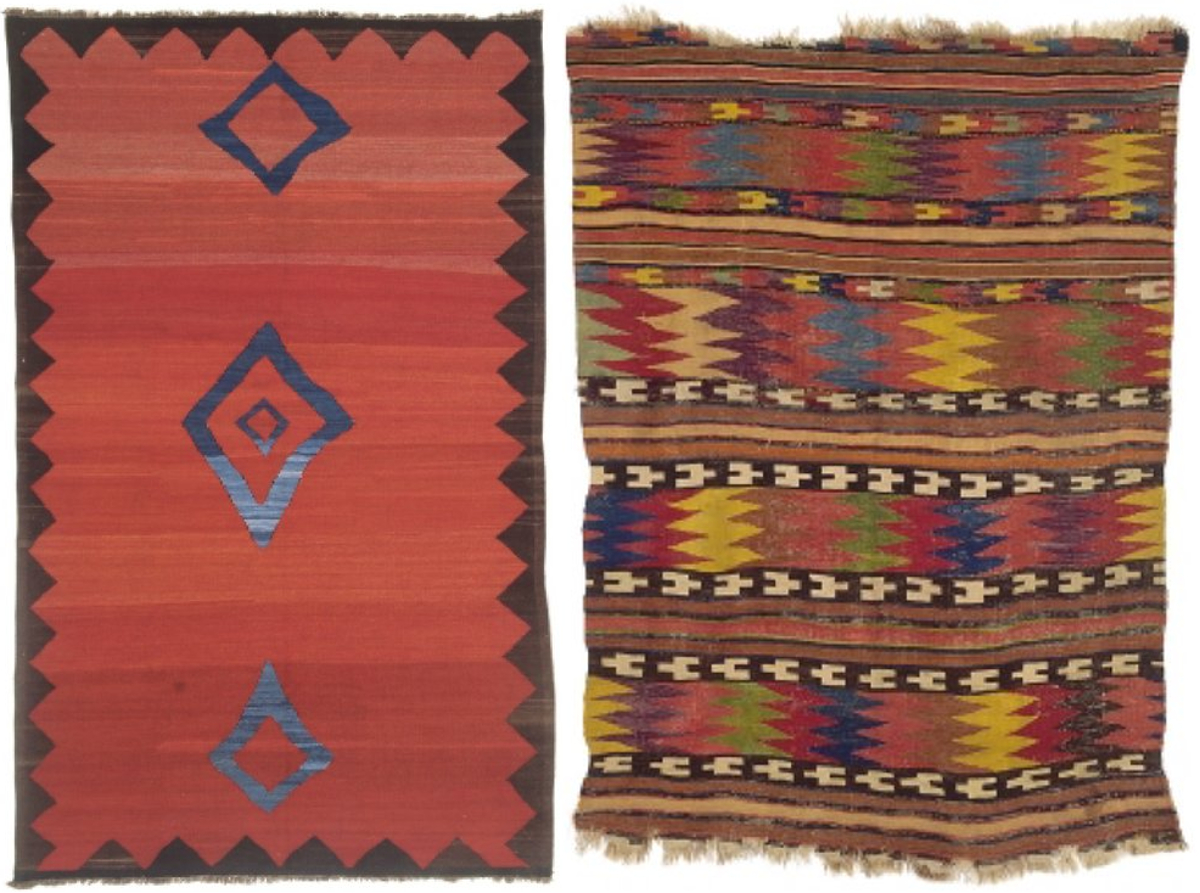 Left: Karadagh kilim, northwest Persia, ca. 1880. 1.57 x 2.58m (5'2″ x 8'6″) ;
Right: Shahsavan kilim fragment, northwest Persia, ca. 1800. 1.44 x 2.00m (4'9″ x 6'7″)
Winter Kilim Exhibition Nomadenschätze, Werdmühlestrasse 5, Zurich, Switzerland 11 November 2005 – 25 February 2006