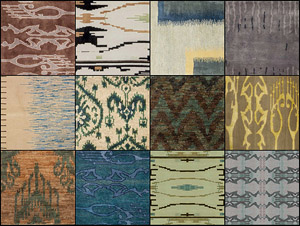 The modern interior of a home, and its furnishings, shape the human experience of everyday life. One of the most distinguished textiles is the Ikat, now antique, and prized for its bold, original designs created with vibrant colors. In the streets of 18th Century Central Asia, a man's clothing defined his status in society and proclaimed his wealth. In his home and during family ceremonies, Ikat textiles provided luxurious embellishment. Today the influence of Ikat designs can be seen in contemporary fashion and home decor.
An Ikat is an ancient technique involving the preparation of threads through a process of tying, binding, and dyeing. The dyeing process has similarities to the contemporary technique of tie-dyeing, except that bindings were applied to the threads which resisted the dye penetration, to ensure that the desired patterns emerged.
Alteration of the binding and the dying of more than one color produces elaborate, multicolored patterns. When all the dying has been completed, the bindings are removed. It is at this point that the threads are ready to be woven into cloth.
Ikat weaving styles vary widely. Many designs motifs may have ethnic, ritual or symbolic meaning or have even been developed for export trade. As alluded to earlier, traditionally Ikat are symbols of status, wealth, power, and prestige. With the amount of time the craft takes, as well as the skill involved in weaving an Ikat, some cultures have come to believe that the cloth is actually imbued with magical powers.
We at DLB have developed a collection of Modern Carpets that reinvent the patterns of old Ikat textiles, while employing a wealth of new textures. The use of Jute, Aloe, and Natural yarns give our rugs an amazing abrajed and layered feeling. In addition, the use of various dye materials from vegetables to herbal sources has infused our rugs with a wide range of vibrant colors. We are proud to have the ability to create unique designs and patterns that reflect our own social and aesthetic preferences. Our Modern rugs showcase a wide range of weaving techniques that have been gleaned from all over the world. These international techniques marry amazingly well with our new designs. With luck, the rugs that we are creating today, with all of our contemporary sensibilities, will be what others look back on as the Antique rugs of tomorrow.