It's not all bear rugs and antlers…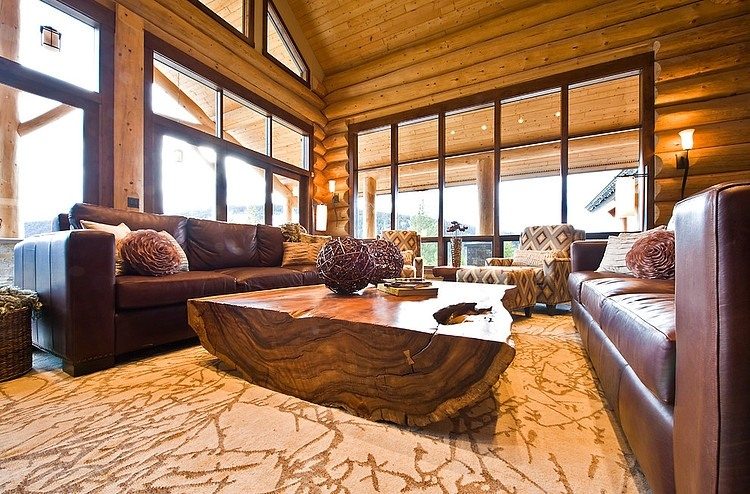 The dictionary definition of rustic is as follows:
adjective: Of, relating to, or suitable for the country or people who live in the country
Too often we conflate rustic with other less-than-pleasant descriptors – old, worn, decrepit – and sometimes (especially where real estate listings are concerned) rustic is misappropriated as a euphemism for "in need of refurbishment."
Even when we aren't using "rustic" against its natural purposes, the picture it most commonly calls to mind is a grandparent's cabin draped in scratchy Navajo blankets, or a ski lodge with a stone fireplace and leather booths in dire need of reupholstering.  A sense of aging lingers around "rustic" that is unfairly limiting. Although there are probably city folk who believe pilling textiles and scuffed furniture are what is worthy of country dwellers, the truth is that a transcendent rustic interior is one that is tastefully informed by its natural setting – a space that uses locally-sourced materials and incorporates cultural heritage and quality craftsmanship.
Perhaps due to the prevalence of outdoor lifestyles in northern Europe, Scandinavian designers in particular excel at forging contemporary statements using a rustic palette.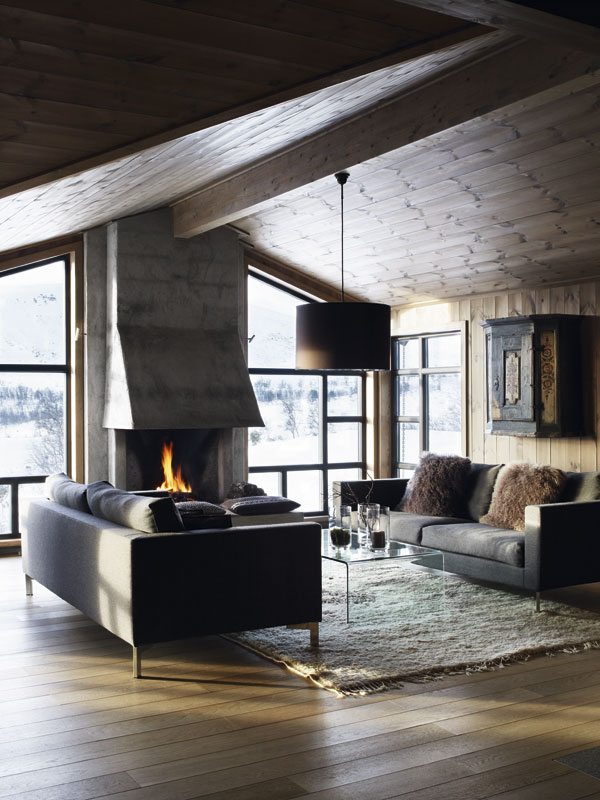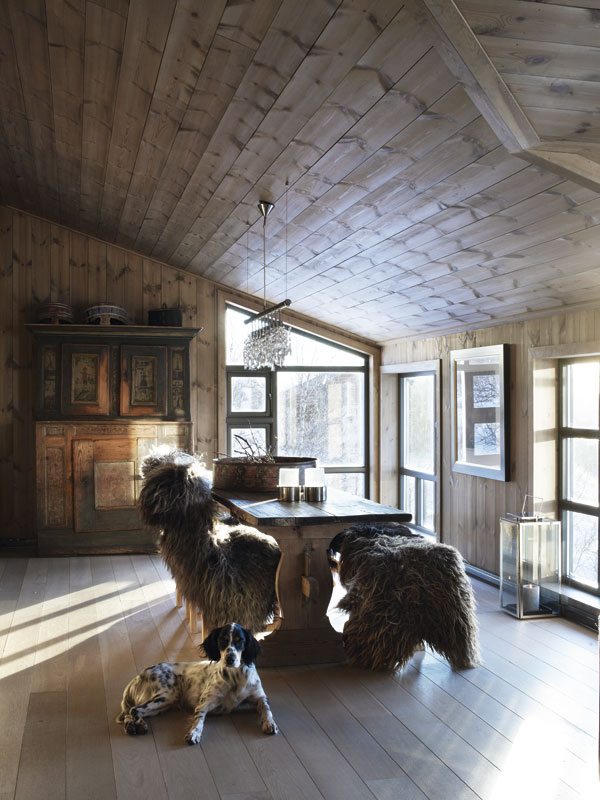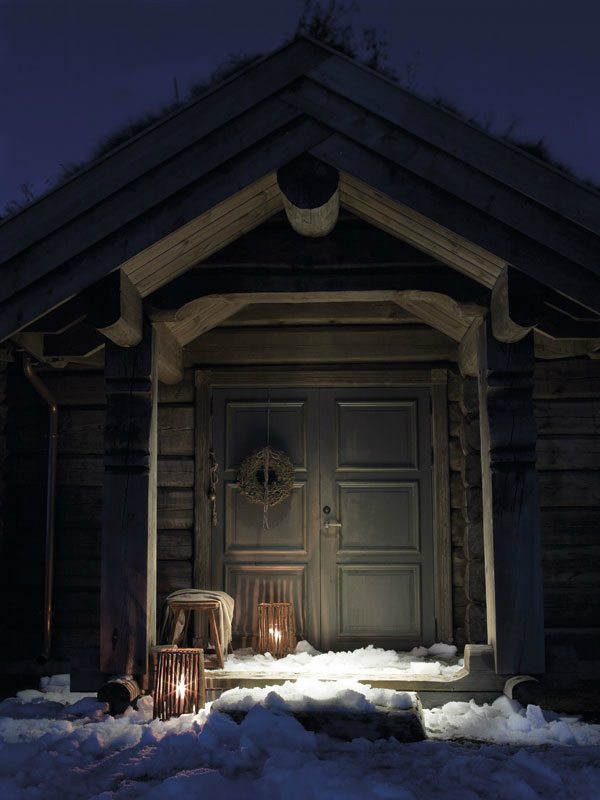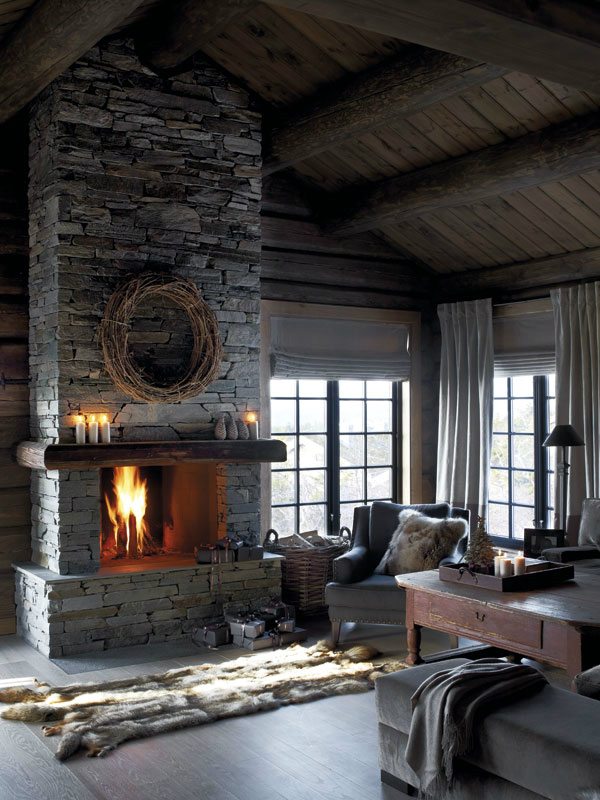 Both the examples above are cabins located in Norway. Both have heavy wood interiors balanced by thick textiles that lend softness and warmth – a fairly standard convention of rustic design. However, both also possess a de-cluttered, contemporary simplicity – they opt for calm, dark color schemes that allow modern elements like statement lighting fixtures and the open-hearth fireplaces to strike a sophisticated chord. This schematic for a lodge on Sognefjorden, Norway's largest fjord, will take a similar tone: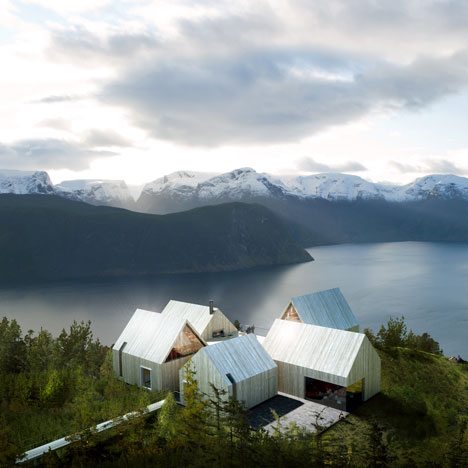 The A-frames on the cluster of cabin-like buildings mirrors the jagged mountainscape and calls to mind the simple, efficient wood cabins Scandinavians have used for generations. And yet on the inside they will have utterly stunning interiors like these: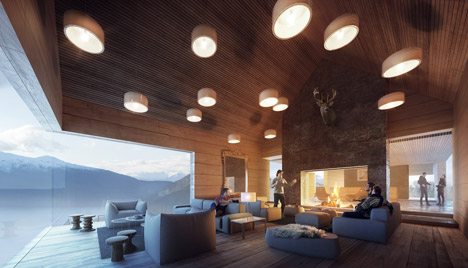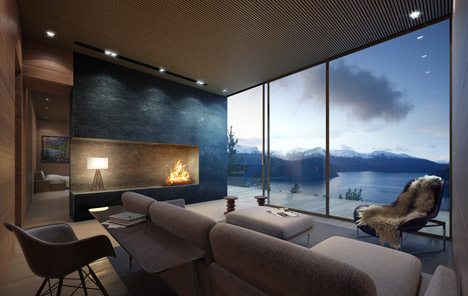 Generous windows and an open plan will maximize views, while stone and timber will tie the indoor setting to its surrounds.
A couple thousand miles south in Greece, a couple put together a rustic mountain home with a demanding conceptual objective: Interiors had to preserve a sense of the mountain terrain on which they were built and all elements were to be built on site, and the owners did not want the final product to contain any banal/cliché 'mountain home' flourishes. The results impress: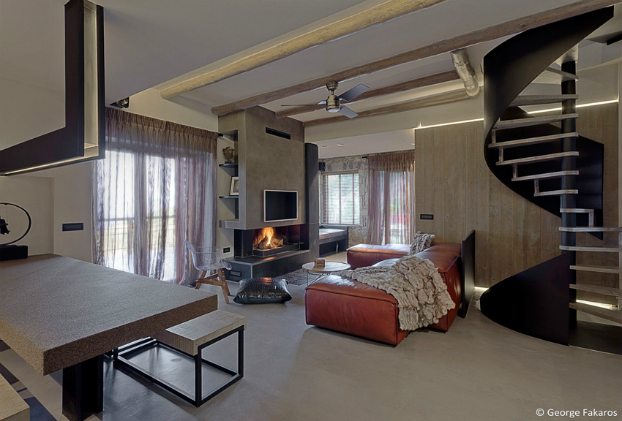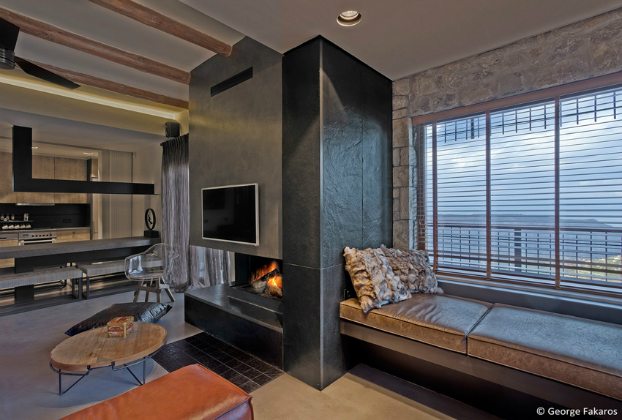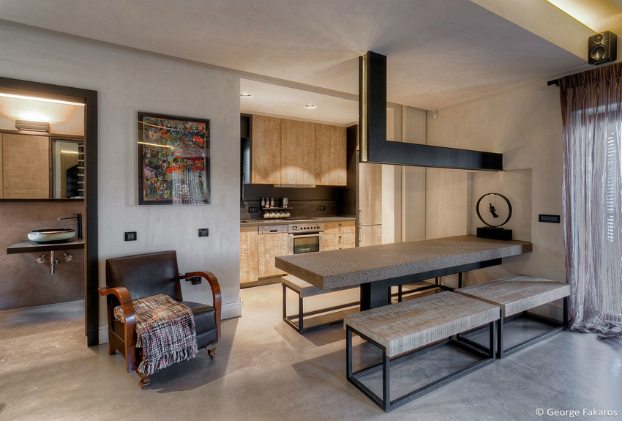 Creating a beautiful rustic interior doesn't necessarily have to be so dogmatic when it comes to local materials. While a true rustic statement must have a sense of its actual geographic location, we live in a world of global commerce where even a simple t-shirt usually traces its supply-chain path across at least two continents, and – for most of us – our heritage isn't one town or one region or even one country. For the most part, American rural dwellers are still global consumers, and there's nothing wrong with a rustic design reflecting that as well.
For contemporary touches, I love San Francisco-based Gradient Matter's walnut and bamboo branching table, and these burnt wood and aluminum stools  by Israeli designer Hilla Shamia capture the essence of contemporary rustic – undeniably modern, but still highlighting source material.
Where textiles are concerned, the history of weaving is so long that even styles we attribute to a certain country or region often contain influences from multiple cultures and traditions. A special rug, whose origins might not be local, can work with a rustic interior so long as there are linking elements within the statement – be it a certain color, pattern or motif.
There's no shortage of beautiful rugs with rustic elements in our collection – check out the lovely cabbage roses on this 19th century English needlework, or the pomegranate trellis on this Samarkand carpet, or the showstopping blue field of palmettes on this Irish Donegal rug  for just a few examples.