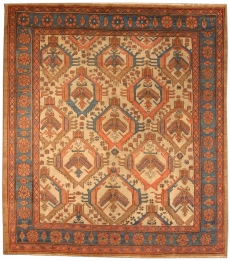 For people thinking about improving the aesthetic appeal of their home, deciding on purchasing antique rugs or carpets could be a great move. Although new and modern floor coverings are being offered by all kinds of stores from hardware stores to Swedish Big Box stores, these products will never have the look and feel of antique rugs and carpets.
Antique floor coverings are not difficult to find and they range from Turkish to Indian, Persian and so on. The options are endless and selecting the right one just depends on your personal preference and, of course, your budget. Among the most renowned antique floor coverings are the Bakshaish which are distinguished by their Herari pattern and use of symmetrical knots. Famous for their unique beauty and intricate craftsmanship, they can be a great investment for your home.
Antique rugs and carpets not only make great assets but are also timeless works of art. Whether you are decorating a modern apartment unit or a Victorian-era home, an antique rug adds an element of taste and style. Luxury and elegance are within reach with through the addition of an antique rug or carpet.
Doris Leslie Blau offers a great selection of antique floor coverings. From Bakshaish to Aubusson, and Axminster, you are sure to find the perfect rug or carpet in the color, design and craftsmanship of your choice. Displaying an antique rug in your home will exude fine taste that will be appreciated by many from all walks of life.
Feel free to browse through our collections to help you make the right choice. Improving your home interior requires that you check out and compare several options so you can make an informed decision when selecting the carpet to grace your home.