Handmade oriental and decorative rugs are often subject to harsh treatment in the home. However, due to the tremendous skill involved in their creation, they are designed to withstand use and require surprisingly little care. Soil will eventually work its way to the base of the pile, but proper care and cleaning will ensure years of continued enjoyment of a rug's beauty and utility.
The single most destructive element to handmade oriental and decorative rugs is not, as may be thought, the rubbing action of smooth-soled shoes, but simple dirt that is tracked indoors. Rough, hard particles of grit sift into the base of the wool pile and when it is walked on, this grit cuts against the strands of wool and severs small pieces of the pile.
The following easy steps will ensure a rug's longevity:
VACUUMING
Regular vacuuming will lift destructive grit before it can settle deep into a rug. Generally speaking, it is best to avoid vacuum cleaners with a beater brush because of the rubbing action against the pile. A brushless attachment will absorb the dirt without any negative impact on rug fibers. Ask your vacuum cleaner dealer for recommendations. Vacuum the back of the rug occasionally as well to draw out very short, light-absorbing bits of yarn that can otherwise dull the luster of a carpet. This operation should be followed by a quick vacuuming of the face of the rug.
PROFESSIONAL CLEANING
Over time, grit and dirt become deeply embedded and will dull the appearance of a carpet. A professional cleaning is needed every three to seven years, depending on the amount of traffic a rug experiences. Cleaning should be done only by a professional cleaning service that specializes in handmade oriental and decorative rugs and not by a broadloom cleaner or by a "wash-at-home service". Contact the retailer who sold you the rug or another reputable local establishment – it will either offer a cleaning service or should be able to refer you to a creditable firm equipped with the proper facilities.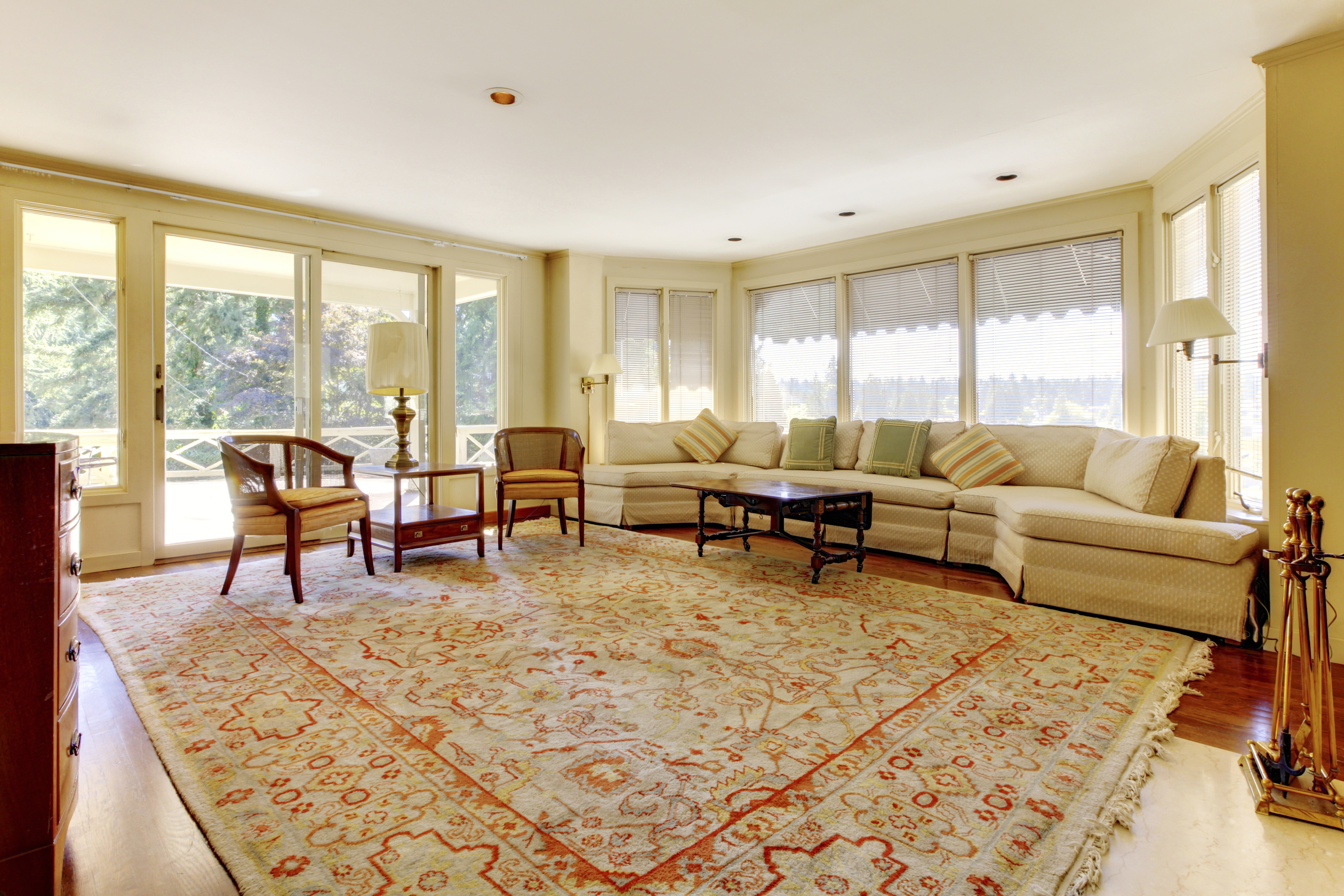 SPILLS
Obtain a detailed stain removal guide from your retailer at the moment of purchase to find out which cleaning agent should be used, or call the retailer for a recommendation when the spill happens. Clean a spill immediately, before it can set. First, scrape up any dirt or blot up excess liquid with a paper towel. Then, contact your dealer or reputable handmade rug cleaning service for advice.
PADDING
Padding is an absolute must under all handmade rugs because it helps protect them from wear and prevents them from moving, which causes friction. A variety of padding types are available including rubber-coated felt, rubber padding, and high-density foam padding. Ask a dealer for the type of padding most suitable for a given rug, and be sure to mention whether it will lie over a hard-wood floor or on top of wall-to-wall carpeting.
TURNING
Turn a rug 180 degrees every year or two to even its exposure to traffic and sunlight.
REPAIRS
Seek professional assistance if a small hole, tear, or worn spot is discovered, or if a rug's fringe becomes ragged or if the edges become loose. If the dealer cannot complete these repairs, ask to be referred to a reputable repair facility. If the rug is beset by what is considered a major condition problem – for instance, worn down to its foundation or if it has developed many large holes – it is not generally worth the expense of a major restoration, which can equal the cost of a new rug. If possible, obtain at least two different estimates before deciding where the repair work will be done.
Source: "The Decorative Carpet. Fine Handmade Rugs in Contemporary Interiors" by Alix G. Perrachon