Antique Qum Rugs Exemplify the Best in Persian Tapestry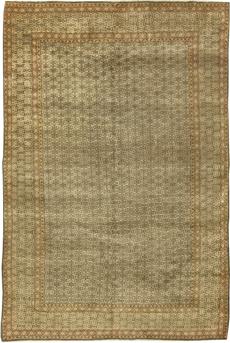 The Qom province of Iran, located 100 kilometers south of Tehran, produces the finest Persian carpets available today which are the apple of the eye of tastemakers and design aficionados alike. Although most high-value collectible carpets are over 100 years old, it is not so in case of Persian Qum rugs. Qom is not traditionally a center of rug production but for the past 100 years it has given the world some of the greatest tapestries and textiles which allure with timeless appeal and undisputable elegance. Persian Qum rugs distinguished by the highest quality are very often less than sixty years old. In fact, this type of floor and wall coverings was not manufactured until the early 1900s –most Qum rugs in existence today have a production year prior to 1940. These rugs may not be as old as other types of Persian tapestries, however, the quality of Qum rugs in terms of material choice and construction is absolutely outstanding.
Characteristic of Persian Qum Rugs
Persian Qum rugs have many names – they may be referred to as Qom rugs, Ghom rugs, or Ghum rugs. These carpets are typically smaller in size that most antique and vintage creations. A lot of original Qum rugs is placed on walls because of their small size and absolutely awe-inspiring look. Moreover, hanging is largely beneficial to the preservation of the impeccable shape of these exceptional tapestries. Antique Persian Qum rugs are considered an investment whose value is constantly increasing. Generally, Qum rugs are composed of silk and high quality wool which is thoroughly hand-knotted in accordance with old and refined weaving techniques by skilled artisans. Actually, some of Qum rugs may even boast two layers of luxurious silk which results in even more tender and luminous pile. Although the pile height of genuine Persian Qum rugs is not among the most impressive, the knot count is considerably higher than the one found in other kinds of Persian rugs. The majority of antique Persian Qum rugs has 400-860 knots per square inch which allows craftsmen to create intricate, mesmerizing and totally irresistible designs.
Design of Persian Qum Rugs
Persian Qum rugs usually comprise of jewel-toned color palettes which tempt with richness and vibrancy. The prevailing hues are blue, red and ivory – the three most iconic shades of the traditional Persian weaving craft . There exists a wide array of patterns applied to magnificent Qum rugs. Frequent choices are the tree of life – a symbol of eternal life – and various medallion motifs. Other designs may include landscapes or depictions of historic events. The lines composing the patterns are typically curvilinear, meandering and tempting with smoothness, at the same time exhibiting the genius of master weavers of Qum. Sizes, materials, weaving techniques, colors, and designs – all demonstrate indisputable the value of Antique Persian Qum rugs. Splendid Qum rugs, while relatively new to the long history of Persian rugs , are top-notch fabrics considered by many among the best carpets in the whole world.
An Exceptional Collection of beautiful and unique Qum Rugs for Sale