Temporary fads, as the name suggest, come and go; what's "absolutely the hottest" changes from season to season and that's how this crazy world of fashion goes on.
However, there are things that resist the constant flux of changes and invariably please their owners with fine craftsmanship, well thought-out construction and absolutely timeless designs. We've selected 5 house elements that are like wine – they get better with each passing year, thanks to which they are acquire eternal qualities.
1. Nordic Lamp
Scandinavian lighting is discrete, minimalist and modern looking. These merits, among a couple of others, make it compatible with almost every interior arrangement. Although today Scandinavian lighting design is copied on a massive scale, it is worth investing in the classics. From many noteworthy projects, we've selected three that are indisputably iconic. First, there is PH 5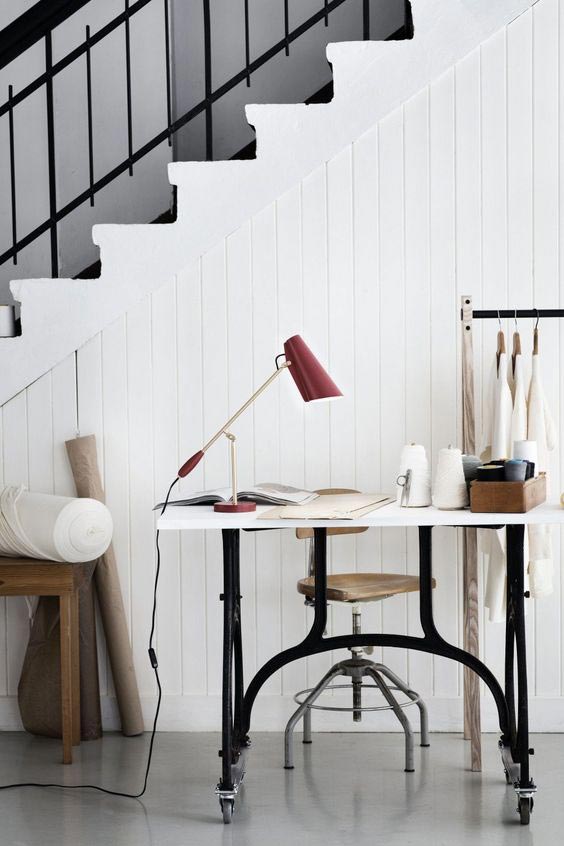 Pendant by Poul Henningsen – the lamp's layered form is supposed to diffuse light and make it appear softer. The second is Birdy by Birger Dahl. The author swore to the "form follows function" ideology making his lamp designs not only aesthetically appealing, but also highly practical and functional pieces.
Source: Cocks & Cows,  cocolapinedesign.com
In that sense Dahl's lamps captures today's Scandinavian style of design, making them both contemporary and timeless. Finally, we present The Pendant by Hans J. Wegner – its unique construction with a kind of handle as an integrated part of the design enables the user to pull the lamp up and down without touching the shade. Simple and ingenious.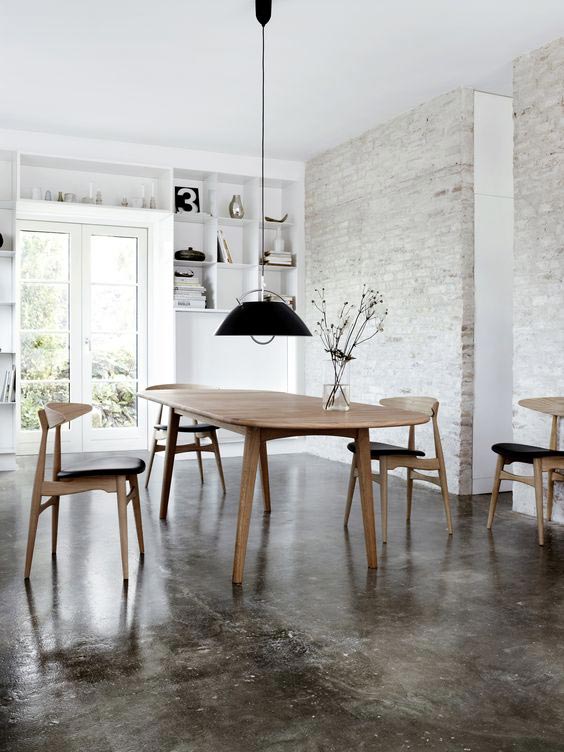 2. Antique Rug
Rugs have been with people almost since the dawn of civilization. The oldest preserved specimen – the Pazyryk rug – dates back to the 5th century BC! And trust us – it is not primitive in any respect. This proves that the designs and weaving techniques had already been well developed many centuries ago when the craft was still performed solely by hand and with the use of only natural, top-notch materials. These factors contribute to the never-fading beauty and functionality of antique carpets.
Sources: AMY BARTLAM Photography, Domino Magazine
Each and every single floor covering originating from the mighty Persia, India, Turkey or India enchants not only with intricacy, vivid hues and mesmerizing, deeply symbolic patterns but also with upmost quality, ready to withstand yeas of constant usage. Having at home a floor covering from Tabriz, Agra, Oushak or Kashan weaving center is like having a work of fine art. It is actually possible to match an antique rug with any décor because of their astounding variety. Nonetheless, antique rugs look best exposed in a rather minimalistic ambience which further underlines their abiding greatness.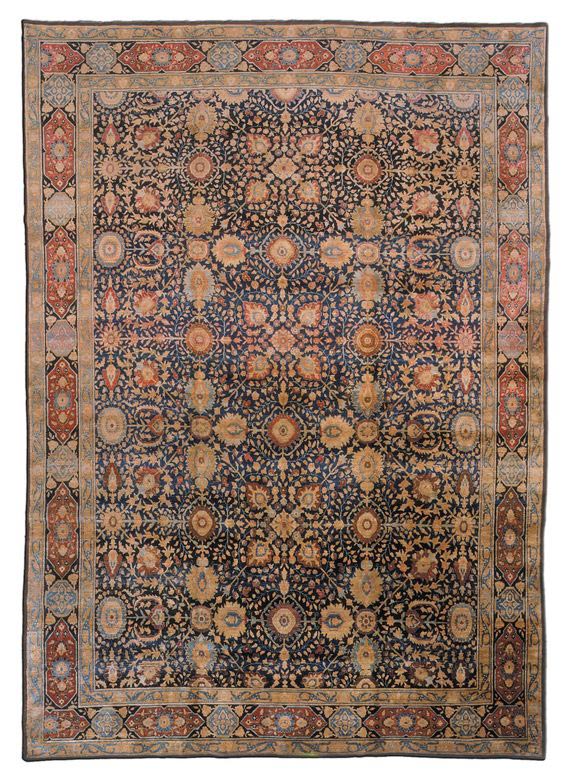 Sources: Pinterest, Doris Leslie Blau Persian Rug
3. Oak Table
Oak is considered the king of trees. Throughout history, it has been attributed many mystical meanings thanks to its longevity, firmness and impressive outlook. Most importantly, however, oak has always been highly valued for its excellent wood. Just as the tree which it stems from, oak timber is very strong, tough and durable – it will last longer than any veneers or ordinary woods like pine.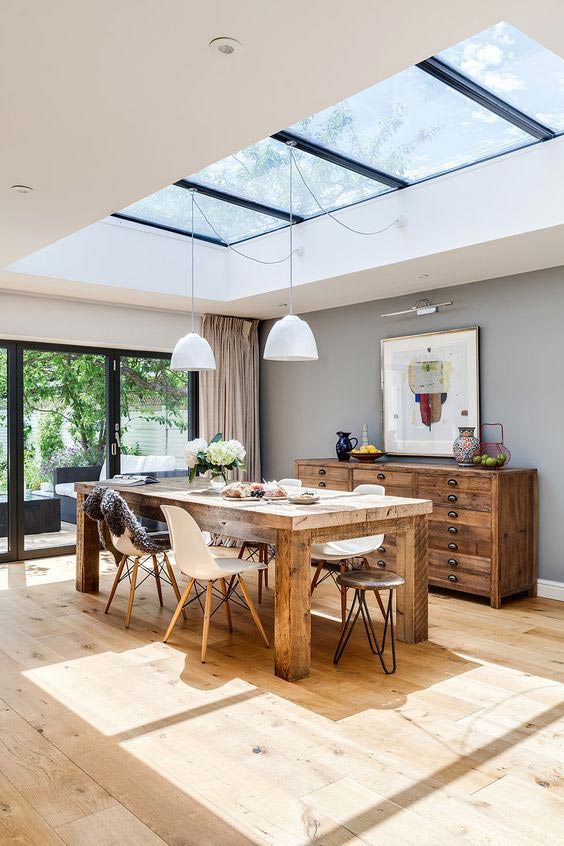 Moreover, it finishes well and has very little shrinkage. An oak table is something everyone should have to add a solid dose of timeless elegance to the décor. Even the most uncomplicated table designs, when executed in oak, will have a venerable and appealing feel about them. You can acquire an reclaimed table – it will age with a better patina because it is already imperfect. Thus, it showing the marks of time will only enhance its look as the years go by.
Source: via Pinterest
4. Abstract Painting
Art has the incredible power of transcending time, cultures or social divisions. A fine painting evokes certain emotions in the viewer and can entirely change the face of the interior. This is why it is worth to leave all the doubts behind and invest in hand-made art works. A piece of abstraction, basing on the play between colors and the dynamism of the line, is probably the most versatile choice – the majority of contemporary interior arrangements will gladly welcome it within their borders.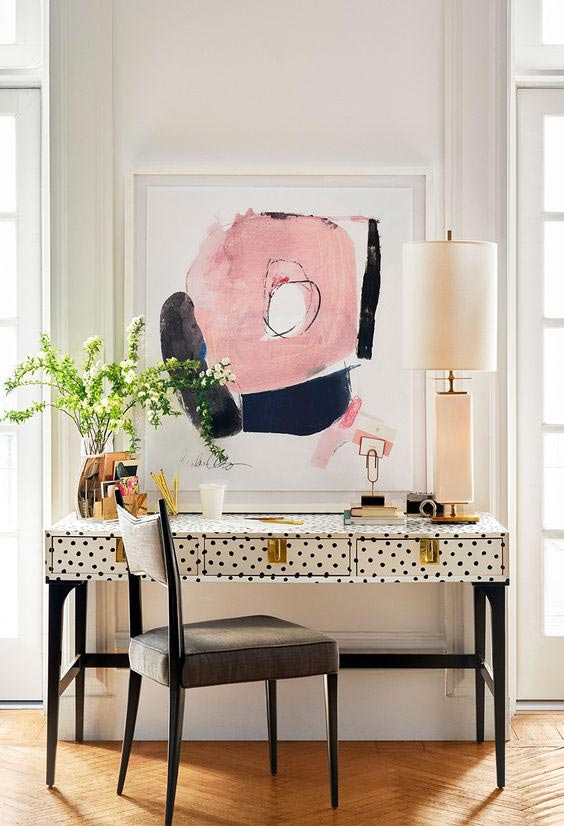 We realize what you're thinking – a painting by a famous artist is not only incredibly expensive but also really hard to get – but who said the artist has to be famous? After all, true art can be felt instantly and big names have nothing to do with it. There are many young, prolific creators who make fantastic paintings but don't get much recognition. You may consider supporting their work and who knows? Maybe one day your house will turn out to be filled with absolute masterpieces by a world renowned painter who managed to get to the surface thanks to your own humble patronage. Isn't that a pleasant thought?
Source: Campaign for Ali McNabney-Stevens, Pinterest
 Leather Sofa
A well-built sofa can last for decades – especially if reupholstered every so often. It is important to pick the one with a rigid frame and filling so that it keeps its shape and timeless air for years. Nonetheless, if you want your sofa to last even longer, chose a quality leather that will age with a beautiful worn patina. Best go with the classics and consider buying a leather sofa by Florence Knoll.
Source: heeverygirl.com, studiomcgee
Her creation is an iconic piece in its own right, and sums up her attitude to aesthetics: square geometry, a mix of textiles and steel, and a clean form that still looks fresh today. Florence Knoll is an example of a strong and successful woman who took over the business after her husband's untimely death in a car crash in 1955. The Florence Knoll Sofa perfectly reflects the character of its maker – it is tough, reliable and absolutely enchanting.
For more inspirations, take a peek at Doris Leslie Blau website – we are always at your disposal. And if by any chance you are visiting the capital, step into The Washington Design Center, 1099 14th Street N.W. Washington, D.C. 20005, to see our showroom. You can also give us a call at 202-808-9361.