Custom Hair on Hide Rug with Tiles Design S17653
Hair on hide rug made to order in custom sizes and colors.
All lovers of nature-based, wild and unique decorative elements will instantly fall for this Tiles rug sample. Its design is composed of even, rectangular 'tiles' sewn together with a visible, elegant, white seam. What makes this piece so exceptional is the texture and color imitating a natural cowhide. The pile, although cut quite short, exudes a warm, homely vibe and will look just excellent in front of a crackling fireplace. If you decide on the sample to be the foundation of your dream custom rug, know that it will be masterly hand-executed of the finest wool in accordance with traditional weaving techniques which ensure a rug's quality and thus longevity. You are also free to adjust the size and shape of your bespoke carpet entirely to your liking. This versatile, simple yet chic composition will match classic and contemporary interior decors in equal measure.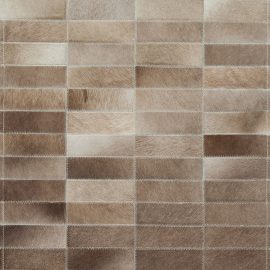 Custom Hair on Hide Rug with Tiles Design S17653
In stock