Antique Bibikabad Rugs Synthesize Persian Artistry and Turkish Technique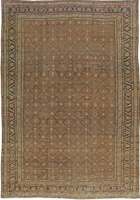 Antique Bibikabad rugs demonstrate rich Persian heritage, while also displaying ancient Turkish techniques of weaving. These luxurious rugs offer a combination of cultural heritage creating a beautiful artistic example of the richness of both cultures. Bibikabad rugs hail from western Persia, in the village of Bibi Kabad within the Hamadan region. Bibi Kabad means "the village of grandmother." The name itself reflects the importance of cultural heritage to the creation of the rug, and this importance is evident in the composition and artistry of each rug. But while the name and appearance reflect its geographic and cultural origins, the weaving technique used shows a kinship with Turkish culture.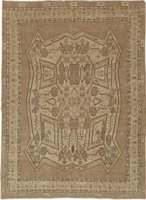 Persian artistic design is evident in antique Bibikabad rugs. These rugs display an intricate design covering it entirely, with little solid color. Small, paisley patterns cover each rug, typical of Persian-style rugs. Additionally, bold colored threads compose the rug itself, and these bold colors are also typical for Persian rugs. The color and design of the rugs demonstrate Persian influence and origin.
But while the artistic design of the rug is distinctly Persian, the technique used to create each rug incorporates Turkish techniques. The weaving is gourde style, similar to Malayer style weaving. This style of weaving uses hand-tied, symmetrical knotting of thick, high-quality wool threads. Each rug is painstakingly created and reflects a tradition of pride and attention to detail in workmanship and heritage.
Thus, the unique antique Bibikabad rug style brings a melds two cultures sure to make a lasting impression in your home.
An Exceptional Collection of Bibikabad Carpets for Sale