Reprinted from Rug News, May 2016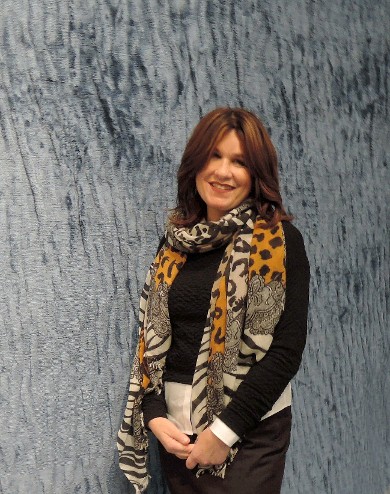 Suzan Izsak, director of custom carpets for Doris Leslie Blau Gallery, introduced designers attending ICFF 2016 to the company's flourishing bespoke rug program and a portfolio of new textures.
NEW YORK — For its debut ICFF event, renowned Manhattan rug gallery Doris Leslie Blau focused on its bespoke capabilities with six showpieces and corner samples to inspire interior designers at the 2016 show. Izsak, who designs the rugs as well as manages the custom to-the-trade business, chose to spotlight all-silk designs at ICFF, and spoke of her preference for natural silk.
"I do every texture imaginable," she explained, pointing out a gold multi-toned carpet. "The beauty of this one is that it's not patterned; it's the weave that creates the pattern. Even though it's one color, it looks like it's actually multiple colors. It's about how the silk hits the light. Silk has a light and dark side, and the pattern gives it texture and feeling. That's what creates all the different colors. If you look at the gray rug, it is also all one color."
Reprinted from Rug News, May 2016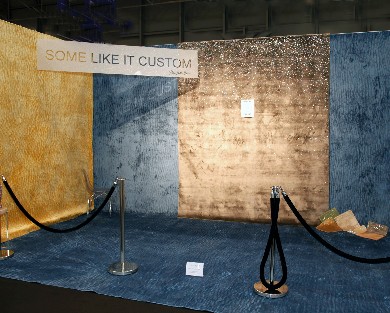 Custom silk rugs at the Doris Leslie Blau ICFF booth included a beige rug (center) adorned with 20,000 Swarovski crystals ($22,500). Others played with texture to create multi-tone effects.
Another rug luring visitors to the booth for further inspection was a cut pile natural silk rug imbedded with 20,000 Swarovski crystals ($22,500 in 9×12). The crystals are heat-set-applied beneath the surface level of the pile, so that the rug can be maintained — vacuumed and even washed — Izsak told a hospitality designer at the stand. "Many of our client's customers have amazing art collections, which dictate subtle rugs that won't detract from the art. But at the same time, they want rugs that are worthy of the art and luxurious in quality, design and materials — like the rugs we are showing here," she said.
Doris Leslie Blau's custom rug program, which has its own dedicated showroom (dubbed DLB@D&D) in New York City's Decoration & Design Building, features an extensive range of designs and weaving techniques. In addition to the silk rugs shown, rugs are made from wool, cotton and other natural fibers in cut pile, looped and high-low pile, flatweaves and more.
Izsak has focused on transitional and contemporary designs, but any design in the bespoke program's archives can be modified, including those by prominent architects and designers in collections curated by Doris Leslie Blau as far back as 2002.
In addition to the show, marketing efforts include a new hardcover book featuring custom installations that illustrate the breadth of looks designers can create. "We just came out with this brand new book and we've developed so many new textures, the integrity of our company speaks for itself," Izsak said.
Reprinted from Rug News, May 2016