This article originally appeared in the July 2009 issue of New York Times
How Fighting Hercules Got His Pedestal Back
While working online at home last year, Scott Defrin, the owner of European Decorative Arts Company, a Manhattan gallery, previewed the contents of a Long Island estate about to be auctioned in Hudson, N.Y. "Along with all the Americana I saw a small Baroque ivory pedestal," he said. "It stood out because it was clearly a 17th-century object that was missing some critical elements."
He thought he recognized the piece. The next day, when he got to the gallery, he dug out a February 2003 issue of Apollo, a British art magazine. In it an archival photograph of a 17th-century ivory statue of Hercules fighting the river god Achelous accompanied an article by Christian Theuerkauff, "Baroque Ivories From the Collection of Anselm Salomon von Rothschild in Vienna."
Mr. Defrin suspected that the pedestal was the base of the sculpture pictured in Apollo. He drove upstate, and after inspecting it, bought it at the auction.
The Rothschild 11-inch-tall ivory carving depicts Hercules wrestling Achelous for the hand of Deianeira, daughter of the king of Calydon. It is now in the collection of the Metropolitan Museum of Art. Some time after World War II, Jack and Belle Linsky, New York collectors, bought it and later donated it to the Met — without its base.
The piece is not signed, but the Met attributes it to a 17th-century Austrian carver known as the Master of the Martyrdom of St. Sebastian. "This master's work is characterized by violent and exaggerated movements, extreme emotions and a fanatical delineation of physical details," said Johanna Hecht, associate curator in the department of European sculpture and decorative arts.
The muscular, bearded Hercules has clasped his arms tightly around his foe, who seems to be fading, eyes looking skyward, mouth open, body sagging in Hercules' death grip. (The Met has another ivory sculpture of a male figure by the same hand, purchased in 2004.)"In thinking about what the base could be for," Mr. Defrin recalled of his discovery. "I had a strong inkling it could go with the Linsky Hercules at the Met."
He invited a Met curator to stop by his gallery in the Manhattan Art & Antiques Center on Second Avenue at 55th Street, and sure enough, the curator agreed with him. Last year the museum bought the base for several thousand dollars (Mr. Defrin declined to reveal the exact price) and is now restoring it. (It is not yet on view with the Hercules; it may be exhibited in 2010 if conservation work is completed.)
The Baroque base, veneered in ivory, was probably made by a cabinetmaker, not an artist. But it was missing its bas-relief, which had been carved by the same master who created the Hercules sculpture-in-the-round.
In a surprising coincidence, long before Mr. Defrin found the pedestal, he had discovered the three-inch-tall bas-relief plaque that was once attached to its front. He sold the plaque to the Met in 2004, and it is now displayed below the Hercules statue so that the two can be studied together.
"This carver's working of the material is very distinctive and unique in style," Mr. Defrin said. "The rendering of the muscles, feet and hands jumps out at you. It's intense carving, very forceful, contorted and accentuated."
The bas-relief depicts another battle of Hercules: he is again wrestling with Achelous, but his foe has now morphed into a bull. "Hercules could overcome Achelous only by breaking his horn," Ms. Hecht said. On the plaque Hercules is on his knees, snapping the bull's horn with his bare hands.
"I bought that plaque out of an estate sale in State College, Pennsylvania," Mr. Defrin said. "A lot of these antique ivory pieces came here to America."
HAMPTONS SHOWHOUSE
Perhaps because Traditional Home magazine is the sponsor this year, the 2009 Hampton Designer Showhouse is much improved. In the 11,000-square-foot shingled house, open until Sept. 6 in Water Mill, N.Y., decorators have created 24 environments. Antiques are not a major focus, but they have skillfully incorporated them into most settings.
Marshall Watson borrowed an eclectic mix of antiques (mostly from the dealer Amy Perlin) for his not at all stuffy dining room. Against hand-stenciled and oiled caramel walls, he has placed a pale carved-oak 19th-century Belgian commode; two French Art Deco chestnut chairs with carved skyscraper motifs; a 19th-century Dutch-style over-mantel mirror; and a pair of 19th-century English plaster pugs. The lighting designer Mark Figueredo has created a "chandelier" for Mr. Watson with wicker beehives filled with handblown glass balls. Below it raw linen slips update the 20th-century Louis XIII-style dining chairs.
Jennifer Garrigues has designed a wheat-colored master bedroom that Indiana Jones would love because it has so much exotic character. "I'm such a sucker for British colonial furniture," Ms. Garrigues said.
Anglo-Raj Antiques supplied a rosewood four-poster from Calcutta; a rosewood secretary with a lacy carved pediment from Goa; a teak temple chair from Tamil Nadu, about 1860; and a copper footstool from Gujarat. Ms. Garrigues added a Syrian chest of drawers inlaid with mother-of-pearl, a Russian Bessarabian carpet from Doris Leslie Blau and antique ivory accessories from Sentimento Antiques.
An adjacent sitting room by Ellen Hamilton has similar elements — an ebony easel, daybed and desk inherited from a great-great-grandfather who was posted to India — but she has made the room contemporary by setting them against purple foxglove-print wallpaper, a yellow rug, a colorful Swat Valley textile from Pakistan and art photography. "I wanted visual tension," Ms. Hamilton said.
Kristen McGinnis has anchored a pine-lined library with her reupholstered 1920s Chesterfield sofa, a William IV satinwood round table from Cove Landing and a 19th-century English wing chair from Sentimento. Then she added some modern touches: 1982 bronze chairs by Claude Lalanne, a new Ingrid Donat bronze side table and a bronze Chista Volcano Table.
Some designers used antiques sparingly, so that they stood out. Kat Burki paired chartreuse-lacquered Chinese Deco desks. Janna Bullock chose a Charlotte Perriand bookcase. And Jeff Lincoln mixed his raffia Billy Baldwin sofa with a vintage carved ironwood chair from Africa.
"There's an affinity between the materials," Mr. Lincoln said. "The rusticity of the one plays to the refinement of the other. It's a primitive-modern juxtaposition that goes back to Picasso and Giacometti."
It all worked.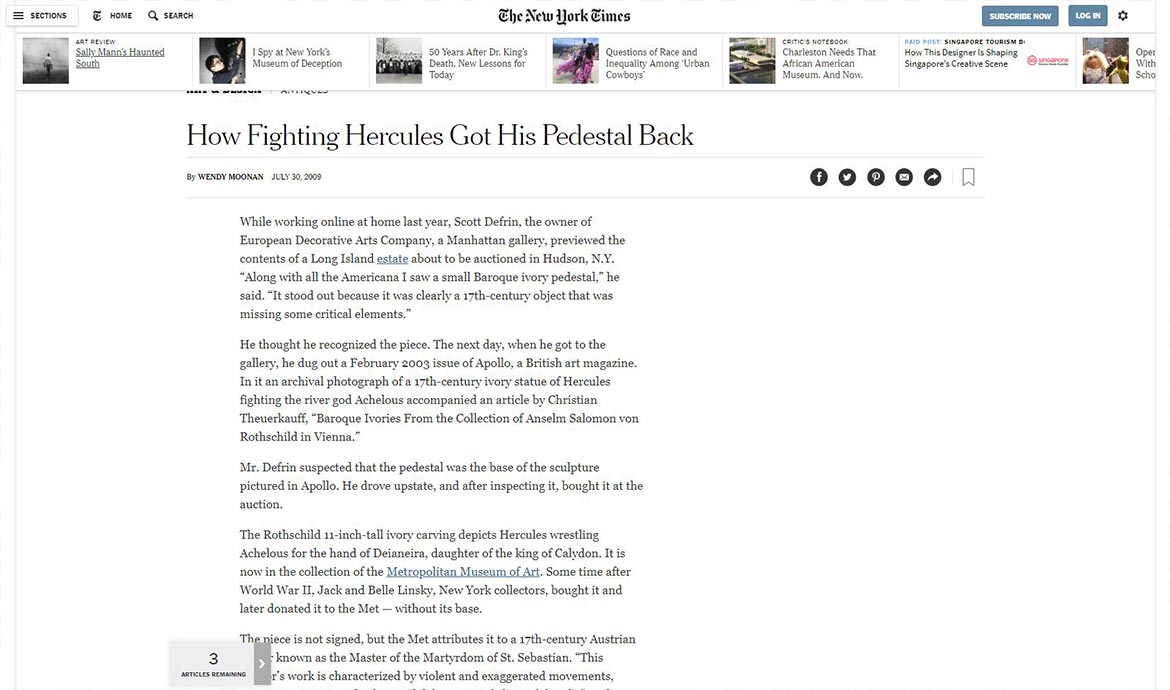 This article originally appeared in the July 2009 issue of New York Times.