Reprinted from Architectural Digest October 2017
Exclusive collection of antique, Persian, vintage rugs including our famous collection of large area rugs in NYC by Doris Leslie Blau.
It's about time Brooklyn had its own designer show house. Over the past few years, the borough has proven itself as more of a creative oasis than ever, with everything from furniture to lighting to ceramics making waves throughout the design community; one room at this year's prestigious Holiday House featured only decor from Brooklyn. And while show houses like Holiday House and Kips Bay are buzzworthy events in Manhattan, its sister borough hasn't seen the same opportunity for showcasing its best design—until now. With the inaugural Brooklyn Heights Designer Show House, the Brooklyn Heights Association as gathered 17 of the borough's creatives to outfit a historic townhouse on Livingston Street, with funds benefiting the association's preservation efforts in the charming neighborhood.
"I kind of can't believe it hasn't been done yet," laughs designer Ellen Hamilton, co-chair of the show house along with Erika Belsey Worth (Thom Filicia serves as honorary design chair). As for the actual home, 32 Livingston is a stunning example of the historic brownstones for which the area is known. In the same family for the last 60 years, the property bears nearly all of its original details, something designers were excited to incorporate. "Even in Brooklyn Heights it's rare to have a house as intact as this one to work with," says Belsey Worth. Fittings by Nanz and Forbes & Lomax throughout the house fit into the history but allow for modern comforts—a theme prevalent throughout each room, where, in order to best meld old and new, designers preserved the home's handsome historic attributes while making them feel more approachable. "It feels like real life, but with an emphasis on stylish living," Hamilton says. "Nothing feels imposing or heroic."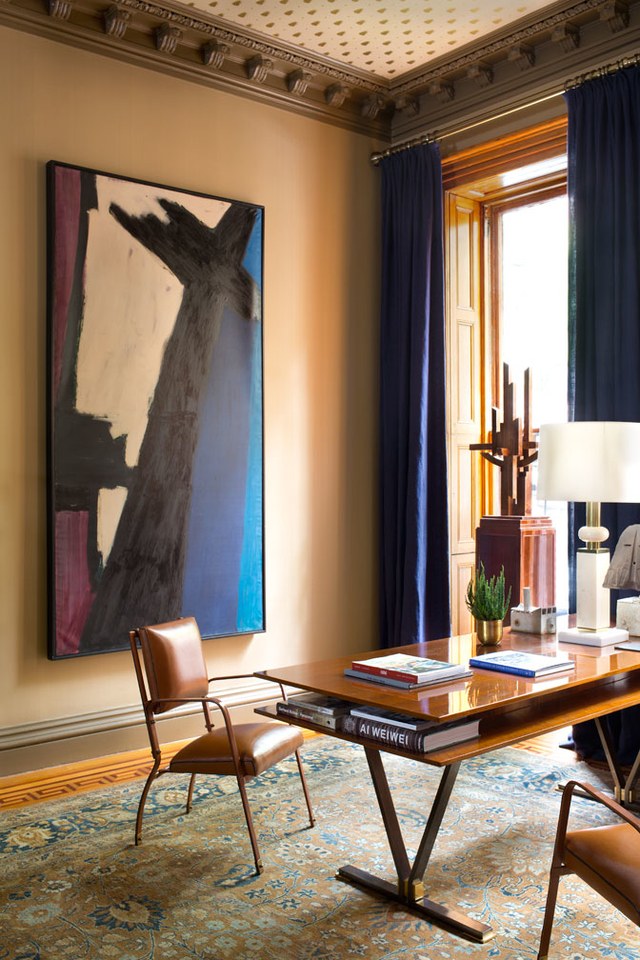 Living Room by Glenn Gissler
Gissler, a Brooklyn Heights resident, worked with 1stdibs to source a collection of furnishings that would look at home under the room's original molding and large-scale windows. "Our goal was to create a 19th-century living room for the 21st century," Gissler quips. "Placing a rich and sophisticated selection of 20th-century furnishings, artwork, and accessories gives the room a more modern feeling reflecting more contemporary lifestyles."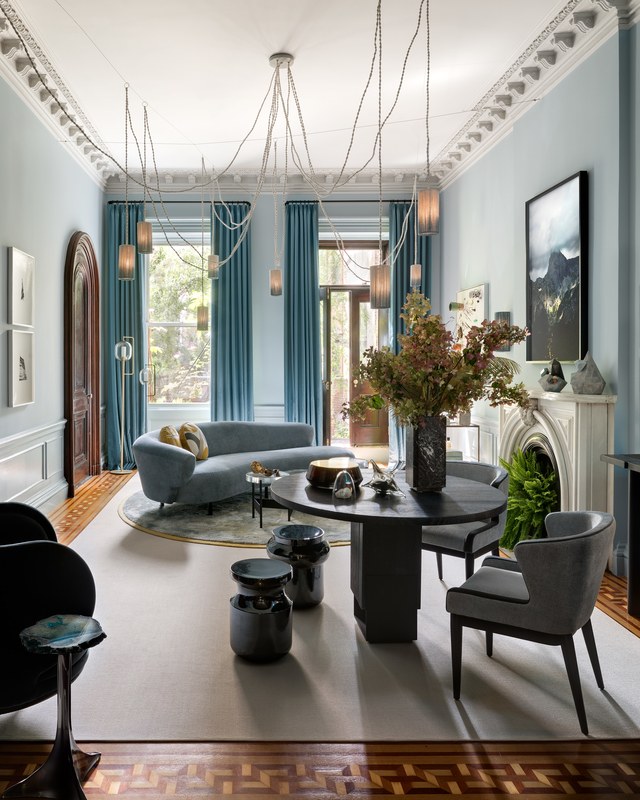 Dining Room by Deborah Berke Partners
In lieu of a formal dining room, the norm in historic townhouses and part of the reason their parlor levels often go unused, Berke's team opted for a salon-like space with a smaller-scale table and a sofa and bar cart to encourage spending time in the space.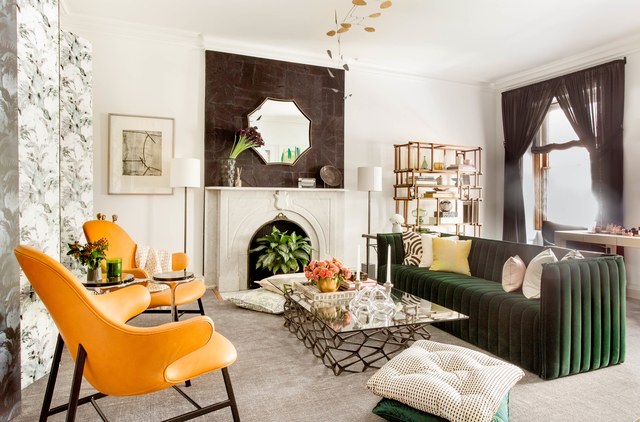 Bedroom by Kathleen Walsh

A Brooklyn resident for over 25 years, Walsh currently lives in Park Slope. She peppered her front-facing bedroom with modern silhouettes covered in lush, textural materials like velvet and leather. A leaf-printed folding screen at the back of the room is meant to mimic the view of branches out the room's front windows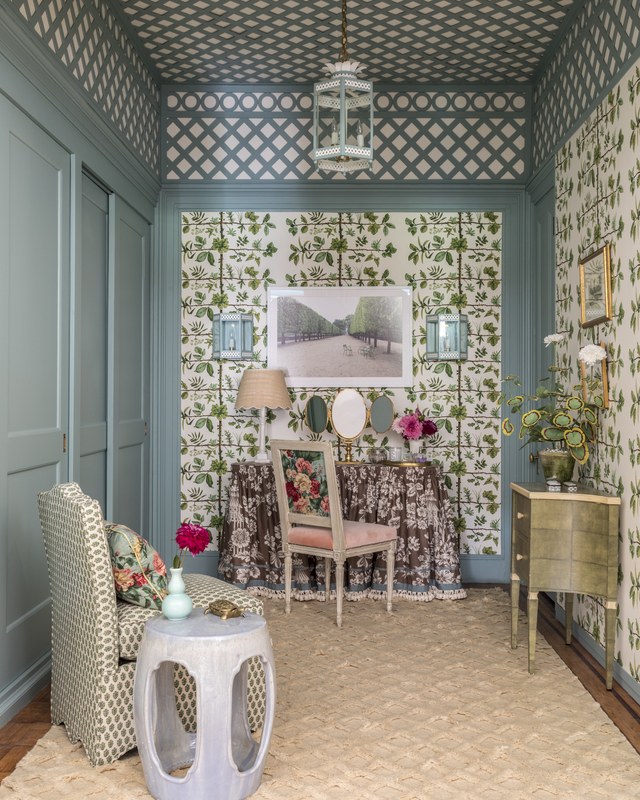 Dressing Area by Henry & Co Design
Tucked between the second-floor bedrooms is a small, windowless space, which Henry & Co's Stephanie Woodmansee maximized by swathing the walls and ceiling in floral patterns, creating a botanical jewel box.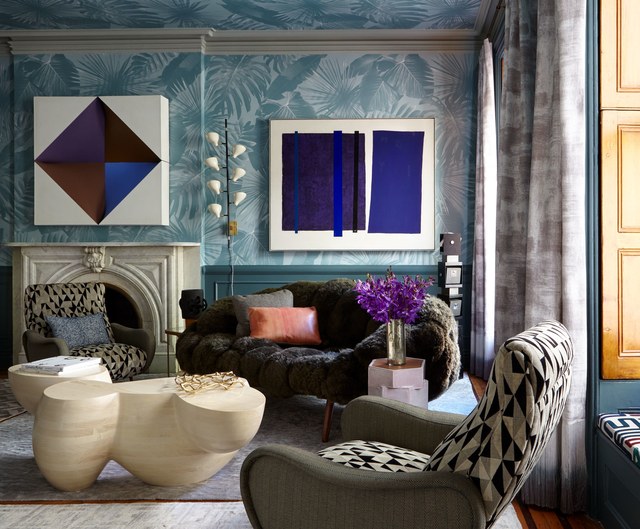 Study by Frampton Co
Brooklyn Heights resident Elena Frampton worked with Flavor Paper to develop a monochrome version of the graphic Wild Thing pattern the (Brooklyn-based) studio debuted at the Collective Design Fair this year. Furniture from the likes of Egg Collective and the Campana Brothers and carpets from Doris Leslie Blau make for a visual feast of design.
Reprinted from Architectural Digest October 2017