This article originally appeared in the January 2015 issue of Architectural Digest.
In the annals of New York City prewar real estate, few architects are as admired as Rosario Candela. Best known for the residential buildings he designed in the 1920s and '30s along choice stretches of Park and Fifth avenues, Candela set a gold standard for city living—and his graciously proportioned apartments remain the object of countless fantasies. Such was the case for one young family, who gave up what many Manhattanites would consider a pretty ideal home—a charming maisonette on Park Avenue—for a spacious Candela floor-through a few blocks away that needed major work. "I wasn't really looking to move," says the homeowner, a part-time social worker who grew up in the neighborhood and shares the residence with her son. "But this was my dream building and my dream apartment, so I ran with it."
Running, in this instance, meant enlisting the talents of Los Angeles–based decorator Michael S. Smith and architect Oscar Shamamian of the New York firm Ferguson & Shamamian, who together crafted handsome, refined interiors that respect the classicism of the original design while keeping the tone relaxed and light. Since Shamamian had worked on projects for the client's mother and sister over the years, a rapport was already in place. What's more, the architect had renovated units on neighboring floors, so he was familiar not only with the building's celebrated floor plans but also with its quirks and key personnel.
While there was never any thought of radically reconfiguring the existing layout, which is remarkable for its stately entrance hall (the property has some of the city's most dramatic foyers) and for positioning all principal rooms at the front of the home, the team decided to strip the apartment to its studs anyway. "There was a lot of nuance to what we were trying to do," explains Shamamian, "so even though the main public rooms stayed in place, we felt it was cleaner to take it all down to the slab and then build it back up."
This approach allowed the designers to make subtle adjustments to the flow. By shifting room openings, they were able to create more wall space for the homeowner's large art collection, which includes works by Jean Dubuffet, Richard Serra, and Tina Barney. They also combined two bedrooms to form an impressive master suite that encompasses a set of baths, a study and a dressing area (both clad in cerused-oak paneling), and a bedroom outfitted in serene shades of gray and cream. And they gave the entrance hall a bold new floor, a graphic pattern of black, white, and gray marble offset with stainless-steel inlay.
For Smith, it was crucial to fashion a place where his client could entertain in style and where her son would feel free to play. Says the homeowner, "I was looking to make it both as sophisticated and as kid-friendly as possible." Smith achieved this balance by leaving plenty of open space throughout (and using durable rugs and fabrics) while skillfully mixing new furnishings with antiques.
The dining room, for example, showcases a pair of custom-made Nancy Lorenz resin-and-white-gold tables that seem right at home surrounded by Louis XVI–style chairs. Overhead is a contemporary chandelier by R. W. Russell that evokes the sun and moon with crystal spikes and Swarovski amber spheres. "It's one of the first things I bought for the apartment, and it's among my favorites," the client says.
In the living area a Mattia Bonetti acrylic-top cocktail table with a looping bronze base resides harmoniously near a Regency-style desk. One end of the room is anchored by a Doug Aitken illuminated wall sculpture spelling out magic—a piece that, not surprisingly, "has become a real focal point," the homeowner says. And then there are the furnishings that appear to straddle the historic-versus-current divide, such as the Ferruccio Laviani–designed baroque cabinet-on-stand, its ornate gold-leafed base crowned by a chest of red mirrored glass. "It has a classical form but with a playful, whimsical quality," Smith says.
The piece, like the other shimmering accents found throughout the dwelling—the gold leaf on the library ceiling, the custom-made Nancy Lorenz glass panels on the powder-room walls—serves a purpose beyond mere decorative appeal. "New York apartments rarely have the light that a house on a large property does," Smith notes. "So one way to make them visually interesting is to use reflective surfaces to bounce light around." His strategy was readily embraced by the client. "I love anything that sparkles," she concedes.
But don't mistake such flourishes for flashiness. In this exquisitely tailored urban oasis, comfort is paramount. "A residence should be a place where you immediately feel at home," says the owner. "Not that I ever plan to commit any crimes, but if I were put under house arrest here, I'd be perfectly content."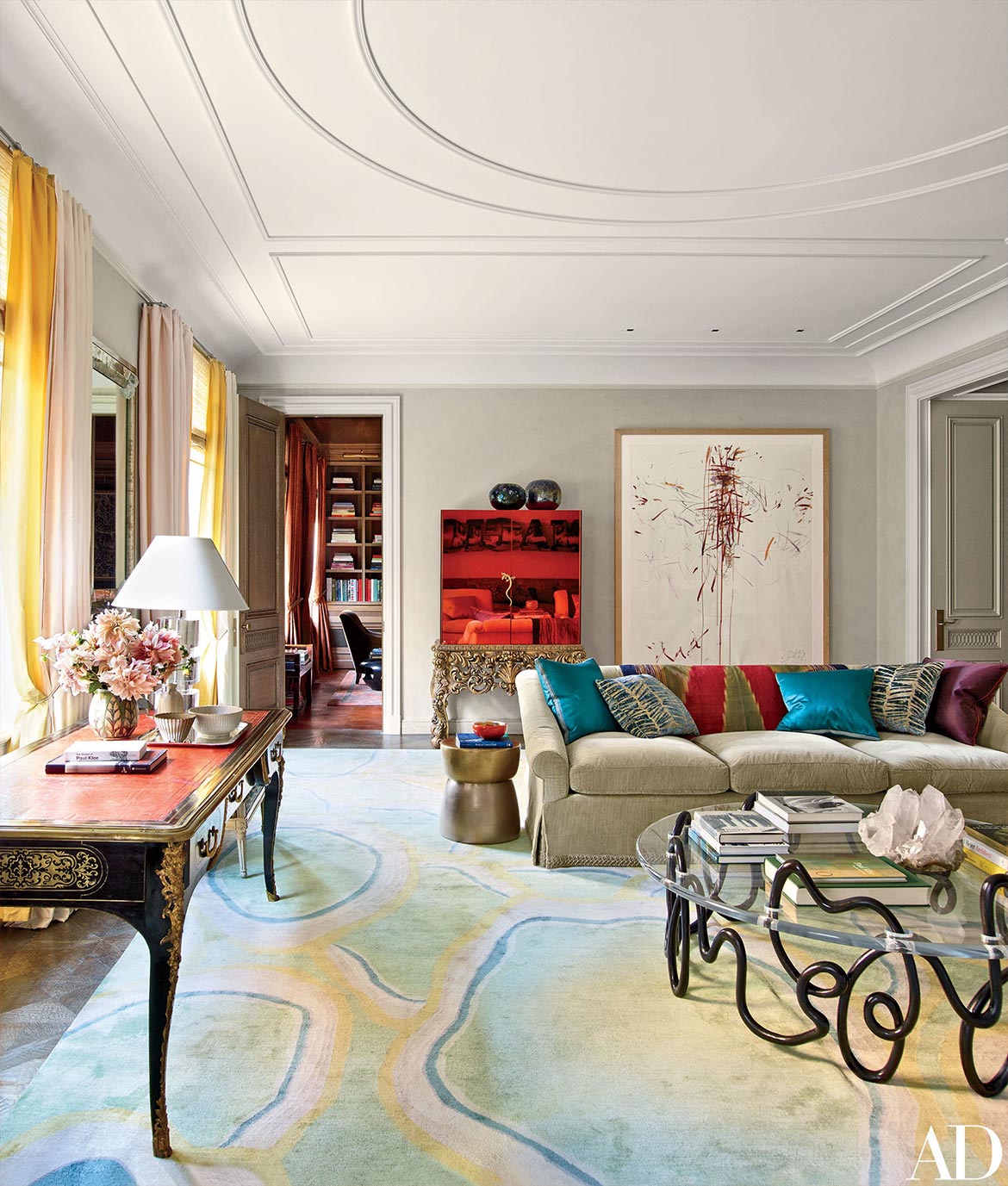 Behind the living room's custom-made Jasper sofa, an artwork by Rebecca Horn is installed next to a cabinet-on-stand designed by Ferruccio Laviani for Fratelli Boffi. The bronze side table is by Robert Kuo.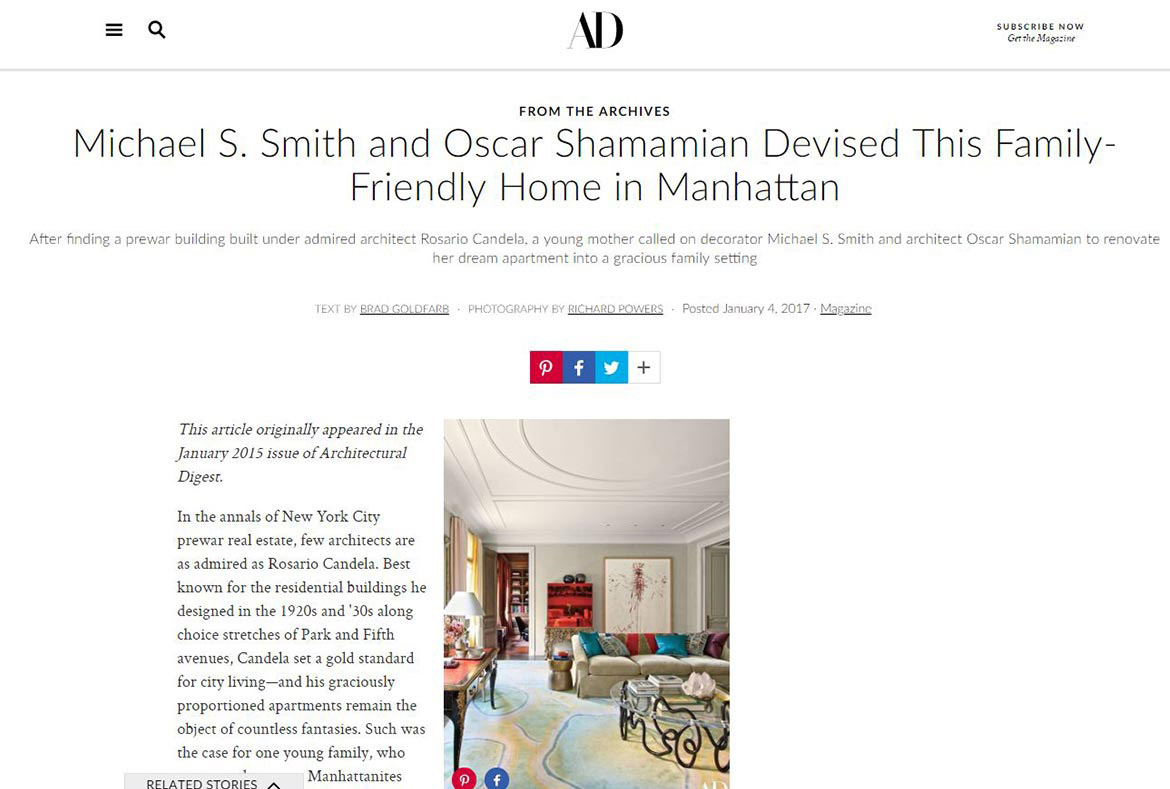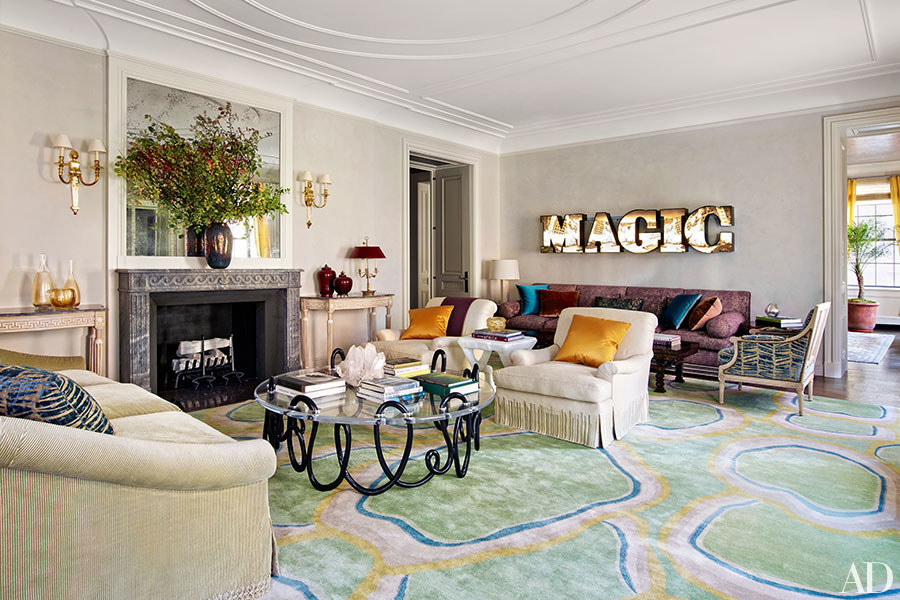 A Doug Aitken wall sculpture sets a spirited tone in the living room of a Manhattan home renovated by designer Michael S. Smith and Ferguson & Shamamian Architects. A pair of George III consoles flank the Louis XVI marble mantel, while custom-made Jasper armchairs face a Mattia Bonetti cocktail table from Paul Kasmin Gallery; the Louis XVI chair is upholstered in a Brunschwig & Fils velvet, and the carpet is by Doris Leslie Blau.
Architectural Digest posted a lovely inside look atan audacious and elegant prewar apartment made to sparkle by decorator Michael S. Smith and architect Oscar Shamamian of Ferguson & Shamamian.
The apartment is in a building originally design by Rosario Candela, one of the preeminent New York architects of the 1920s and 30s.
Shamamian stripped the home down to its studs. The original design and intentions were mostly preserved, but redone with clean lines and subtlety to bring the place up to date for a modern family.
Living room shots feature our made-to-order Ondulation rug.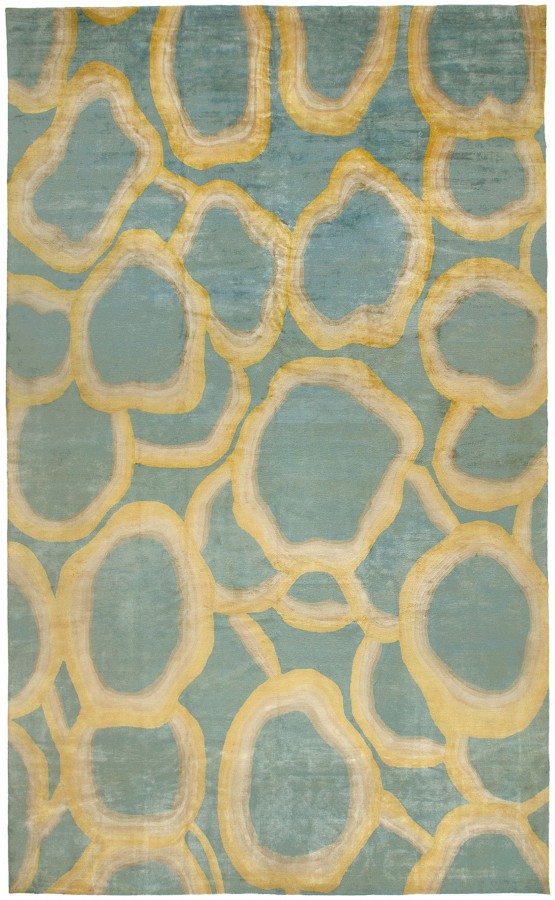 The homeowner is an art collector, and this dreamy wool-and-silk bespoke rug is in keeping with her modernist aesthetic.
This article originally appeared in the January 2015 issue of Architectural Digest.