This article originally appeared in the January 2014 issue of Architectural Digest.
Michael S. Smith Revamps an Airy Duplex on Chicago's Gold Coast Though Michael S. Smith is apt to wax effervescent over Chicago's rich cityscape, the Los Angeles interior designer concedes that a prime inspiration for the historic Gold Coast duplex penthouse he recently renovated with pale, romantic rooms was actually the mistress of the home's signature silver tresses—"a too-early gift," she says, "from my father and from God." In homage to the sterling shade, Smith silver-leafed the kitchen ceiling, applied a burnished pewter-color wall covering in the master bedroom, and mounted giant mirrored-glass teardrops—a commissioned piece by Jeff Zimmerman—spilling down the wall of the staircase.
Further inspiration came from the building's history. The penthouse tops a 1932 limestone tower that has sheltered generations of Chicago's leading families behind its soaring façade and crisp setbacks. David Adler, the architect of so many great Chicago-area country estates of the prewar era, designed several apartments in the building and brought in his sister, the decorator Frances Elkins, to tweak his classical interiors with her characteristically chic Europhile hodgepodge. "This place is from the golden age of Chicago design, so my plan was an Adler-and-Elkins-like decor that would harmonize with my clients' collection of modern and contemporary art," says Smith, who has worked with the owners on several urbane residences.
The couple married a few years ago "after kissing a lot of frogs," the wife says, and that happy event presented an opportunity to renovate their home base, a 4,800-square-foot duplex that had belonged to the husband for more than a decade. Both agreed that its plush Art Deco–style design scheme had to go. With numerous grandchildren between them, they sought unstuffy interiors where no one would have to tiptoe among the treasures, an eclectic trove that includes significant artworks by Pierre Bonnard, Joan Mitchell, Louise Nevelson, and Hiroshi Sugimoto.
The home required more extensive alterations than just a simple redecorating. "I'd say that 80 to 90 percent of the place was gutted," says architect Marvin Herman, who had devised the apartment's Deco details back in the 1990s. Rather than being disappointed by the eradication of all that hard work, Herman says he was thrilled to join Smith in developing new settings whose classically inspired styling and parquet echo "the glory days of Beaux Arts co-op apartments."
Though every surface was revamped, subtle gestures were part of Smith and Herman's program. Enlarging the openings between the living and dining rooms, for example, allows sunlight from the living room's southern exposure to pour deeper into the Venetian-plastered entrance hall and across a large, gleaming Anish Kapoor sculpture, a piece so colossal it forced a street shutdown when it didn't fit in the elevator and had to be hauled up to the 14th story by crane. Light sparkles along the staircase, too; recalling a glamorous ascent at Adler's legendary 1932 Lake Forest house for socialite Helen Reed, Herman replaced the beefy iron balustrade with delicate glass spindles, some of them smooth, others barley-twisted to refract and amplify the light.
On the second floor, a chain of spaces that included a dressing room, his-and-her baths, and a walk-in closet has been reconfigured into a spacious master suite. ("I've never understood separate baths," says the wife, adding with a sly smile, "unless you want to avoid your husband.") The bedroom has a luminous quality even when rain clouds threaten, thanks to gently reflective tea-papered walls and fabrics in an airy palette of fawn and ivory. Smith also set up a dog run for the couple's Sealyham terriers on one of the four terraces, an unexpected amenity that captures the owners' strong practical streak.
Sensible but stylish solutions are a constant. In the dining room, a vintage Royale table by Jansen occupies one side of the room while the other is equipped with an invitingly cushioned sofa and a television so that the sports fans in the family can watch football games while they dine together on holidays. As the wife explains, "I got tired of eating pizza in the den." More televisions can be found in the study. Rows of them—enough for all the grandchildren to watch their favorite teams—are integrated with the husband's prized collection of 20th-century mystery clocks. "Michael takes your favorite things, and, instead of making them precious, makes them part of the life you live," the wife says.
Smith admits that this isn't always possible. Some grand homes are designed to give their occupants the life they imagined they always wanted, while others, like this penthouse, help the residents be themselves, only better. "Chicagoans dress beautifully and love a good hamburger," Smith says. "They're worldly, but they never lose that hearty all-American sensibility. That's what I tried to achieve in the house—a beautiful life without pretense."
Paneling by Féau & Cie Boiserie lines the living room of a Chicago duplex penthouse renovated by designer Michael S. Smith in collaboration with Marvin Herman & Assoc. Architects. A Mark Bradford mixed-media work overlooks a Jonas sectional sofa and a pair of Jean-Bérenger de Nattes cocktail tables from Maison Gerard. The ceiling fixture is by Philippe Anthonioz, the Eve Kaplan mirrors are from Gerald Bland, the Hervé Van der Straeten dining table is from Ralph Pucci International, and the vintage Tabriz carpet is from Doris Leslie Blau.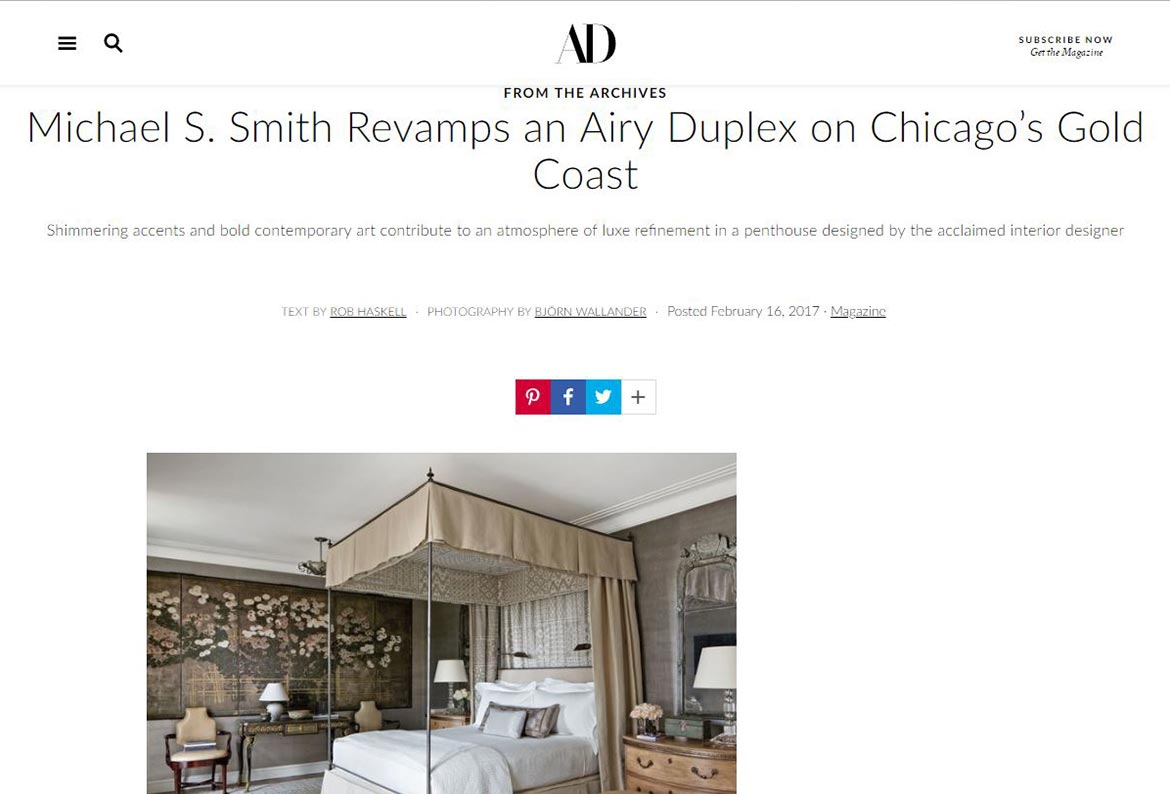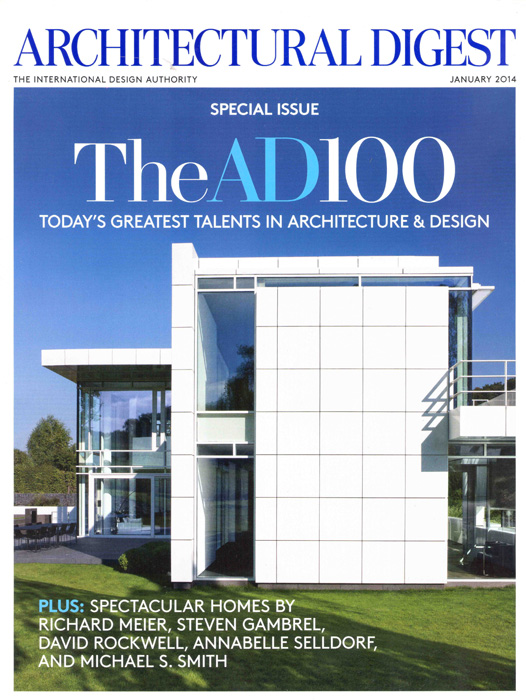 This article originally appeared in the January 2014 issue of Architectural Digest.