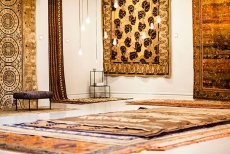 By Hannah Martin, Architectural Digest, October 8, 2014.
Graham Head confesses that he's probably bought more rugs than any other human on the planet. Except for, possibly, Nader Bolour. This should come as no surprise. As the vice chairman of ABC Carpet & Home and the owner of renowned rug dealership Doris Leslie Blau, respectively, these men have followed their love of floor coverings quite literally to the ends of the earth.
On Tuesday, October 7th, Head and Bolour opened "The Thrill of the Hunt," a gallery-like collaboration at ABC Carpet & Home that showcases 24 handmade heirloom carpets that have as much personality as provenance.
After years of hunting the rare and resplendent in far-flung locations (Head once bought a rug out from under a jewelry vendor's feet in India), the duo has assembled pieces that stuck in their minds—the unusual, the quirky, the sometimes-a-bit-ugly—hoping to inspire a new crop of collectors to appreciate uncommon works.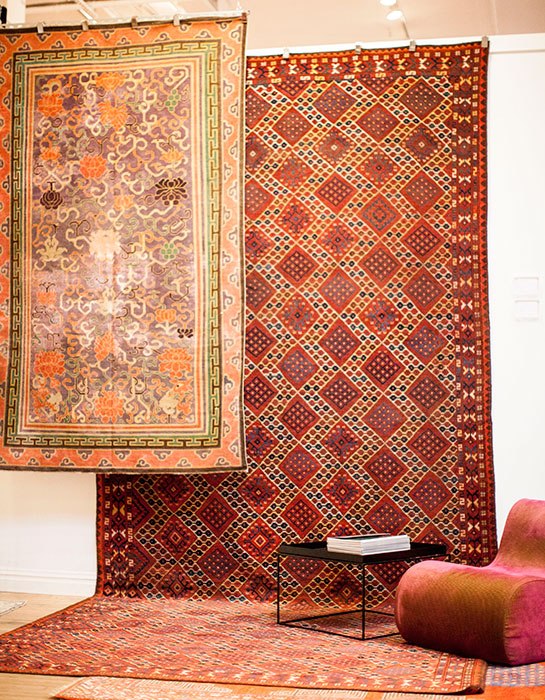 The rugs in the exhibition are custom pieces handmade in countries around the world, including Russia, Sweden, and Morocco.
The show includes carpets that would stump even the most seasoned collector with their difficult-to-trace origins. Some, Head and Bolour suppose, were one-of-a-kind commissions for ocean liners or ancient palaces. Others were likely cast-offs, discarded as defective members of a batch. And, of course, they have all been enriched with the passage of time; Head speculates that a Chinese striped red carpet was originally orange or dark green but was transformed completely by sunlight reacting with the dyes over the decades.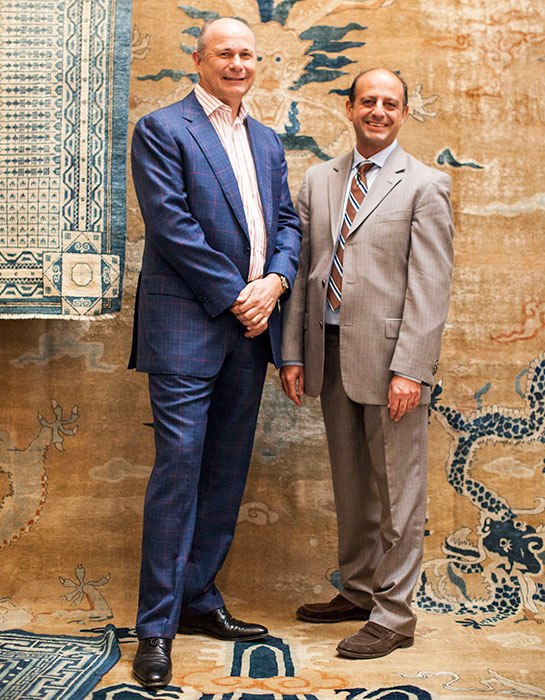 Graham Head, vice chairman of ABC Carpet & Home and Nader Bolour, owner of Doris Leslie Blau.
"These are pieces that don't fit into boxes," Head says. "They're like that painting that you see and think, 'Wow, it's really beautifully done—it's got to be by someone significant!' But no one signed it."
Prices range from $2,000 to $68,000. Through November 2, at ABC Carpet & Home, New York; abchome.com
Photography courtesy of ABC Carpet & Home.
Explore several designs from the collection, below.

Doris Leslie Blau antique Chinese Deco rug 9′x11'4″; $18,000 || Classic Oushak motifs are reinvented in Deco-inspired fashion in this vibrant, colorful piece. Evocative of the Chinese Deco style made popular by Walter Nichols, this design is an amalgam of Turkish inspiration and Asian artistry.

Doris Leslie Blau Vintage Deco rug 7'10″x9'8″; $20,000 || Handwoven in China, this antique Deco rug features a winding design of leaves and arabesques. Its exotic color scheme — bursts of orange and green that resemble almost a camouflage motif — is highly unusual, bringing a contemporary feel to the piece.
Doris Leslie Blau Moroccan rug 5'2″x7′; $7,000 || An ivory and charcoal print covers this vintage Moroccan rug in unique and striking geometry. Its weave has an almost freehand aesthetic.

Doris Leslie Blau antique Chinese rug 7′x12′; $18,000 || Handwoven in China, this antique rug features a unique checkerboard design that is an exotic adaptation of traditional European patterns, most likely inspired by a 16th century Persian botanical garden.

Doris Leslie Blau antique French rag rug 9'7″x16'3″; $12,000 || Columns of star-shaped cartouches transform this antique French rag rug from a bohemian accent into a distinctive, contemporary piece. An irregular leaf border and twisted frame are almost avant-garde in spirit.

Doris Leslie Blau antique Samarkand rug 11'6″x11'10″; $29,000 || This antique Samarkand rug, woven in China, features a traditional dragon motif (an ancient Buddhist symbol, the dragon is a hallmark of the regional weaving style). This vibrant piece is a dynamic marriage of tradition with whimsical flourishes.