Early 20th Century Metal Thread Abstract Botanic Tapestry BB6637
6'0" × 8'3"
$

12,000
$12,000
The first half of the 20th century was a heyday of Chinese rug production during which originated the widely sought-after Chinese Deco but also many other styles combining the Oriental and Occidental aesthetic worlds. This antique rug is a truly outstanding example of the tapestry technique, typically associated with medieval Europe, executed in a distinct Far-Asian manner. Its design draws a serene vision of a hilly Chinese landscape bestudded with few Asian architectural wonders, subtly shrouded in mists and clouds. This picturesque composition is enclosed within a single border with motifs of flowers, birds, running water and fish. Moreover, it shows an inscription in Chinese, most probably revealing the title and the author of this magnificent work.
As befits antique rugs from China, this antique tapestry was made with upmost care and diligence. The piece was meticulously hand-woven of wool and metal threads which resulted in a firm, qualitative structure as well as intriguingly variable texture that, together with the rich yet properly toned color palette, gives the impression of three-dimensionality. Although made almost a hundred years ago, this vintage rug can boast of excellent condition. If properly maintained, this remarkable tapestry may serve as a major artwork in any modern décor for decades or even centuries to come.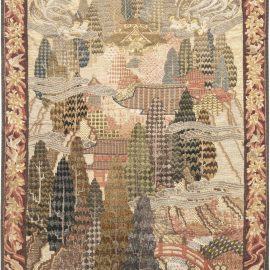 Early 20th Century Metal Thread Abstract Botanic Tapestry BB6637
$

12,000
In stock