Designer Rugs
Fashionable & Designer Rugs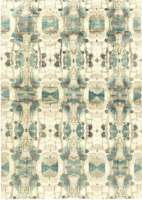 Designer rugs from Doris Leslie Blau? Yes! For almost 6 decades Doris Leslie Blau has been world-renowned as the leading supplier of antique and vintage carpets and rugs. A trusted advisor to owners, decorators, and designers in selecting the perfect carpet to serve as the foundation or focal point of a design scheme. We have always understood the delicate interaction between all the elements of a room design and how they can be pulled together to reveal a narrative that reflects the unique style and taste of the homeowner. By virtue of their placement in a room and their intrinsic, multi-sensory beauty, carpets and rugs play a pivotal role in pulling together the strands of that narrative. Whether buttoned-down or whimsical, neutral or bold, staid or humorous, carpets and rugs can set the tone or provide the twist around which the entire room coalesces. Carpets capture and reflect the soul of a room.
More recently, since the start of the new millennium, we have broadened the range of styles and vintages that we offer our clientele. By adding new carpets and custom carpets, we are able to serve the discerning client regardless of how varied their tastes. In addition to these new and custom carpets, we have also partnered with some of the most creative and well-known fashion designers in the world to create truly special new designs to reflect the unique fashion sensibility of our clients.
Prestigious fashion designers such as Nanette Lepore and Tommy Hilfiger have created custom rugs exclusively for us.
Tommy Hilfiger designed two rugs, Tibetan and Aubusson in construction but with a modern chain pattern in the case of the Tibetan and a red-bordered field of ship's wheels used in the Aubusson.
Style of Designer Rugs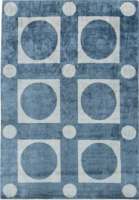 Nanette Lepore created an exuberant work in a bright tropical palette, featuring a field of asymmetrical, overlapping Peacock feathers.
Overall, the offerings in the designer rug and carpet selection bring a sophisticated and creative, modern eye to rug design weaving a mix of eclectic and abstract patterns. Many of them subtly recall elements of traditional carpet-weaving such as inclusion of organic forms like the branches and flowers of antique Oriental rugs. Some are inspired by works of art or early modern 20th century rugs. For example, one of our more recently curated collections features a Nigerian cloth pattern by Kim Alexandriuk that evokes traditional tribal patterns but assembles them with a more modern sensibility. Alexandriuk also does a riff on traditional Berber rugs by using their traditional materials and style of weaving to create a modern mélange of rectilinear and curved shapes in a simple two-tone palette. Ann Getty and Associates, works with a traditional floral pattern but shatters tradition with its exuberant coloration and the non-standard arrangement of the floral on the carpet.
James Andrew takes three colors and lays them out in a simple and straight-forward manner featuring a circle contained within a field of rectangles and squares. At the other extreme, William Sofield uses a subdued palette of browns punctuated by small busts of green and ochre as a backdrop to a deceivingly primitive-looking pattern that evokes the sun, moon, and stars all laid out in a non-linear manner across a subtle checkerboard field created by the interplay of those subdued brown shades.
Other renowned and well-known designers who have created patterns for our collection include: Mariette Himes Gomez, Amy Lau, Miles Redd, Bunny Williams, Cullman & Kravis, Carey Maloney & Hermes Mallea, M (Group), Brett Beldock, Buzz Kelly, Lucca & company, and our very own, Doris Blau, among many others.
Please enjoy our collection of designer carpets. They are ready to make a home anywhere from the traditional to contemporary and modern and bring their own special style that allows you to make your own distinct statement.
An Exceptional Collection of Designer Rugs for Sale