There is nothing better than a blue area rug when it comes to making a wall-to-wall statement. Blue does not frequently occur in nature so its presence in décor always evokes strong emotions. Although for centuries blue rugs have accompanied the development of human civilization, we are still in the process of discovering their full potential. As the old and venerable craft of weaving evolves over time resulting in various kinds of blue carpets, the way we implement them into our interiors evolves with it. Here we present a few ways in which different types of blue area rugs may change the face of décor or complement it to an outstanding effect.
Bring in Warmth with Blue Area Rugs from Morocco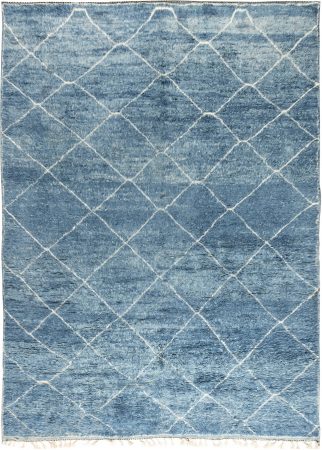 Morocco boasts a long history of blue rug-making. However, the most noteworthy of this country are not specimens from large weaving centers but hand-knotted tribal creations. Coming from nomadic Berber peoples originally inhabiting desert areas, Beni Ourain rugs exhibit authenticity and charm. These absolutely unique carpets came into the spotlight in the mid-20th century. They were discovered by modernist designers who fell in love with Beni Ourains' characteristic features. This includes nonchalantly executed geometric patterns, simple color palettes, usually consisting of brown motifs against the ivory background, and irresistible, shaggy piles that constitute a pure pleasure for the senses.
Even though nowadays most Berbers have abandoned the nomadic lifestyle, they still hone the craft of rug making. Having settled, Berber tribes produce modern rugs in complete accordance with the centuries-old tradition. To cater for Western demands, the weavers provide hand-knotted area rugs to serve in ample interiors. These are extremely high-demand among design aficionados all over the world. A contemporary area rug of the Beni Ourain type may be modeled on traditional designs or incorporate a state-of-the-art twist. Most frequently it's a bold shade or a pattern variation. In any case, a blue area rug from Morocco can make even a large white space look cozy and welcoming. Its long pile provides an immediate "hygge" effect. Regardless of the room in which it is located, a Beni Ourain brings in warmth without cluttering the space.
Invite Blue Color to A Plain Space With Area Rugs from Scandinavia
Scandinavian design is something that probably barely requires any introduction. Flat-woven rollakans are yet another iconic decorating items that became globally famous in the mid-20th century. Appreciated by great figures such as Le Corbusier, Ray Eames, and Frank Lloyd Wright, they still are the apple of the eye of designers and tastemakers of the western world. Thoroughly hand-woven of the finest wool, rollakans are always of top-notch quality. Inspired by nature and equipped in rich yet properly balanced colors, the flatweaves were given the present shape by the geniuses of design like Marta Maas Fjetterstrom, Barbro Nilsson or Judith Johansson. They encompass the fundamentals of Scandinavian design, i.e. functionality, practicality, and beauty.
Modern blue area rugs from Sweden still incorporate traditional geometric patterns that have an indisputable quality of timelessness. Yet sometimes they play with the convention and reflect contemporary trends which make them even more suitable for present-day décors. Their greatest strength, however, is diverse and playful color palettes. They will help you enliven a monochrome space in a dashing style. An area rug from Sweden is a qualitative and joyful decorating element. It will jazz up any arrangement and never go out of 'vogue'.
Build Your Décor Around Blue Rugs from Famous Designers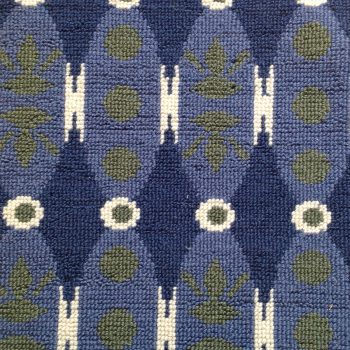 Area rugs that come from the hands of textile, fashion or interior designers may very often become a conceptual foundation for the décor of the entire room. Designer area rugs come in a plethora of styles, shapes, sizes, patterns or colorings. Textile artists use them as painters use canvas – to express artistic creativity, and achieve specific effects on the overall arrangement. With area rugs from designers, one may make a firm statement or, on the contrary – ease the décor to make it appear lighter.
The nature-inspired creations of the Eskayel group deserve special attention. They are young yet already renowned artists who explore an abstract, impression-based way of representing the wonders of the Earth. Moreover, the Eskayel is for eco-friendly, pollution-free methods of making floor coverings. Their mesmerizing patterns combine the 'chic' factor with the serene vibe of nature. Area rugs from Eskayel introduce a unique atmosphere of elegance, style, and tranquility.
Nevertheless, this is just one of many concepts for modern blue area rugs. There are many great names including Mariette Himes Gomez, Amy Lau, Miles Redd, Bunny Williams, Cullman & Kravis, Carey Maloney & Hermes Mallea of M (Group), Brett Beldock, Buzz Kelly, Gabhan O'Keeffe, Ike Kligerman Barkley, Albert Hadley or Lucca & company, that deal with creating area rugs for sale.
Tone Down and Illuminate the Space with Solid Blue Rugs
An area rug does not have to be distinguished by an extravagant pattern or bold blue colors. In recent years the emphasis is put on a minimalistic approach to design. The trend has also entered the craft of rug making which led to the creation of the category of solid rugs. Area rugs of the solid type usually have none or a very scarce pattern. Moreover, they are rendered in a single, typically light and neutral hue. Such a moderate design allows for a wide array of options in terms of application which is especially important in the case of area rugs. Solid floor coverings will easily match any décor, from classic to state-of-the-art. They will organize and optically enlarge the space, as well as make it feel light and airy.
Modern blue area rugs with minimalistic patterns very often incorporate intriguing textures that make up for the lack of ornaments. The most sophisticated are these made of the combination of wool and silk, whose pile is characterized by incredible softness and luster.
Define the Space with Blue Area Rugs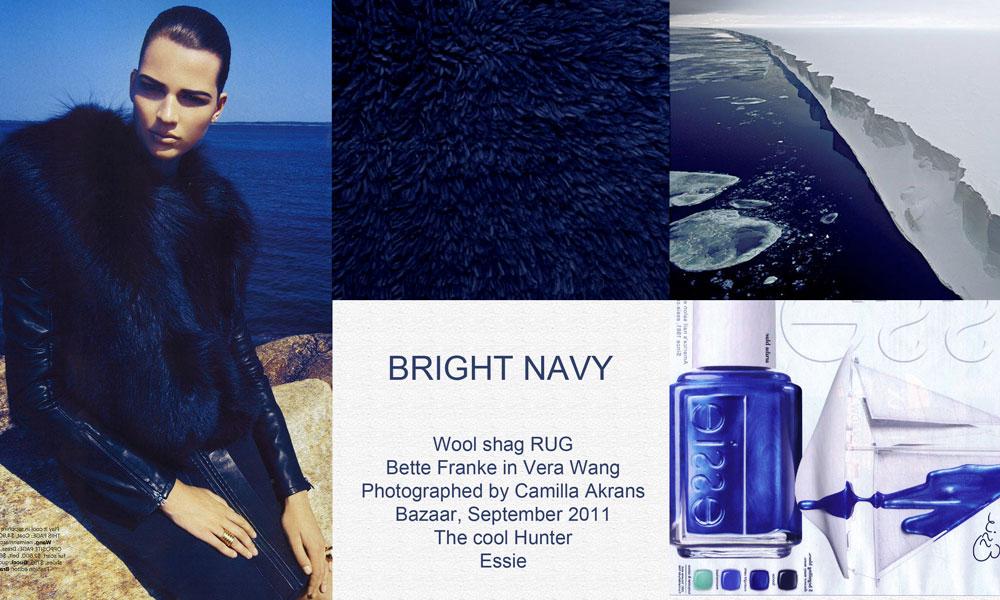 Large area rugs are a great move to make an allover statement in any interior. When you want to lighten and organize the space and bring in a great deal of warmth there is nothing better than a large area rug. The most popular are neutral ones because such a floor covering may be quite an investment. A solid or neutral large area rug gives you a wide array of possibilities. You may leave it plain and simple or layer it with more decorative pieces for a richer and bolder arrangement. Contemporary area rugs maintained in a soft color palette will be a versatile and timeless foundation for absolutely any décor. The most crucial aspect is the quality – no matter if you want a vintage or a new large area rug, make sure that it comes from a reliable source.
Add Depth With Blue Area Rugs
Blue is an exceptional color that helps to relax and concentrate. Blue area rugs are a great way to introduce the color into any interior. Perhaps, in the case of area rugs its best to stick to light shades that oscillate towards neutrality. Thus, cerulean or light blue are the safest picks for blue area rugs. Their serene, calming nature will help to set the right tone in the room. Moreover, they will work as the basis for an arrangement, not overwhelming the entire space. If, however, you are a dauntless decorator, a deep blue area rug may be just the option for you. Such an element will make your room stand out and acquire a truly royal character.