Modern Moroccan Rugs – Reproduction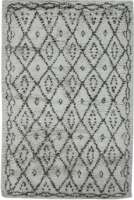 Reproduction carpets are always an alternative for several reasons. Reproduction modern Moroccan designed rugs are beautiful as well as durable being they can be custom ordered or purchased from stock in various colors, qualities and techniques to capture the history behind the design.
Modern Moroccan reproduction rugs are inspired from antique and vintage carpets. Our weaves and techniques are so vast we can capture many design inspirations. Hand knotting is usually the best weave to capture the intricate details of the original rug when weaving reproduction carpets.
The two main reasons why decorators us reproduction rugs is A. the inability to find what they are looking for in an antique rug due to its size, color or pattern. B. the price point of modern Moroccan reproduction rugs are far less.
An Exceptional Collection of Modern Moroccan Design Reproduction Rugs for Sale