Modern Moroccan Rugs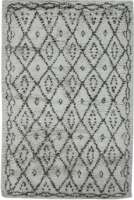 Moroccan rugs, in their variety of textures, colors, and designs have stood the test of time. They are a classic staple in both classic and modern interiors. The modern Moroccan rugs from the Doris Leslie Blau collection are handmade by artisans in small, specialized workshops following the centuries-old tradition. They are handmade of natural undyed wool or of wool colored with eco-friendly dyes. Their designs are either of vintage tribal inspiration or traditional with an original twist, designs exclusive to Doris Leslie Blau.
The exceptional aspect of the modern Moroccan is the extra-large size, fitted for ample contemporary interiors. While the vintage Moroccans tend to be small or medium-sized, as dictated by the size of old house-looms, the modern Moroccans are made on considerably larger looms, allowing for generous sizes. We carry rugs as wide as 20 feet in stock, and even larger sizes are available upon request.
From versatile flatweaves to shaggy hand-knotted area rugs or runners, Moroccan rugs are both decorative and functional. The palette can be calm and neutral or exuberant, in bold geometric designs. Moroccan rugs are hand-woven or hand-knotted using soft natural wool which makes them family-friendly and suitable for bedrooms, family rooms, or living rooms. The kilims work well in dining rooms, hallways, and areas with high traffic.
Doris Leslie Blau is a firm promoter of eco-friendly products, using natural undyed wool whenever possible, blended with wool dyed with natural dyes if the rug design asks for it.
An Exceptional Collection of Modern Moroccan Design Reproduction Rugs for Sale